Environment
PA Senate clean energy bill will spur development, jobs, communities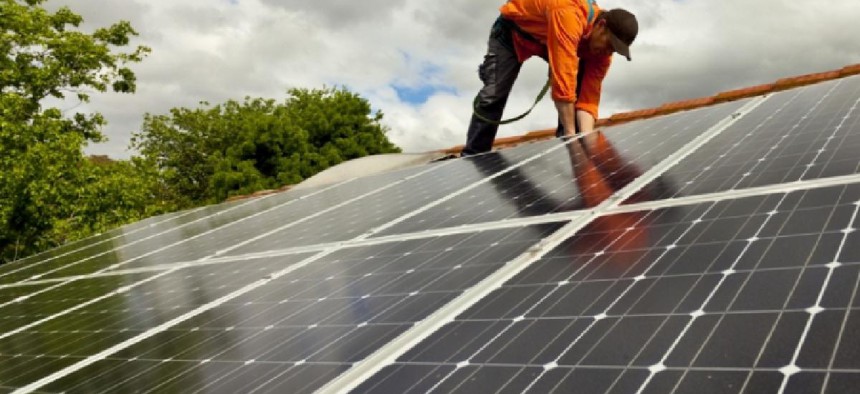 Philadelphia City Council recently passed a resolution urging the General Assembly to enact new legislation that enables municipalities across the state to establish Property Assessed Clean Energy programs for commercial properties (CPACE).
This new form of finance is opening doors for more business owners to install their own renewable energy and energy efficiency projects. It has allowed $2.8 billion nationwide in these clean energy investments last year alone.
In addition to the city councils of Philadelphia and Pittsburgh, a broad-based coalition of business, labor, and environmental groups are pushing to bring those opportunities to Pennsylvania.
At no cost to taxpayers, CPACE provides low-cost financing to businesses seeking to reduce utility costs, all while creating jobs in skilled trades, stimulating Pennsylvania's clean energy economy, and reducing harmful pollutants that contribute to climate change.
Legislation under consideration in the state Senate, Senate Bill 234, will help property owners finance their own clean energy and water conservation solutions. The bill would allow businesses to spread out large, up-front costs and to pay back those costs through a surcharge on their property taxes.
The bipartisan appeal of CPACE is as strong in Pennsylvania as it has been nationwide. Led by prime sponsors Sen. John Blake, a Northeast Pennsylvania Democrat, and Sen. Guy Reschenthaler, a Republican from Allegheny County, half the Senate has signed onto Senate Bill 234- including more than a dozen senators from the Greater Philadelphia region.
Elected leaders are recognizing innovative approaches like this program are more important than ever before. Pennsylvania's budget woes, in addition to proposed funding cuts at the federal level, will likely constrain growth of clean energy initiatives. If the lion's share of new funding is expected to come from the private sector over the next several years, CPACE will be a crucial tool to encourage greater investment.
CPACE leverages the private sector to finance energy efficiency, renewable energy and water conservation projects on commercial and industrial properties. By paying off project costs through property taxes, businesses can receive immediate cash flow at lower interest rates.
Even for businesses that do not own property, the opportunity for their landlords to cost-effectively install energy efficiency improvements would likely result in lower overhead costs and a more productive workplace.
Investing in clean energy would also support the growth of the Pennsylvania businesses that provide relevant products and services. By potentially unleashing a wave of investments in everything from solar power to high-efficiency building technology, CPACE offers the potential of stimulating growth in the local clean energy manufacturing and service industries, which already employ 70,000 Pennsylvanians.
The region has already seen how well-designed policies can spur triple-bottom-line industries. Philadelphia's 2011 landmark nature-based stormwater management plan, Green City, Clean Waters, has earned the city the reputation of a national leader in green stormwater infrastructure while giving rise to a best-in-class industry cluster.
This triple-bottom-line industry, focused on economic prosperity, environmental quality, and social equity, has driven economic development and the growth of family-sustaining jobs.
In February 2016, the Sustainable Business Network published a study measuring the economic impacts of the first five years of Green City, Clean Waters, and found the comprehensive plan is spurring double-digit annual revenue growth for the local green stormwater infrastructure industry. This translates into an annual economic impact of almost $60 million for the city, supporting more than 400 local jobs and generating nearly $1 million in local tax revenues. Over the entire 25-year life of the plan, public and private investments are expected to produce a $3.1 billion impact on the Philadelphia economy alone, annually supporting 1,000 jobs and generating $2 million in tax revenues.
We hope to see a similar transformation among the region's clean energy entrepreneurs. A statewide CPACE initiative would empower businesses to pursue clean energy and conservation projects that could produce wide-ranging benefits across the commonwealth.
It's time to work together with our elected leaders in Harrisburg to make Commercial PACE a reality - for the good of our economy, our community and our environment.
Saleem Chapman is Policy and Advocacy Manager for the Sustainable Business Network of Greater Philadelphia.