Energy
Philly's clean energy future depends on confronting its dirty past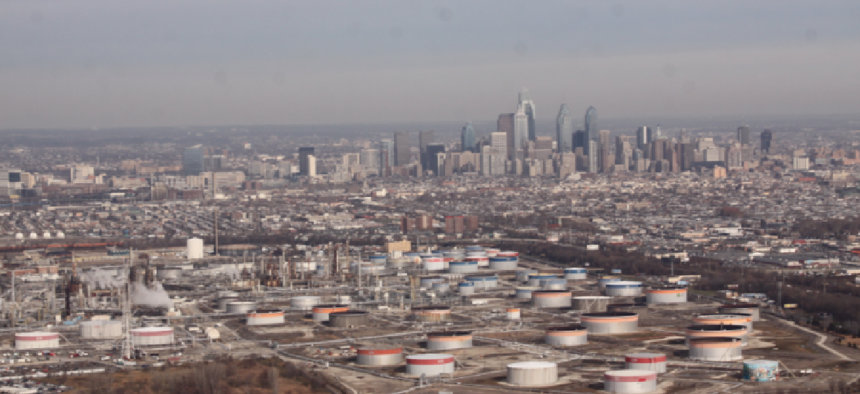 Last week Mayor Jim Kenney committed to transitioning the city of Philadelphia to 100 percent clean energy by 2035, a defiant response to the Trump administration's withdrawal from the Paris Climate Accord. Kenney's welcome gesture comes not a moment too soon: The window is rapidly closing on the world's ability to achieve the commitment made in Paris to limit warming to 2ºC above pre-industrial levels.
But while de-carbonization must happen quickly, it must also happen equitably. As members of Philly Thrive – a grassroots organization mobilizing Philadelphians against air pollution and fossil fuel expansion in our city – we urge the mayor to put the voices and interests of the people most harmed by Philadelphia's current energy infrastructure at the center of his energy vision – people like Zalaka Thompson.
Thompson lives in the Wilson Park neighborhood of South Philadelphia. She has a lot to say about what Philly's energy future should look like – and what it shouldn't. Thompson's home is mere feet away from the Philadelphia Energy Solutions oil refinery. Don't let its name mislead you: PES is the leading air polluter in the region, emitting well over half of all toxic releases from facilities in Philadelphia. It is also the final destination for the fuel-laden "bomb trains" that daily rumble through the city, endangering all who live, work, or play in the blast zone.
Thompson says, "Living near the refinery for me is living cautiously every day. We experience gas smells and foul odors every other day."
Thompson's teenage son Zakah suffers from asthma, like one in five children in Philadelphia. Philadelphia's pediatric asthma rate is twice the national average, and air pollution like that produced by PES has been proven to be, at the very least, responsible for exacerbating asthma symptoms, triggering asthma attacks and emergency room visits.
The EPA has found the PES refinery to be in "Significant Violation" of the Clean Air Act for nine out of the last twelve quarters. Rather than investing in the equipment and repairs that would bring it into compliance, PES management has instead decided to allow unlawful quantities of carcinogens and smog-inducing chemicals to spew into the air year after year, forcing Philadelphians to pay with their health. And though the pollution spreads out over the whole city, the people most in harm's way are those like Thompson who live in the predominantly low-income and minority communities nearest to the refinery. The transition to clean energy must include policies that lift up the communities that have borne the brunt of the fossil fuel economy, and hold accountable the irresponsible corporate polluters that have profited from their suffering.
That day seems far off, however. Not only has the city historically turned a blind eye to PES's pollution, it has actually waived many state and local tax requirements by granting PES Keystone Opportunity Zone status. Philadelphia cannot be a credible leader in the fight against climate change while being complicit in environmental injustice.
Philadelphia needs bold announcements like the one Mayor Kenney made last week. But we also need to be listening to the less prominent – but no less important – voices in our midst that are so often drowned out. Philly Thrive's #WeDecide campaign is doing what the city so far has not: directly engaging marginalized Philadelphians in dialogue about what they want their energy future to look like. Those who have been most negatively impacted by today's energy infrastructure deserve to be first in line as we dream for tomorrow, and the first to receive the benefits when tomorrow comes. Because ultimately, all thriving is mutual – we cannot achieve sustainability while we continue to doom certain communities to obscurity and harm.
Brian Ratcliffe is a graduate student at the State University of New York College of Environmental Science and Forestry. Eleanor Hyun is a medical student at the Perelman School of Medicine at the University of Pennsylvania. Both are members of Philly Thrive, a community organization that unites Philadelphians in the fight for clean air, climate justice and the Right to Breathe.