Congress
Rep. Chaka Fattah faces his first primary challenge in decades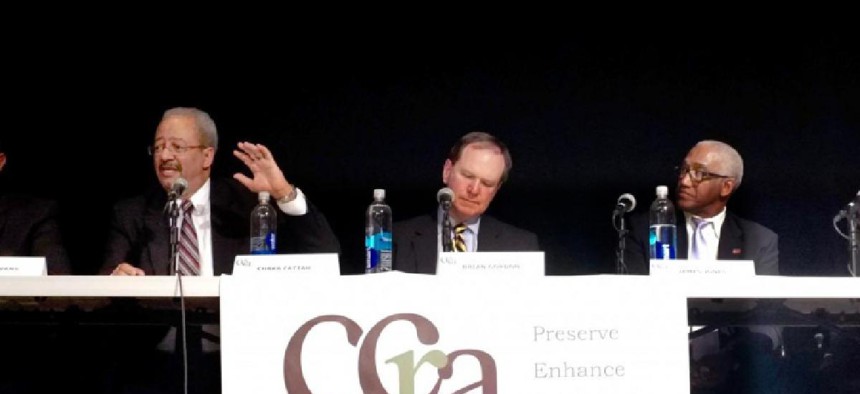 On a typically hot Tuesday afternoon in mid-August, the wheels were suddenly set into motion to make Pennsylvania's 2nd Congressional District race competitive for the first time in two decades.
Inside a federal courtroom on Market Street in Philadelphia, U.S. Rep. Chaka Fattah was quick to declare his innocence on an array of corruption and conspiracy charges relating to his failed 2007 bid for mayor of the City of Brotherly Love. "I'd like to say that I'm not guilty," he reportedly said, moments after U.S. Magistrate Judge Timothy Rice took the bench. "We haven't gotten there yet," Rice replied. "I have to follow the rules. So just be patient."
According to the 29-count indictment, Fattah, 59, used federal money and charitable donations to pay back part of an illegal campaign loan. Federal authorities allege that he also accepted bribes from a lobbyist and used campaign funds for personal expenses, including paying off his son's college debt.
Rice set the trial for May 2, only six days after the District 2 primary. (The trial was recently pushed back to May 16.) In his 11 terms in the U.S. House of Representatives, Fattah has established himself as a powerful force in local Democratic politics. He's won more than 85 percent of the vote in every general election; this year will be the first time he has even faced a primary challenge.
Despite the ongoing indictment, Fattah intends to stick around for another term. "His organization continues to manifest political interest," said former state Senator and Philadelphia City Councilman John F. White Jr., listing local politicians Fattah has propelled to power: "Curtis Jones, Vincent Hughes, Blondell Reynolds (Brown), Cindy Bass – they're all folks who have grown out of that tree."
Two decades of nurturing goodwill as a senior member of Congress has earned Fattah broad support in Philadelphia. The question is whether that support will allow him to withstand not only the damage wrought by the indictment, but also the first viable challenge to his position. Three candidates have thrown their names into the primary race in hopes of unseating Fattah on April 26. For the first time in more than 20 years, someone new may be representing the citizens of the third-most Democratic Congressional district in the nation, which includes much of Philadelphia and parts of suburban Montgomery County, including Lower Merion Township.
Support is incumbent upon them
More than 80 percent of voters in the 2nd District are registered Democrats, which means that, as in the Philadelphia mayoral race, primaries tend to be far more determinative than general elections. The district is the only one of 18 in Pennsylvania with a black majority and includes some of the state's poorest and richest ZIP codes. It's the same district that elected Robert N.C. Nix Sr., Pennsylvania's first African-American member of the House of Representatives, in the early 1960s. Currently Fattah is the state's only black congressman.
And so far, much of the local political establishment wants to keep him in office: Fattah has won endorsements from a handful of unions, not to mention state Sen. Anthony Hardy Williams and U.S. Rep. Bob Brady, the nine-term Congressman from the neighboring 1st District and chairman of the Philadelphia Democratic City Committee since 1986. Due in no small part to Brady's support, Fattah also has most of the city's Democratic ward leaders, the hyper-local elected officials who tend to drive voting power, on his side.
"On one level, there's this stuff in the media that I should be in battle," Fattah said. "In the district, it's not the same thing." He noted that he doesn't hear about the indictment from voters or supporters. Meanwhile, he maintains his innocence. "Under our system, an allegation is just an allegation," he said.
"In general, political machines are conservative in nature," said David Thornburgh, president and CEO of the Committee of Seventy, a local independent watchdog group. "They want to back incumbents – particularly long-established incumbents – and perceive it as risky to abandon someone like Fattah. Fattah is a known quantity. He's been successful in, as they say in the political world, bringing home the bacon."
Simple name recognition is often enough to keep an incumbent in office, let alone two decades of coalition-building. Fattah will have to depend on his legacy given that, thanks to legal costs, he has very little cash on hand: about $7,700, according to the most recent report from the Federal Election Commission. In comparison, the man posing the biggest threat to him in the primary, longtime state Sen. Dwight Evans, has more than $303,000.
"The one thing that I'm certain of is that we're going to have an election, not an auction," Fattah said. "Money is very, very important for challengers – I would have loved to raised more money than I have raised to date – but I don't think it's as significant. On Election Day, there will be thousands of workers for the party out there working for me, because I'm the endorsed candidate."
A challenging situation
Evans, who has represented North Philly's 203rd Legislative District in Harrisburg since 1981, is one of a handful of local Democrats as experienced and influential as Fattah. As Thornburgh put it, "In Dwight Evans and Chaka Fattah, these are two of the most longstanding and powerful politicians in Philadelphia."
As a key member of the city's so-called "Northwest Coalition," a group of influential black politicians whose endorsements are coveted in local elections, Evans has a reputation for delivering votes to candidates he supports. He was instrumental in the election of Pennsylvania Gov. Tom Wolf in 2014, and of Philadelphia Mayor Jim Kenney last year. Both have reciprocated by endorsing Evans for Congress.
Yet Evans, 61, hasn't found similar success when he's the one on the ballot. In the past, he has failed in runs for governor, lieutenant governor and, most recently, mayor of Philadelphia. (This was the same 2007 election where Michael Nutter upset a whole crop of establishment candidates, including Evans and Fattah.) Recent circumstances haven't favored him in Harrisburg, either. In 2010, Democratic rivals ousted Evans from his chairmanship of the House Appropriations Committee, where, for four years, he had controlled how tens of millions of dollars in special-projects grants were distributed across the state.
For his part, Evans denies that Fattah's indictment inspired him to run. He casts his campaign as a way to leverage the power of the federal government to better carry out his agenda. "What drove me is that all the things I've been trying to do locally – there is no way they can be addressed without the federal government," he says. "I do not believe that the city itself has the ability to address these issues." Taken at his word, the Evans campaign is less about making a comeback than it is a push for even more clout by leveraging his years spent in Harrisburg through the prism of City Hall.
"Dwight's influence has waned in the Legislature. It did not wane in terms of his political prowess at home," White says. He adds, though, that even Evans wouldn't be able to wrest the Congressional seat from Fattah if the latter weren't so vulnerable. "If that indictment doesn't go down, (Evans) is on a suicide mission," White says.
Playing the rest of the field
Two additional candidates round out the Democratic field. (Another, state Rep. Brian Sims, dropped out in February and ultimately endorsed Evans.) Although considered long shots, the campaigns of Dan Muroff and Brian Gordon bring out many deep-rooted tensions in the 2nd District.
For one thing, both are white candidates running in a majority-black district. In a city where voters still tend to cast ballots along racial lines, this puts them at risk of cutting into one another's bases. In February, two people associated with Muroff filed objections to Gordon's campaign, taking issue with the petitions he had collected to secure a place on the primary ballot. A Commonwealth Court judge ruled in Gordon's favor, although the decision has been appealed to the state Supreme Court. It's unclear whether Muroff had anything to do with the effort to kick Gordon off the ballot, or whether the objectors acted on their own.
Moreover, both Gordon and Muroff operate at a certain remove from the city's Democratic machine.
"If Fattah were to lose to Evans, in a sense we'd be trading one well-established political player for another," Thornburgh says. "If you were to trade Fattah for Dan Muroff or Brian Gordon, it's a very different dynamic because you have one of two much less well-established, much less brand-name political figures."
Muroff, a 48-year-old attorney and former Congressional staffer from Mount Airy, is something of a low-profile insider. For the past two years, he has led the 9th Ward, one of the highest voter-turnout areas in Philadelphia. This gives him a helpful perspective, despite most of the city's Democratic ward leaders backing Fattah.
"There are not a lot of candidates who work in this space who understand how the ward structure works better than a ward leader himself," Muroff says, "and I know what the establishment can do." In addition to a fairly well-funded campaign – he has about $209,000 on hand, according to the FEC – Muroff earned a Philadelphia Inquirer endorsement and has used his platform to push an agenda centered on gun violence prevention.
Gordon, an 11-year Lower Merion Township commissioner and the only candidate from outside Philadelphia, previously ran for the 6th District seat in 2010. (Since then, gerrymandering has placed him in the 2nd.) In an interview, he stresses outreach work he's done in West Philadelphia churches and also talks at length about gun violence and poverty.
"I lived in Philly for 18 years of my adult life," Gordon, 55, says. "I know that, politically, it's kind of a closed shop, even for someone who's coming up in Philadelphia. I knew that the party was going to endorse the incumbent. I was aware that he is facing a very serious indictment, and I have a belief that the people of Philadelphia will be open-minded and receptive to new candidates."