Campaigns & Elections
How John Fetterman redefined the role of lieutenant governor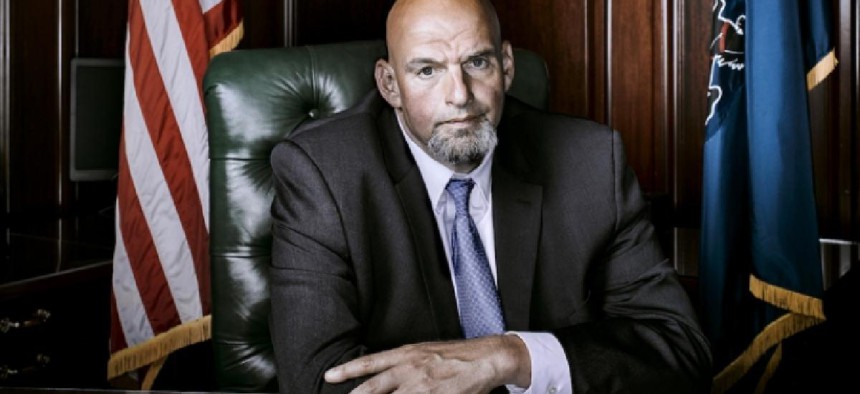 John Fetterman, Pennsylvania's lieutenant governor, has once again set his eyes on incumbent U.S. Sen. Pat Toomey's seat. What's lesser known is that Fetterman – who also served four terms as mayor of Braddock in Allegheny County – before becoming lieutenant governor, didn't originally plan on running for elected office.

It was only after a series of tragic, life-altering events that Fetterman's career trajectory changed. In 1993, as he was about to get his MBA from the University of Connecticut, Fetterman's best friend died in a car accident while on his way to meet him. The traumatic moment forced Fetterman to reassess what he wanted his future to look like.
"I had never experienced that kind of proximate tragedy and I was really kind of fixated on this idea of waking up the next day and not knowing you have 15 minutes left. And I'm like, 'Well what kind of legacy would I leave behind? What kind of impact have I made? Have I made any kind of difference?' And at that point, I didn't like the answer," he told City & State.
So Fetterman got involved with Big Brothers Big Sisters of America, where he was paired with a boy whose father had died of AIDS. Not long after his death, the boy's mother also succumbed to the disease, but before she passed, Fetterman promised her he would make sure her son got a college education. And while Fetterman made good on his promise years later, the tragedy that befell the boy's family stuck with him. "The combination of those two really pushed me to confront what I saw – this raging inequality and divergent outcomes," he said.
Fetterman went on to join AmeriCorps and was sent to Pittsburgh's Hill District, where he set up computer labs and taught GED classes for young mothers and fathers. Two of his students were killed in shootings, which prompted Fetterman to run for mayor of Braddock. It was Fetterman's first foray into public service, and it nearly didn't happen. In 2005, Fetterman won the Democratic nomination for mayor by one vote, and then went on to win the race unopposed.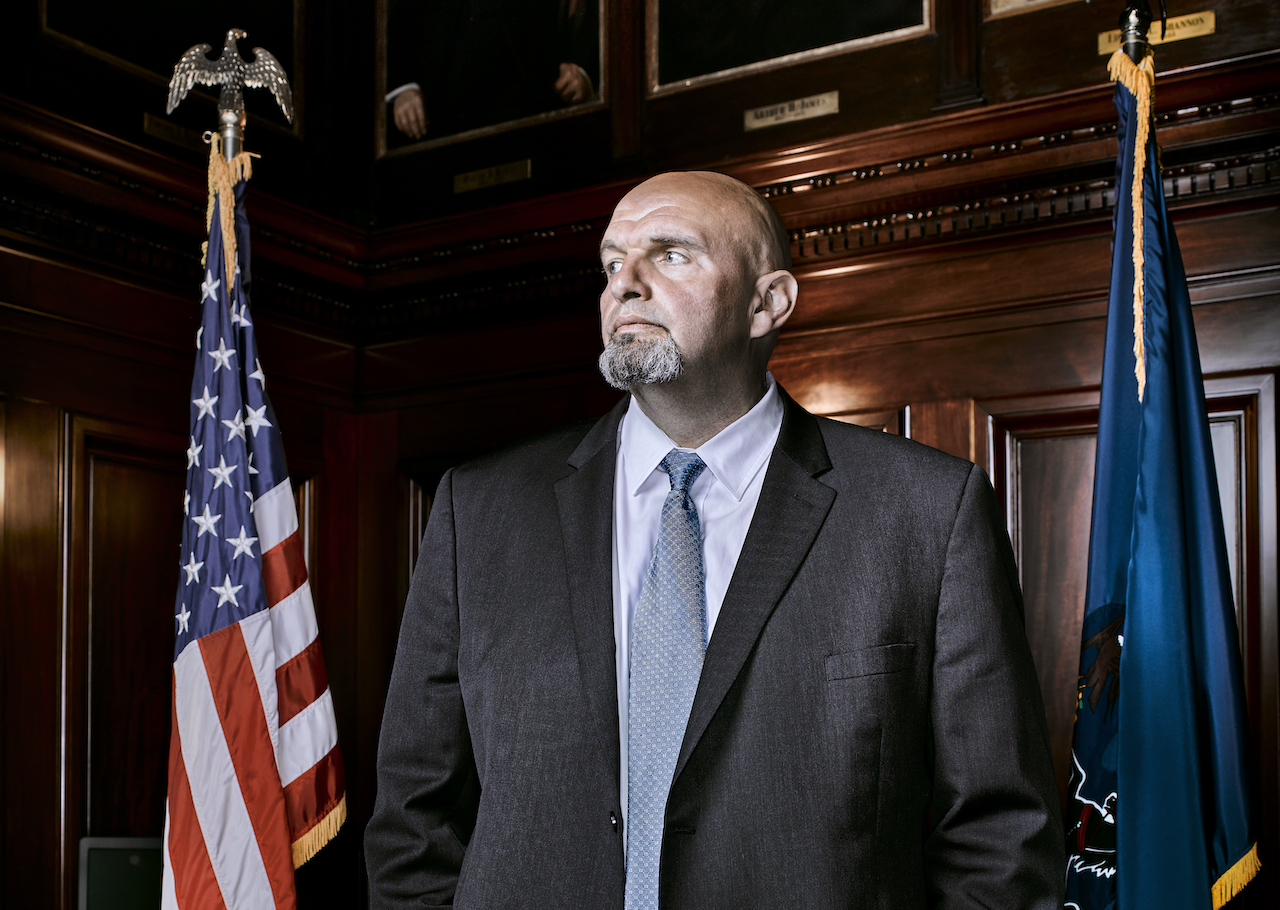 Fetterman's mayoral victory kick-started his career in politics. He went on to win three subsequent mayoral elections, including one that came after an unsuccessful run for the same Senate seat he's currently seeking.
But before Fetterman launched his second Senate campaign in February, he made what he hopes will turn out to be a pitstop between Braddock and Washington, D.C.
In 2018, Fetterman announced that he was running to be Pennsylvania's next lieutenant governor, an often-overlooked role that doesn't hold a whole lot of power. Pennsylvania's lieutenant governor is second in the gubernatorial line of succession, serves as president of the state Senate and chairs the Board of Pardons – a body tasked with reviewing and recommending pardons and commutations to the governor. Beyond those three key duties, the office doesn't get a ton of attention.
"Usually, we don't think a lot about lieutenant governors," said Chris Borick, director of the Muhlenberg College Institute of Public Opinion, noting that Fetterman occupies the office with a different presence than his predecessors. "We don't give them lots of attention and the role is, like a lot of seconds, under the radar."
That hasn't been the case with Fetterman, who has largely used the office as a bully pulpit to bring attention to various issues, including marijuana legalization, LGBTQ protections and criminal justice reform.
At the beginning of his term in 2019, Fetterman embarked on a statewide, 67-county listening tour where he fielded comments, questions and concerns regarding the possibility of legalizing marijuana for recreational use in Pennsylvania. At the conclusion of each stop, Fetterman would poll people on their thoughts on legalization, which would later be used to fashion a report on legalization in Pennsylvania. While the polling was not scientific in nature (it was conducted by a show of hands at each stop along the tour), Fetterman's report concluded that nearly three-quarters of attendees favored legalizing cannabis for adult use, and that nearly all attendees supported expungement of nonviolent marijuana-related crimes.

Fetterman's own support of cannabis legalization prompted him to hang cannabis flags from his office's balcony at the front of the state Capitol, along with LGBTQ pride flags – a practice that was later banned after state lawmakers amended a budget package to prohibit the flags. Throughout his tenure as lieutenant governor, Fetterman has also become a staunch ally of Gov. Tom Wolf, supporting the governor's attempts to raise the minimum wage to $15 and enact a severance tax on natural gas extraction.
His proudest accomplishments as lieutenant governor, though, he says, are in the criminal justice realm.

As chair of the state Board of Pardons, Fetterman is one of five members who vote on whether or not to recommend a pardon or commutation to the governor. He said that recommending 32 individuals to Wolf over a three-year stretch is the highlight of his career in Harrisburg.
"So far, 32 people and counting – whether they're deserving or innocent – will not have to die in prison needlessly," Fetterman said. "I'm so grateful that they don't have to die in prison and Pennsylvania doesn't have to warehouse these people until their last breath.
"When you understand how arbitrary and final many of these aspects of our criminal justice system are, particularly when you're talking about the most serious penalty of dying in prison, it was horrifying to me," Fetterman added. "The fact that we've gotten more people out than every lieutenant governor combined since 1978 – we're very proud of that fact."
Fetterman also led efforts to eliminate the $63 pardon application fee and, in conjunction with Wolf and Pardons Secretary Brandon Flood, expedited pardons for nonviolent marijuana-related offenses. Still, Fetterman sees more work to be done in this space.

In the 1990s, state lawmakers changed the constitutional threshold to recommend a pardon or commutation from a 3-2 vote to a 5-0 vote. The change came after Reginald McFadden – a man who raped one woman and killed two others – had his sentence commuted by then-Gov. Robert Casey, after receiving a recommendation from the Board of Pardons.
Fetterman, while acknowledging the "horror" of McFadden's killing spree, characterized the decision to change the pardon threshold to a 5-0 vote as an "overreaction." He said the legislature, and ultimately the voters, should amend the state constitution to return the vote threshold to a simple majority.

"We can see now that that 5-0 vote has condemned a lot of otherwise deserving people to die in prison and it also was a reminder that there could be political consequences to championing a second chance," Fetterman said. "I've never let those considerations enter into my calculation, because these are lives, these are human beings and their freedom isn't a political calculation. It's a moral imperative, I believe. And if we were able to return that back to the simple majority, you would make that threshold significant, but not almost virtually impossible, given all the other challenges with this process."
While Fetterman's work within the criminal justice sphere is the cornerstone of his work as lieutenant governor, an incident from 2013 has prompted questions about his judgment.
At the time, Fetterman was outside with his son in his hometown of Braddock, when he heard what he believed to be gunshots. Fetterman, wielding a shotgun, proceeded to follow and confront a Black jogger named Christopher Miyares who he saw running away from the direction of the commotion. According to reports, Fetterman held Miyares, who was unarmed, at gunpoint, until first responders arrived. Fetterman said in a video addressing the incident that his actions were the result of a series of "split-second decisions" and that he was unaware of Miyares' race.
"At the time, it was never an issue. Never came up. I was elected overwhelmingly to two more terms after that and I've spoken extensively about it. It's something that's now almost eight and a half years ago," Fetterman said. "I just continue to work and do what I believe in."
With Wolf – the other half of the 2018 Democratic gubernatorial ticket – term-limited after 2022, Fetterman has shifted his sights on the retiring Toomey's U.S. Senate seat, the same prize that eluded him in 2016, when he finished third in the Democratic primary. Five years later, however, things are different. Fetterman has national name recognition (he often appears on national cable news networks to offer a Pennsylvania perspective) and a statewide electoral victory under his belt. He's also already raised a colossal amount of cash.
According to data from the first quarter of his campaign finance report, Fetterman raised a total of $3.9 million – which his campaign touts as "the most a candidate for U.S. Senate in Pennsylvania has ever raised in their first quarter." His campaign also released an internal poll showing Fetterman with wide leads against both potential and declared Democratic candidates. Fetterman leads Rep. Conor Lamb, who has been rumored to have an interest in the seat, by a 40%-21% margin, and Philadelphia state Rep. Malcolm Kenyatta, who has already declared his candidacy, by a 40%-9% margin. The internal poll, conducted by Data For Progress, also shows Fetterman with single-digit leads over GOP candidates Jeff Bartos and Sean Parnell.

Borick cautioned against putting too much stock in internal polls. "It's an early poll. People aren't thinking much about it. The race hasn't formed very much. He's got some statewide name recognition and it probably captures that as an advantage," Borick said. "Any poll a year away should be taken with a big grain of salt – and most certainly with an internal poll."
Borick said regardless of what the Democratic field ends up looking like over the course of the next year, Fetterman's ability to speak to both the progressive wing of the Democratic Party (think his stances on LGBTQ issues, marijuana legalization and criminal justice reform) – coupled with his affinity for unions and labor issues – makes him a formidable presence in the race. "You roll that all into one and that's a compelling figure. There's no doubt about that."
As far as his platform is concerned, Fetterman is focused on broad policy issues that he says are less about politics than they are about fairness. He wants to expand access to health care, regardless of the mechanism used to get there. "I would never sacrifice the good at the altar of the perfect," he said of health care policy. He also wants to raise the minimum wage nationwide to at least $15 an hour and protect union jobs.
Fetterman also wants to strike the right balance between transitioning to renewable energy sources and being honest about the role that fossil fuels will play. "It needs to be fair and it needs to honor those that are in the energy extraction and energy sectors, their way of life, their communities that they call home and make sure that they can participate and be involved in the conversation of what that transition needs to be," he said.
Fetterman stopped short of saying he was unequivocally the best candidate for Democrats in 2022, noting that voters will have the ultimate say over whether that turns out to be true. In the meantime, he will continue to focus on issues at the forefront of his entire political career, with hopes that they will resonate and propel him to Washington, D.C.
"I just want to continue to push and champion for issues that I believe are core and central truths to what I think it means to be an American," he said.