Democrats launch 'The Pennsylvania Apprentice' digital campaign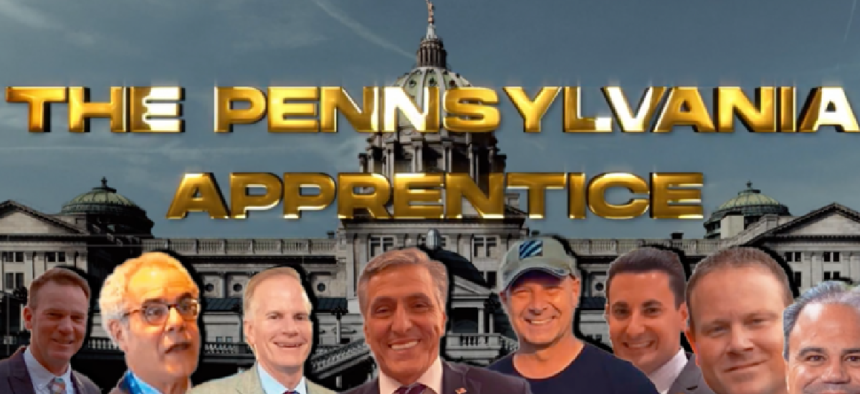 The Pennsylvania Democratic Party is launching a new digital campaign modeled after former President Donald Trump's reality television show, "The Apprentice," as party members look to tie GOP gubernatorial candidates to the controversial former president. 
The campaign, which looks to educate voters on the GOP gubernatorial primary, will follow the campaigns of candidates to highlight "their never-ending battle to prove their loyalty to Donald Trump and become his true apprentice in the Commonwealth."
"In his retirement, Donald Trump is looking for a new apprentice – and the full field of Republican candidates for governor is eager to prove their loyalty and show that they are the true heir to Trump's MAGA legacy," Brendan Welch, a spokesman for the Pennsylvania Democratic Party, said in a press release. "From fundraising with Rudy Giuliani to peddling the Big Lie, there is nothing these candidates won't do to earn Trump's support. They know Trump is watching their every move, and over the next nine months, we will bring the drama and the intrigue of 'The Pennsylvania Apprentice' to audiences across the state." 
The state Democratic Party formally rolled out the campaign on Thursday. It will include a website, a Twitter account devoted to the GOP race, earned media efforts, videos, apprentice-themed challenges and other content designed to provide voters with information about the Republican primary – all with a reality show twist. 
For 14 years, Trump hosted "The Apprentice," a business-oriented reality show where people competed to earn opportunities to work with the Trump Organization. The show would later transition to a format that involved celebrities who would donate their winnings to various charities. 
Welch told City & State that the multi-platform media campaign seeks to draw a contrast between the priorities of Democrats and Republicans heading into 2022. 
"It's pretty clear that the Republican Party is entirely based around what will make Donald Trump happy. That is the first and seemingly the only question that GOP politicians operate around these days," Welch said. "Democrats are working hard to get us out of the pandemic. We're working hard to keep children out of poverty. We're working hard to invest in our local communities with infrastructure and keeping people afloat during the COVID pandemic. But the only thing that the GOP seems to care about is appeasing Donald Trump and his far-right base."

With Gov. Tom Wolf term-limited and set to leave office at the beginning of 2023, a slate of Republican candidates are already clamoring to replace the Democratic governor. 
Former U.S. Rep. Lou Barletta is one of the most high-profile candidates formally entering the race. Barletta, who earned national attention for his immigration-related policies as mayor of Hazleton in Luzerne County, earned Trump's endorsement when he unsuccessfully ran for U.S. Senate in 2018. 
Other candidates that have entered the race include Montgomery County Commissioner Joe Gale, Pittsburgh attorney Jason Richey and GOP strategist Charlie Gerow.
State Sen. Doug Mastriano, a fervent supporter of Trump, has also expressed interest in running for governor, claiming that Trump has asked him to run. State Sens. Scott Martin and Dan Laughlin have also explored candidacies, with Laughlin looking to carve out a moderate lane in the race.
Former U.S Attorney Bill McSwain and incumbent U.S. Rep. Dan Meuser have also been weighing jumping into the race, according to published reports. 
Welch said with so many Republicans vying for the nomination, a media campaign mocking Trump's former TV show essentially wrote itself. 
"It really was not hard to make a leap to realize this is just like a new season of "The Apprentice" – is just like a competition for who is Donald Trump going to like the most," he said. "They're all just fighting each other for his approval."

On the Democratic side, no candidate has formally entered the race, though Attorney General Josh Shapiro is widely expected to launch a bid to succeed Wolf. Shapiro told Philadelphia Magazine earlier this year that he plans on entering the race and Wolf has already publicly thrown his support behind a potential Shapiro gubernatorial run on multiple occasions.