Dr. Oz taunts, parodies David McCormick in new 'Always Sunny'-themed campaign ad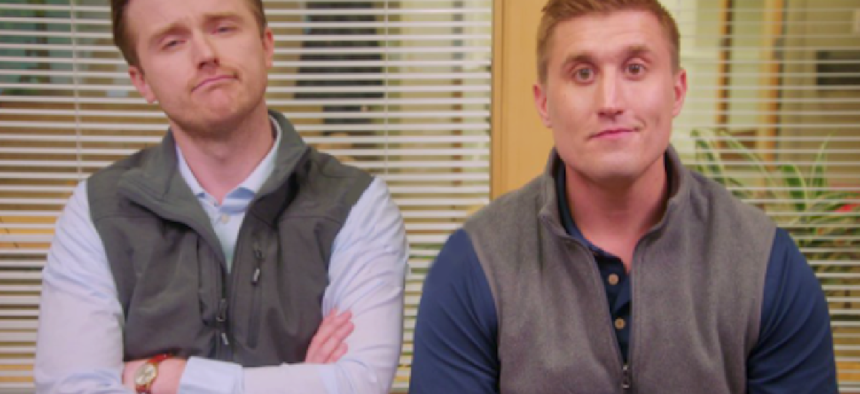 In a new ad mimicking the comedic style of "It's Always Sunny In Philadelphia," U.S. Senate hopeful Dr. Mehmet Oz levied a number of accusations against his Republican primary opponent Dave McCormick, looking to frame the former hedge fund executive as a "finance bro" who has more ties to Wall Street and China than to Pennsylvania. 
The ad, which runs for approximately one minute and 30 seconds, features characters named "Tad" and "Chad" – two fleece-vest-wearing, self-proclaimed "finance bros" who refer to McCormick as their personal hero, while not-so-subtly mocking McCormick's record as an executive at Bridgewater Associates, the world's largest hedge fund. 
McCormick chose China over Pennsylvania pic.twitter.com/Sj1MVqDux3

— Dr. Mehmet Oz (@DrOz) March 23, 2022
"Dave shares my values – cash money and getting paid, particularly from China," the duo says, alluding to McCormick's time as president and CEO of Bridgewater, which has faced criticism for its investments in Chinese companies.
MarketWatch reported last month that Bridgewater Associates increased its shares in Chinese companies such as Alibaba, JD.com and Nio, among others, in the fourth quarter of 2021 – when McCormick was still CEO of the hedge fund. 
"Dave's more than another finance bro, he's China's bro," the characters in Oz's new ad say before the end of the ad. American Leadership Action, a super PAC supporting Oz, has also attacked McCormick for his time at Bridgewater, calling him a "friend of China with a long record of selling us out."
The new ad also hits McCormick over his time living in Connecticut, though Oz has also faced questions about his residency, as he is a longtime New Jersey resident. 
Jess Szymanski, a spokesperson for McCormick's campaign, accused Oz of trying to distract voters from his own connections to China. "This should give voters a great glimpse into what the future looks like. Oz spends his time talking and blaming others, while McCormick has ideas, solutions and takes action to get things done," Szymanski said in an email.

"With every lame attempt to attack combat veteran Dave McCormick and question his patriotism, Oz is hoping to distract from the fact that he himself made his fortune broadcasting his TV show on (Chinese Communist Party) censored airwaves, pushing Chinese communist propaganda, and making $50 million from communist Chinese 'health' company USANA," Szymanski added. "His ads reek of desperation, transparently trying to bring Dave down instead of explaining his anti-gun, pro-abortion, pro-illegal immigration and pro-COVID mandate stances to PA voters."

Since entering the race, McCormick has taken a more hawkish stance on China throughout his campaign. McCormick backs the idea of sanctions against the country, supports "reparations for COVID" and has advocated for moving supply chains out of China, according to his campaign website.
Both Oz and McCormick have been called "carpetbaggers" by other Republican candidates in the race, such as Montgomery County real estate developer Jeff Bartos and political commentator Kathy Barnette. 
A recent poll from Fox News found that 24% of Republican primary voters prefer McCormick, while 15% chose Oz as their top pick in the primary. A poll from Franklin & Marshall College found that 13% of primary voters would vote for McCormick if the primary was held today, while 11% preferred former U.S. Ambassador to Denmark Carla Sands and 10% would vote for Oz. 

However, more than 30% of respondents in the Fox News poll said they were undecided on who to vote for in the GOP primary and 53% of those surveyed in the Franklin & Marshall poll said they were undecided. 
Voters will head to the polls on May 17 to choose from a total of seven Senate candidates that will be on the GOP primary ballot.
---
---