Winners & Losers
This week's biggest Winners & Losers
Who's up and who's down this week?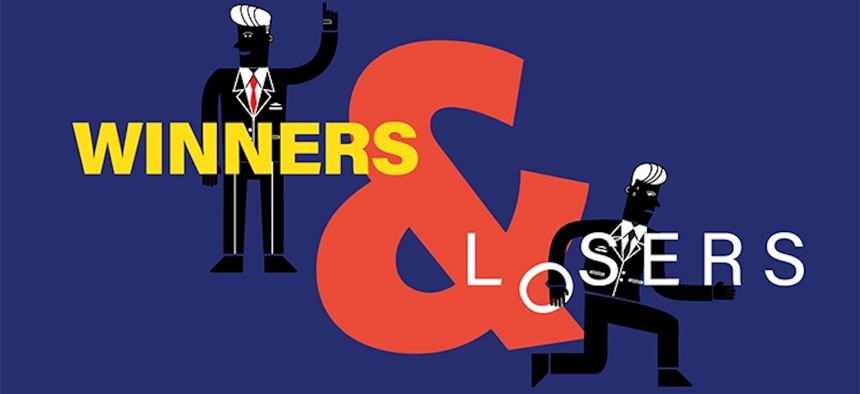 Much like rapper Drake weighing which team to root for next, Philadelphia basketball fans have mixed feelings right about now. Soon after news broke that longtime Villanova head coach Jay Wright was planning on retiring, Sixers fans got to witness Joel Embiid get his revenge with a game-winning shot of his own against the Raptors in Toronto. The highs and lows of the sporting world are much like those seen in the world of politics. This week, we saw one lawmaker get a fast break while other Pennsylvanians were forced to take a seat on the bench. 
Scroll down for more of this week's winners and losers!
WINNERS:
Kenyatta Johnson -
The latest corruption case in Philadelphia ended in a mistrial. That means a sigh of relief for City Council member Kenyatta Johnson and his wife Dawn Chavous, who were facing serious bribery charges. Johnson could've been the second City Council member to lose their seat due to corruption in the last year. Federal prosecutors say they'll retry the couple and the Universal executive charged in the case, but for now, Johnson is in the clear.
Aaron Kaufer -
Republican state Rep. Aaron Kaufer earned a big legislative win this week when his bill designed to attract more doctors to the state was signed into law by Gov. Tom Wolf. The legislation, now Act 16 of 2022, will relax requirements on international medical students, allowing them to apply for medical licenses with the same amount of training as American medical school graduates. International graduates were previously required to receive an extra year of training in order to obtain a license.
Summer Lee -
Calling all 2020 Democratic presidential candidates, Summer Lee is running for Congress. It seems like Lee, the progressive state representative looking to replace Mike Doyle in the U.S. House of Representatives, is getting endorsements from national figures every week. This time around, it's U.S. Sen. Elizabeth Warren. The Democratic Senator from Massachusetts joins the likes of Bernie Sanders and Ayanna Pressley in endorsing Lee to represent the Pittsburgh region.
LOSERS:
Dan Moul -
State Rep. Dan Moul led an effort in the Pennsylvania General Assembly to allow the creation of new boroughs by petitioning the court of common pleas, but his legislation was vetoed by Wolf this week, who said the bill will "lead to further fragmentation of local governments." Looks like there will be no more boroughs under Wolf's watch. But Moul may have a chance to try again next year when the term-limited Wolf leaves office.
Said Rivera -
Said Rivera was arrested by Attorney General Josh Shapiro's office this week for his role as the alleged ringleader of a Schuylkill County drug trafficking ring that reportedly helped move fentanyl and methamphetamine throughout the region. Shapiro charged Rivera and four others with corrupt organizations, possession with intent to deliver methamphetamine and fentanyl and criminal conspiracy, among other charges. If the charges are proven, Rivera could end up out of the ring and into a cell.
Mohamed Farah -
Freedom of speech is one thing, but threatening to assassinate a sitting and former president is no bueno. Mohamed Farah, a Cumberland County man, was indicted by a grand jury after he allegedly threatened to kill President Joe Biden and former President Donald Trump, if he runs for reelection. The 32-year-old native of Somalia can face up to five years in prison for each offense.