Winners & Losers
This week's biggest Winners & Losers
Who's up and who's down this week?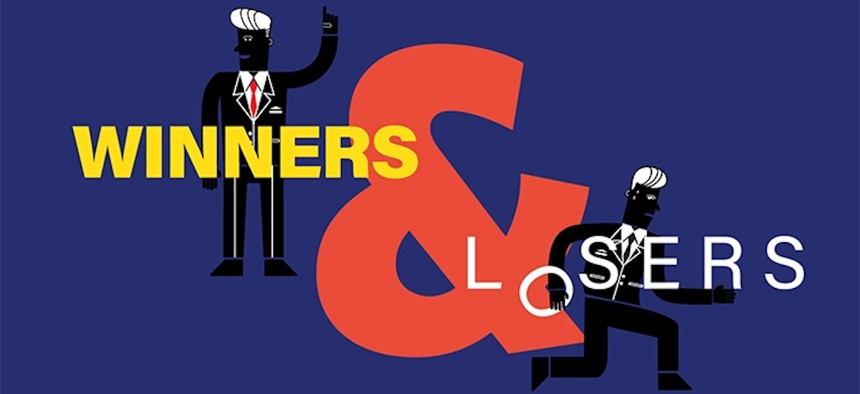 April showers typically bring May flowers, but that's not the case for everyone this week.
Despite March Madness ending a bit early for Villanova, Philadelphians still had a reason to celebrate the beginning of the month of April. North Philly native Dawn Staley led her South Carolina women's basketball team to its second national championship, becoming the first Black coach in history to win multiple Division 1 titles. Daley and her squad got their one shining moment to start the month, but taking a look at the names below, it's obvious some people are still gleaming while others are hoping for brighter days. 
Scroll down for more of this week's winners and losers!
WINNERS:
Tom Henneman -
No one can argue against this federal expansion. The Philadelphia-based Federal Donuts is growing thanks to a capital infusion from NewSpring Franchise, the same investor of Duck Donuts. Tom Henneman, the managing partner of Federal Donuts, is one of a team of founders who expect to expand the doughnut and fried chicken franchise to up to 150 stores in the Mid-Atlantic region. You know they'll be bringing in the dough.
Melissa Lyon -
The commonwealth officially has its newest county health department. Melissa Lyon, who previously spent time as public health director in Erie, is now leading the Delaware County Health Department. DelCo became the seventh county to have its own health department in January, but the state department of health formally approved its establishment on April 2. The two-year long process culminated in the state getting its first new county health department in 33 years and Lyon leading a much-needed office.
Josh Shapiro -
As the presumptive Democratic nominee for governor, we knew Josh Shapiro would have a built-in advantage as far as fundraising is concerned, given that he doesn't have to spend any money beating primary opponents. What was a bit unexpected, however, was that Shapiro ended March with more than $16 million in the bank, more than all of the Republican candidates for governor combined. Say what you want about Shapiro, but he's poised to enter the general election with a gargantuan cash advantage.
LOSERS:
Robert Evanchick -
The Pennsylvania State Police, led by Commissioner Robert Evanchick, have settled a federal lawsuit accusing the force of racially profiling Hispanic drivers and detaining those suspected of being undocumented, agreeing to pay a total of $865,000 to 10 plaintiffs. The suit, filed by the American Civil Liberties Union of Pennsylvania, accused the state police of partaking in "unlawful immigration enforcement," according to The Associated Press. As part of the settlement, the state police will forbid troopers from enforcing civil immigration law moving forward.
Donald Martino Jr. -
When life gives you lemons, you can't fix them with duct tape. Donald Martino Jr., an Allegheny County man and operator of Martino Motors, has been banned from selling cars in the commonwealth after the attorney general's office found the dealer to be in violation of Assurance of Voluntary Compliance. Martino reportedly falsely advertised vehicles' physical condition, with one consumer saying they found tape and paint had been used to cover up rust and damage. We bet Martino's feeling pretty sour right about now.
Samuel Fox -
Samuel Fox, a Westmoreland County man who had no regrets after storming the U.S. Capitol, was sentenced to probation and two months of house arrest thisweek after he breached the Capitol in January 2021. Fox notably said he would storm the Capitol again, but he likely won't have any chance to charge the U.S. House in the near future, as the only house he'll be able to enter for the next few months will be his own.