Winners & Losers
This week's biggest Winners & Losers
Who's up and who's down this week?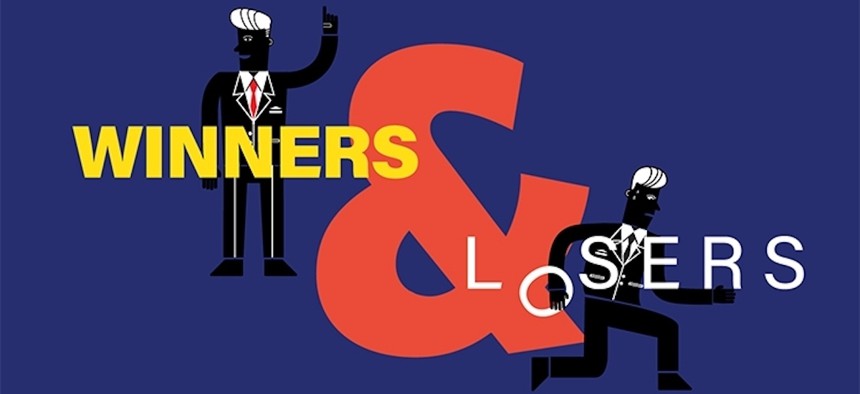 There's some new decor coming to the City of Brotherly Love after Philadelphia's very own Sheryl Lee Ralph and Quinta Brunson picked up Emmys for their respective roles in the hit series "Abbott Elementary." Brunson's victory speech was hampered by Jimmy Kimmel, who later apologized for lying on the stage beside her as part of a prank that distracted from her moment. At least there was one man – Pennsylvania's Senate Democratic Appropriations Committee chair, no less – who knew how to stay out of the spotlight during an important night for his wife. 
Scroll down for more of this week's Winners & Losers!
WINNERS:
Brian Fitzpatrick -
When you pull in new endorsements and get favorable polling data all in a couple of days, you're bound to have a good week. U.S. Rep. Brian Fitzpatrick, a southeast Republican, picked up an endorsement from Brady PAC, an anti-gun violence group, this week. To make matters better for Fitzpatrick, a new internal poll showed the incumbent congressman with a 20-point lead over his Democratic opponent, per Politics PA. We'll see if that momentum holds by the time November comes around.
Kim Clark-Baskin -
Pittsburgh welcomed a new city clerk this week by the name of Kim Clark-Baskin. Clark-Baskin, who has been working with the city since 1994, served as acting city clerk before being sworn into the full-time position on Sept. 13. In the midst of earning her master municipal clerk certification, Clark-Baskin is on track to become one of four certified master municipal clerks in the commonwealth. Let's hope she takes time out of her schedule to bask in her new role.
Yassmin Gramian -
PennDOT Secretary Yassmin Gramian and the rest of Gov. Tom Wolf's administration got some electrifying news this week: Pennsylvania will receive more than $25 million from the federal government to install new electric vehicle charging stations throughout the state. What's more? The state is expected to receive a total of $171 million over a five-year span to expand access to charging stations on commonwealth roadways according to the Pittsburgh Post-Gazette. Some might call that shockingly good news!
LOSERS:
Larry Krasner -
The spat between Harrisburg lawmakers and Philadelphia District Attorney Larry Krasner continued to unfold this week, with the House approving a resolution to hold Krasner in contempt for not complying with legislative subpoenas. While Krasner has said an investigation into a local official's tenure by the Republican-led General Assembly couldn't be "more anti-democratic and more authoritarian," several Democratic lawmakers, including nine Philadelphia Democrats, joined GOP legislators in adopting the resolution to hold him in contempt.
Jan Stawovy -
Just in time for Halloween, Pennsylvania's got armed clowns at your local fast food restaurant. Jan Stawovy, a Westmoreland County man, is facing several charges after bringing a loaded gun into a Dairy Queen on Sept. 10. Stawovy, who was wearing a yellow safety vest and rainbow clown wig, reportedly told police he was "working to restore Trump to president king" and that he was armed to "kill Democrats."
Dawn Bancroft -
More than two months after Dawn Bancroft was sentenced for her role in the Jan. 6 insurrection, the Bucks County Republican was ousted as an elected committeeperson. Bancroft, who filmed herself on Jan. 6 saying she wanted to shoot House Speaker Nancy Pelosi "in the friggin' brain," pleaded guilty last year to one misdemeanor count of illegally demonstrating on Capitol grounds. The Bucks County Republican Committee waited until her sentencing commenced before removal proceedings, with the chair stating: "if you're convicted and you're in jail, you can't be a committee person."