Winners & Losers
This week's biggest Winners & Losers
Who's up and who's down this week?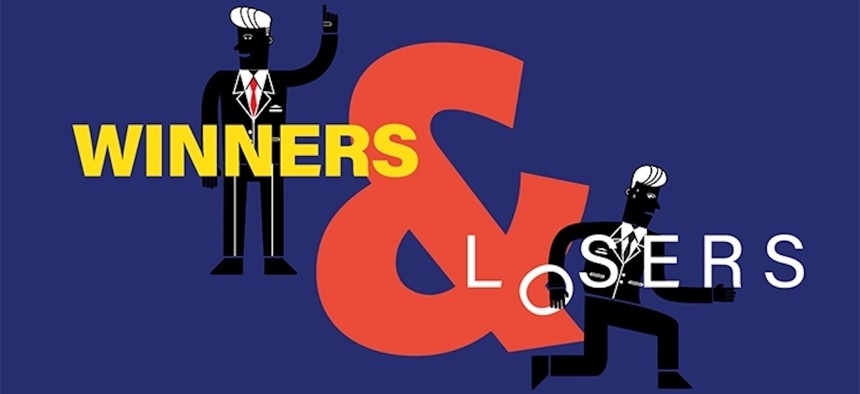 Times are always interesting in Harrisburg – and recently both parties experienced some tension from within their own ranks. Democrats saw state Rep. Frank Burns vote with the GOP on a bill to require gun owners to report lost or stolen firearms – causing the bill to fail by one vote. Meanwhile, Republicans traded verbal jabs over state Sen. Doug Mastriano's potential run for U.S. Senate – with state Rep. Russ Diamond publicly urging Mastriano to abandon the idea, and Mastriano calling the comments "irrelevant." What a party 2024 is shaping up to be!
So without further ado, here are this week's winners and losers!
WINNERS:
Cindy Bass -
There were plenty of close elections outside the big fish that was Philadelphia's mayoral primary. Nearly a week after polls closed, Philadelphia City Councilmember Cindy Bass won her reelection race by just a few hundred votes. Bass prevailed over progressive challenger Seth Anderson-Oberman in the 8th district's hotly contested primary. Bass, who originally claimed victory last Wednesday, is expected to return to a chamber filled with fresh faces – and fresh challenges.
Charles "Chuck" Lawson -
There is a new conductor of the train police. Charles "Chuck" Lawson, a SEPTA police officer for nearly three decades, was appointed Chief of SEPTA Transit Police after serving as the acting chief since July. With the city focused on gun violence and protecting passengers on public transit, there's plenty of calls to enforce the law, son. Good luck, Chuck.
Rankin -
The borough of Rankin has much to celebrate this week, as it officially exited Act 47, the state financial oversight program aimed at helping municipalities with fiscal troubles. The financial hardships faced by the borough were due in part to the decline of the steel industry in the region. According to WESA, despite the good news, borough officials will still need to keep a close eye on the pocketbook.
LOSERS:
UPMC -
It appears there are some trust issues between the University of Pittsburgh Medical Center and the state's largest union for health care workers. SEIU Healthcare Pennsylvania is asking federal prosecutors to investigate the health system, accusing UPMC of antitrust violations, according to a report from WESA. The complaint argues that UPMC's anti-competitive practices suppress wages and discourage workers from pursuing other job opportunities – though UPMC says it doesn't have a policy preventing employees from leaving one facility for another.
Par Funding -
A Philadelphia couple has been indicted for a cash-advance company at the center of an alleged $500 million financial fraud scheme. Joseph LaForte and his wife, Lisa McElhone, face charges of conspiracy, wire fraud, tax evasion and more after an investigation into Par Funding found the company made materially false and fraudulent statements to investors about their funds and the true identity of Par Funding's management. Sentencing should be par for their coarse actions.
Corey Mizell -
Pittsburgh man Corey Mizell is facing 10 years in prison and a hefty fine after allegedly embezzling money from veterans on multiple occasions between June 2020 and February 2021, according to the U.S. Attorney's Office of the Western District of Pennsylvania. The five-count indictment comes after a federal investigation into Mizell's alleged activities and was announced by Acting U.S. Attorney Troy Rivetti.