The looming battle over immigration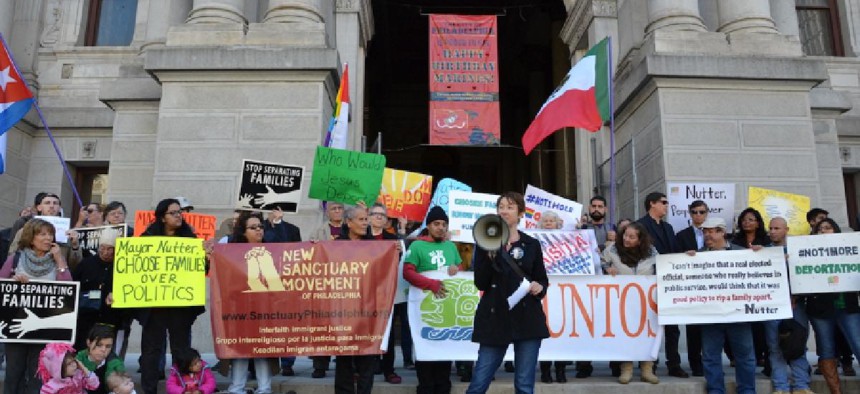 As the director of Juntos, a South Philadelphia advocacy group for the Latino community, Erika Almiron has earned herself some legislative battle scars over the years. In 2011, she recalls lobbying against some 17 immigration-related bills between Harrisburg and Washington, D.C. But, she says, nothing compares to – or could have prepared her for – what she has faced this year. 
"For the last several years, we've always been able to push back," Almiron said. "But with a candidate like Trump and the mini-Trumps all over the state who he enables, we've seen a resurgence of hate and racism unlike anything we've ever seen. It's in the bills. It's in the family detention at the Berks County immigrant detention center. It's everywhere."
After a decade of federal inaction on immigration reform, some state Legislatures – like Pennsylvania's – are now taking matters into their own hands with immigration-related agendas. Rep. Daryl Metcalfe (R-Butler), who chairs the House's powerful State Government Committee, has welcomed any and all legislation that will make the state less desirable for what he calls the "illegals," and the issue promises to become even more politicized in the fall legislative session. 
In two virtually identical bills currently before the PA House and Senate, lawmakers are seeking to implement federal citizenship verification systems to access employment and public benefits. 
There is also an issue that has become a centerpiece of Sen. Pat Toomey's re-election campaign. His most recent bill, which called to revoke federal funding from self-declared "sanctuary cities," failed to pass the U.S. Senate floor in July. But there's another sanctuary-related bill being considered in the PA House, which, while less severe in its impact than Toomey's bill, faces heavy opposition from both immigrant-rights advocates in Harrisburg and opponents on the campaign trail.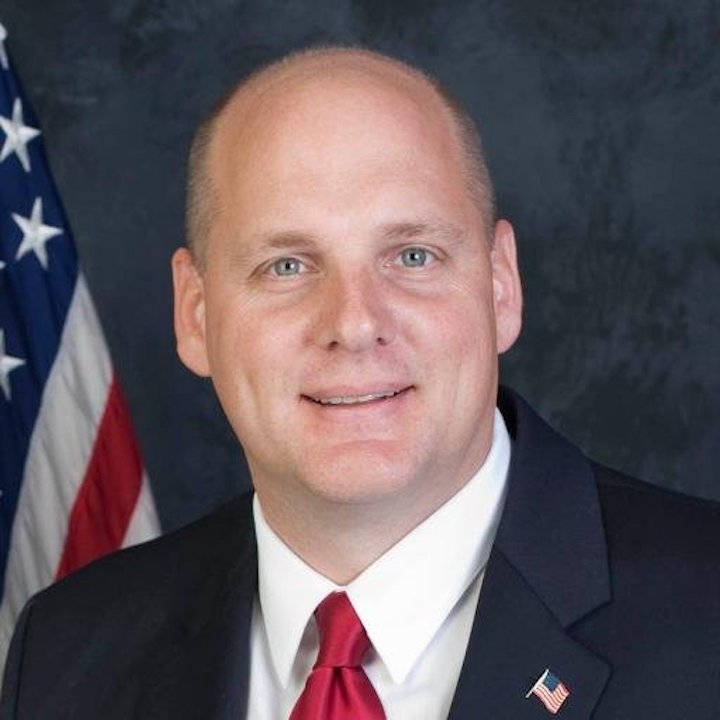 PA Rep. Doyle Heffley
Lawmakers leading the immigration crackdown in Pennsylvania represent all corners of the state, from the suburbs of Pittsburgh to Northeast Philadelphia. The issues in question cover equally broad terrain.
"There's never just one issue that we're pushing," Rep. Doyle Heffley (R-Carbon) says of the unified effort. "Heroin is all over our streets – you talk to the DEA, the majority of heroin coming into Pennsylvania is from the Mexican cartels. When you allow (unauthorized immigration) to go on in your society, it's going to spill over into other areas."
Heffley is the primary sponsor of a bill that would require agencies that issue public benefits to verify the legal status of applicants by using the SAVE program, or Systematic Alien Verification for Entitlements. There's a nearly identical bill in the Senate, introduced by Republican state Sen. Patrick Stefano, who represents parts of three southwest PA counties. Think of it like an online vetting process to determine whether an individual is eligible for public benefits. Many public agencies already use the SAVE program, but Heffley and Stefano both argue that Pennsylvania is too lenient with its enforcement.
In a similar vein, Metcalfe is pushing for statewide implementation of E-Verify, a free portal created by United States Citizenship and Immigration Services that allows employers to cross-check their workers' identification papers against federal databases. Metcalfe originally introduced the bill in 2007. Then, in March, he reintroduced it alongside Heffley's SAVE bill and another hot-button piece of legislation from Rep. Martina White (R-Phila.) 
E-Verify does for employment what the SAVE Program does for public benefits. His bill would place Pennsylvania among a handful of states that mandate E-Verify for all employers – not just government agencies and those companies seeking publicly funded contacts through them.
In most cases, public benefits for undocumented immigrants are a political non-starter. There are only four states – New Mexico, Texas, Washington, and California – that offer state financial aid to undocumented immigrants; most states won't even consider discounted in-state tuition rates for undocumented residents. But Heffley's push for SAVE is less controversial. The problem, according to some immigrant-rights advocates, is one of both the impetus behind the bill and its questionable implementation.
"If you're undocumented, you're already unable to receive public benefits," Adan Jesus Marin, director of Make the Road PA, an immigrant-rights organization in Lehigh and Berks counties, said of Heffley's bill. "The truth is that it's going to affect non-immigrants and people who are fully documented. It will create more hoops to jump through."
In 2015, Pennsylvania reached a settlement with the federal government to pay back $48.8 million that it had allocated to undocumented immigrants through public assistance benefits between 2004 and 2010. Heffley, Metcalfe, Stefano, Toomey and other elected officials – the list goes on – use this as fodder for their crackdown on benefits. But according to immigration attorneys with the nonprofit organization Community Legal Services, the settlement is less damning than some make it out to be. It stems from a technical dispute between the federal government and then-PA Gov. Tom Ridge's administration over a 1996 welfare reform law that barred public benefits for documented immigrants who have been in the country for less than five years. 
There's also some anecdotal evidence behind the push for SAVE in Pennsylvania. In addition to the settlement, Heffley says his bill stems in part from testimony from Beaver Meadows Police Chief Michael Morresi. The chief said that he had once stopped a driver with Mexican identification, $3,000 in cash, and two public benefits cards registered under different names. But, Morresi said, under the current law, he couldn't confiscate the cards. Heffley tells City & State PA this is just the emerging tip of the iceberg.
"We're not talking about migrant farm workers," Heffley said. "We're talking about people coming in with large quantities of cash. With gang insignia tattoos. That's what our police officers are seeing in our communities."
Pennsylvania was one of seven states that saw a population spike in undocumented immigrants from 2009 to 2012, according to a Pew Research Center report. In just four years, the commonwealth's undocumented resident tally increased from 140,000 to 170,000.
Immigrant-rights advocates argue that anecdotes of criminal behavior scapegoat not just the undocumented, but whole immigrant communities. Sundrop Carter, the executive director of the Pennsylvania Immigration and Citizenship Coalition (PICC), notes that the verification systems have returned false-positive results that caused the disqualification of a number of otherwise-eligible immigrants from receiving public assistance.
"The public benefits bills are all problematic," Carter said. "Like most anti-immigrant bills, a big piece is that it is a 'solution in search of a problem' – and the system is notoriously inaccurate."
The American Civil Liberties Union has slammed E-Verify for posing "enormous privacy and security risks" for U.S. citizens. Some experts and immigration attorneys say eligibility systems will be an inevitable component of federal immigration reform, but just how that reform takes shape will be a matter of who is elected in the upcoming November election. Whether passed or not, Marin argues that these bills are gaslighting a voter base with hair-trigger anxieties about immigrants of all backgrounds. 
"The climate that all of this creates is just incredibly dangerous," he adds. "I don't think Metcalfe or his allies can pass anything in our legislature, because nobody can really pass anything. But I think what they can succeed in riling up hate groups in Pennsylvania, which already has the fifth-largest number of hate groups in the country," citing a report from the Southern Poverty Law Center.
Heffley's and Metcalfe's bills will likely see their first committee meetings this session. Stefano's Senate bill, which is identical to Heffley's House bill, is already moving through the committee in its current incarnation.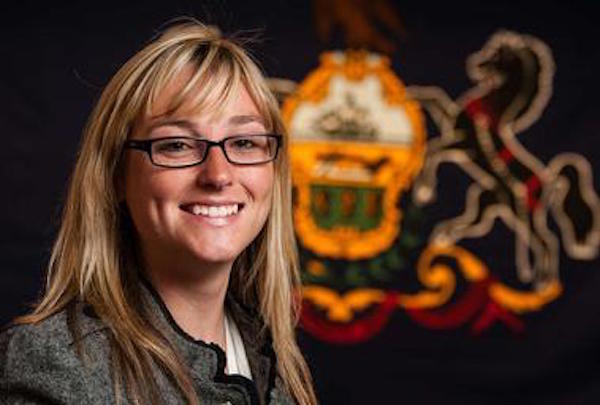 PA Rep. Martina White
It's been a tumultuous year for sanctuary cities across the country, and Philadelphia is no exception.
Rep. Martina White is a multiple minority on the House floor. At 27 years old, she's one of the youngest lawmakers in Harrisburg. She's also a Philadelphia Republican who serves a two-to-one Democratic district in a five-to-one Democratic city. Drawing comparisons to Trump, however, White says her constituents view her outsider status favorably.
"I was a complete political newbie," White recalled of taking the reins of the 170th District through a special election in 2015. "I didn't know what a ward and division was … But most people don't know what ward and division they live in. So I think that people just want (a leader) who is going to just be, like, the ultimate American."
White raised her profile quickly by latching on to two controversial public safety issues. Amid uproar over police-community relations, she introduced legislation that would make it illegal to identify any police officers who shot civilians, no matter the circumstances. Then she drafted another headline-grabbing policy that would penalize "sanctuary cities" like Philadelphia for limiting their cooperation with immigration authorities.
White tells City & State PA that her bill was "designed to protect citizens from any type of damage that an illegal immigrant would have on a citizen" as well as to create "accountability" for the sanctuary city designation. 
The bill earned the ire of Philadelphians who had supported Mayor Jim Kenney's executive action to return Philadelphia's "sanctuary" designation. For the second time, Philadelphia is now one of 32 Pennsylvania counties that formally or semi-formally restrict cooperation between local law enforcement and Immigration and Customs Enforcement (ICE), according to a report from Temple University's Beasley School of Law. 
Philadelphia first became a sanctuary city in 2014 under then-Mayor Michael Nutter's executive order. The move was hailed by immigrant-rights groups as a major victory. But then, in the eleventh hour of his administration, Nutter rescinded the status in favor of one that aligned more closely with the Department of Homeland Security's Priority Enforcement Program (PEP).
Kenney reversed the executive order on his first day in office, reaffirming his status with the local and national immigrant community. (Meanwhile, Nutter was offered an advisory position with the Department of Homeland Security.) Today, nine months later, faced with both Toomey's U.S. Senate bill and White's PA House bill, Kenney has continued to hold his ground. He won't change anything, he says, without the nod from immigrant community leaders, which isn't likely under the current PEP blueprint.
Unlike Toomey's bill, which looked to hold $39 million in federal funds hostage if Philadelphia didn't rescind its status, White's bill doesn't come attached to a dollar amount. More concerning, however, is the second amendment of White's bill, which explicitly forbids any restrictions on sharing an individual's immigration status with ICE. In short, the bill would seek to make sanctuary policies like Kenney's illegal, at least in writing.
In terms of damages, no data exists on the fiscal burden posed by being a sanctuary city. White cited the 2015 killing of Kathryn Steinle in San Francisco by an undocumented immigrant who had been deported five times – an event that would later become the impetus for Toomey's bill. White also referenced the 2014 rape of a Philadelphia woman by a Honduran national who had once been deported.
"There's not a whole lot of information about the level of damages, because there's no way to track it right now," she said. "Nobody truly knows what the impact is going to be or has been – and we're going to find out. If we can prevent one of our citizens from being murdered or raped by someone who is not supposed to be here, I find that extremely important to address."
Anti-sanctuary thinking across the country follows a similar pattern, citing at most a handful of cases in which undocumented immigrants who committed major crimes had passed through the local justice system without providing notification to ICE. But others say that immigrant criminality is a deeply rooted myth. Peer-reviewed research suggests that foreign-born individuals are far less prone to crime than native-born individuals. An analysis of the 2010 American Community Survey found that just 1.6 percent of immigrant males between ages 18 and 39 were incarcerated, compared to 3.3 percent of the same native-born demographic.
Defenders of sanctuary cities argue that greater public safety results from allowing law-abiding undocumented persons the freedom to cooperate with local law enforcement without fear of retribution.
Sanctuary city policies – which are currently upheld by some 300 municipalities across the country – evolved out of the federal government's Secure Communities program, which, in essence, turned local law enforcement into a dragnet proxy for ICE. The program has since been replaced with the Priority Enforcement Program, which encourages requests for notification rather than relying so heavily on detainers as Secure Communities did. But local immigrant-rights advocates aren't sold, and neither is Kenney.
Nonetheless, things took an early turn for White's bill in the current House session. On Sept. 20, the bill passed through the House Committee on State Government, drawing an immediate response from Kenney, who called the bill "dangerous" and expressed "serious concerns about (White's) understanding of the law, government and policing."
The momentum behind the bill, however, could be stymied by the upcoming election and its results.
While only on the periphery in the smaller congressional races, immigration has been a central motif in the U.S Senate race between Toomey and his Democratic opponent, Katie McGinty.
On a conference call with reporters in June, McGinty said she sent Mayor Kenney a letter asking him to reconsider his sanctuary policy, allowing for more coordination between law enforcement and federal immigration authorities.
It marked a shift for the McGinty campaign on the eve of the U.S. Senate's vote on Toomey's sanctuary bill. The change of course also came after Toomey, looking to secure his second term, took several shots at McGinty's wholesale support of sanctuary cities on the campaign trail.
McGinty has specified that she doesn't "reject" sanctuary cities, nor does she believe they're the answer for the state's immigration-related woes. Since then, McGinty has been focusing her attacks on Toomey's track record on big-picture immigration reform that would, in her campaign's words, render sanctuary cities obsolete.
Metcalfe, whose office did not return multiple requests for an interview from City & State PA, will face Democratic opponent Christian Rieger in the upcoming election. In Carbon County, Heffley is being challenged by Neil Makhija. Makhija did not return interview questions. When asked about his opponent, Heffley says he has faced a Democratic challenger every two years since taking office. None have succeeded in unseating the incumbent Republican, despite a Democratic voter registration edge in his district.
But Matt Darragh, who's gunning to unseat White in the 170th District, had some words about White's appeal to voters' "anxieties about immigration" with her sanctuary bill.
"The process needs to get reformed, but it really isn't the place of the state government to do that," Darragh said. "Look, illegal immigration is a problem. But demonizing these people – they're human beings – to score political points is also a problem."
From the presidential race to state house races, the Nov. 8 election will have lasting ramifications for immigrant communities in Pennsylvania. 
"There's a danger if we're not paying attention to the friends of Trump," Jesus Marin says. "Because Trump could lose. Metcalfe is not going to lose. Our state House and state Senate are not going to flip this election. There are more dangers of more local legislation like this getting passed."
"Toomey's bill has a bit of an uphill battle," he adds. "There are enough people in the Senate who get that it's just insane. The idea that you would strip entire counties of federal funds, including Lehigh County, where Toomey lives...I don't think he wants the bill to pass. Again, I think these bills are just pandering to people's fears for votes." ■