Ethics
Former Fattah spokesperson behind web effort to exonerate congressman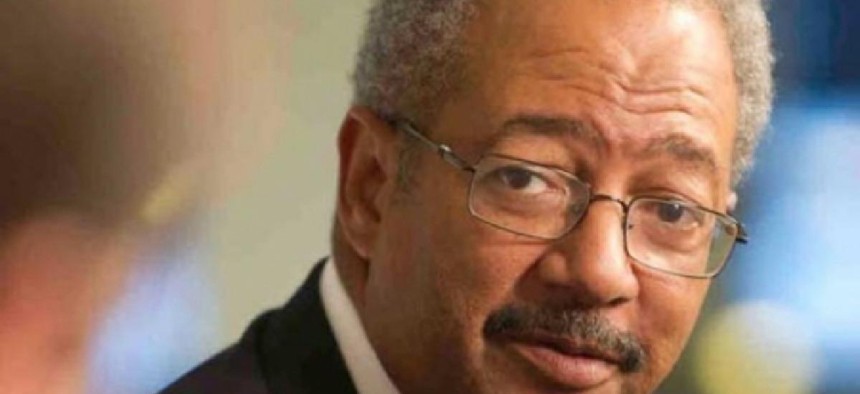 An effort to depict convicted Congressman Chaka Fattah as the victim of overzealous federal prosecutors has been traced back to his former communications director, Debra C. Anderson, who also testified during the politician's corruption trial.
The Daily News first reported that a mysterious pro-Fattah website containing hundreds of pages of court documents surfaced in early December. The website, called "TheFattahCase.com," argues that the congressman was steamrolled by federal agents desperate for a high-profile conviction.
The site is allegedly the product of a dozen anonymous ex-Fattah staffers. A response to a Daily News inquiry sent to an email address on the website declined to identify any of those involved, instead signing off under the pseudonym "The Official Record." The Daild News speculated the author might be Fattah himself.
But today, a press release sent from the same email account, reiterating many of the same assertions featured on the website, listed an LLC and Maryland mailing address associated with the home of Anderson and her husband, Paul.
Anderson, a former radio host for WHAT-AM in Philadelphia, served on Fattah's staff for years, as did her daughter. She wound up testifying in Fattah's corruption trial, drawing the ire of prosecutors for relating a frivolous story on the stand about the congressman redecorating his office with co-conspirator Herb Vederman.
"You are aware that this indictment charges Congressman Fattah with racketeering?" Assistant U.S. Attorney Paul Gray asked Anderson. "And your testimony is that Herbert Vederman redecorated Congressman Fattah's office? You came all the way from Washington to say that?"
Anderson lost her job in June of this year, the end result of the bribery investigation and Fattah's subsequent resignation after a primary loss to state Rep. Dwight Evans.
She and her husband registered a company called "PAD, LLC" in August of this year, purportedly to "provide IT and communication services," per an incorporating document – but today's press release marked the first instance of the LLC's name being seen since its creation.

Inquiries from City&State were met with an email signed "Former Fattah Staffers."
"PAD, LLC is owned in part by a former staffer who has agreed to help handle and provide strategic communications advice and press inquiries with respect to our effort," wrote an anonymous individual, when asked if Anderson was behind the website. "The staffers involved in the effort made a conscious decision to remain anonymous based primarily on the fact that we are not the story, the facts that we highlight are."
Notably, Anderson's husband – who is listed on LLC, but is not a former staffer – had previously served as chairman of Waverly Academy, a STEM charter school based in Florida that has received some federal grant money. Fattah had long championed STEM education as a congressman and his corruption case revolves in part around misallocation around federal education grants.
Although it was not immediately clear if there was any connection between the convicted congressman and Waverly Academy, the anonymous emailer handling press inquiries flatly refused to answer any questions about the school or Paul Anderson's connection to Fattah.