Infrastructure
Wolf extends state's opioid disaster declaration another three months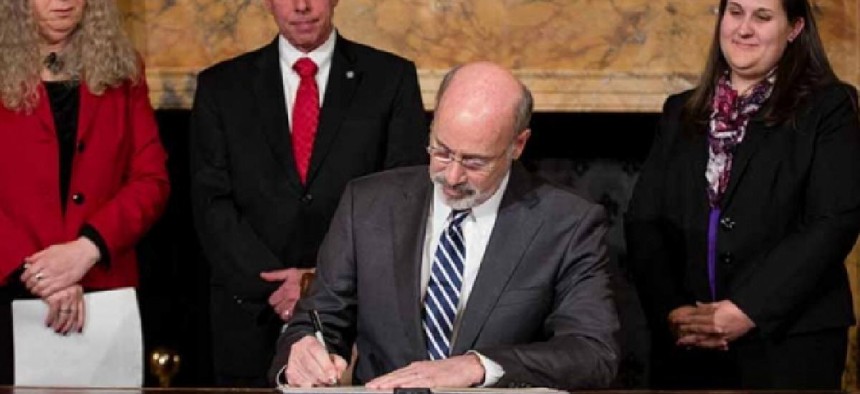 Citing a baker's dozen of policy initiatives aimed at curbing the state's opioid epidemic, Gov. Tom Wolf on Wednesday signed an extension of the state's disaster declaration dealing with the crisis.
Ninety-day decrees like this one, which was originally enacted in January, grant extraordinary powers to the governor and the executive branch to tackle everything from snowstorms and wildfires to Ebola outbreaks – or, in this case, the opioid crisis.
According to Wolf, 5,200 Pennsylvanians died in 2017 from opioid overdoses – a 10 percent increase from 2016 – one of the nation's five highest rates.
By continuing the declaration into the summer, the Wolf administration can continue 13 policies designed to fight the crisis.
Those policies include: letting first responders leave overdose-reversing Narcan drugs with an overdose victim or their family to prevent death from future drug use; waiving annual licensing for high-performing rehab facilities; and combining and making public more data on the crisis.
Wolf cited the latter as one of the most important developments from the declaration, saying it has let agencies share statistics normally siloed away from each other.
"We got to know where the problems are – and the magnitude of the problem," he said.
The governor was joined by Senate Minority Leader Jay Costa (D-Allegheny), who presented a bill to create a new public health emergency declaration separate from the governor's decree.
The legislation, SB 1001, would vest the Secretary of Health with the power to declare a public health emergency when there is an imminent threat of death or long-term harm from an infectious disease or a natural or manmade disaster, including nuclear incident, bioterrorism or a chemical attack.
Like a disaster declaration, once declared, the public health emergency would last for 90 days and let the executive branch pass temporary regulations.
Both Costa and Wolf said they expect the bill to have bipartisan support. Costa added he wanted the bill to pass before June 30 so the current disaster declaration could be turned into a public health declaration.
"Our goal is to get it done as soon as possible," Costa said.
Jenn Kocher, a spokesperson for Senate Republicans, pointed to previous legislation and action by senators such as Sen. Gene Yaw (R-Lycoming) as proof of legislative action on opioids outside of Wolf's declaration.
"As we said in January, opioid abuse is worthy of thinking outside of the box when it comes to looking for potential ways to stem the crisis," Kocher said. "It remains unclear if much of what is being done or proposed to be done needs a disaster declaration."
Stephen Caruso is a staff writer for The PLS Reporter, a news website dedicated to covering Pennsylvania's government.