Harrisburg
Democrats push back against anti-abortion legislation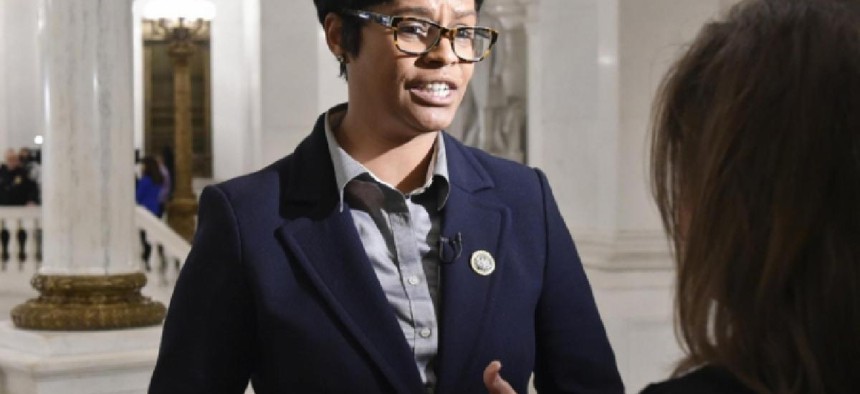 Abortion laws have been facing strong opposition from Republicans in recent years, and Pennsylvania has been no exception. The state took the first step towards restricting abortion this week with the passing of three pro-life bills out of the House Health Committee. 
The bills, known as the Heartbeat Bill, Unborn Child Dignity Act, and Down Syndrome Protection Act, all passed along party-line votes in committee on Tuesday. Not a single Democrat supported the bills, and Gov. Tom Wolf is expected to veto the legislation, should it reach his desk. 
Wolf reaffirmed that message Thursday during an afternoon press conference. He was joined by Attorney General Josh Shapiro and legislators from the Women's Health Caucus to emphasize their support for women's reproductive rights. 
"It feels like these are very blatant attacks on reproductive rights, but they're also an undermining of personal freedoms for all of us," Wolf said at the press conference. 
Currently, the state permits abortion up to 24 weeks, according to the Abortion Control Act. However, pregnant women must wait 24 hours and receive information regarding abortion before getting the procedure.
As written, the bills would create significant restrictions to abortion access across the Commonwealth. The Heartbeat Bill, House Bill 904, would require fetal heartbeat examinations and prohibit abortions after a heartbeat is detected. A fetal heartbeat can be detected as early as six to eight weeks, a point at which many women may not know they are pregnant. 
The Unborn Child Dignity Act, House Bill 118, would require providers to give the option of burial or cremation after a loss of pregnancy, whether it be an abortion, miscarriage, or ectopic pregnancy. It would require health care facilities to bear the responsibility or face fines. Families already have the option to make personal arrangements for the remains of a pregnancy, but this bill would force providers to have the conversation with the patient regardless of how the early pregnancy was lost.
"The bill is not intended to be burdensome to health care facilities or the parents," state Rep. Frank Ryan, sponsor of HB 118, said in a statement. "It merely gives parents the right to decide the final disposition of their unborn child's remains. Parents may instead opt to permit the health care facility to bury or cremate the remains according to the facility's customary methods."
The third bill, House Bill 1500, known as the Down Syndrome Protection Act, would prohibit abortions following a Down syndrome diagnosis. 
State Rep. Kathy Rapp, chair of the House Health Committee, has been a vocal advocate for pro-life policies. When asked about how these policies would restrict women's access to health care, she said, "In this case, around 31,000 [abortions take place] almost every year in Pennsylvania, and none of those girls ever had the opportunity to look out for their own health care." She also said that there have been "very few" cases in which a mother's life is at risk for carrying a child. 
While infant, neonatal, and postneonatal mortality rates have gradually decreased over the years, that's not the case in every community. According to 2019 Vital Statistics, the infant and postneonatal mortality rate among Black Pennsylvanians has increased since 2018. The number of maternal deaths has also increased across the board over the last several years. Maternal and infant mortality rates have fluctuated over time, but in 2019, Pennsylvania's maternal mortality rate reached 13.4 per 100,000 live births, the highest since 2010. 
"We will not allow politicians to play politics and create a filter out of decisions for our own bodies," state Rep. Morgan Cephas said at the press conference. "Rather than focus on building a better health care system that delivers adequate and coordinated care, our Republican colleagues choose to spend our time and taxpayer dollars...on seeking to block women from accessing constitutionally protected abortion care." Cephas also cited a report from the Maternal Mortality Review Committee that revealed Pennsylvania's rate of pregnancy-related deaths from 2013 to 2018 went up 21 percent.
Many pro-choice advocates see this as an attack on women of color, who receive abortions at a higher rate than white women. In 2019, nearly 40 percent of reported pregnancies among Black women in Pennsylvania ended with induced abortions. Much like any other government restriction, it would create additional barriers for low income families and women of color, who already face significant challenges when it comes to health care access. 
Efforts to rollback abortion laws have persisted across the country following President Donald Trump's election in 2016. With a conservative-leaning U.S. Supreme Court, Republicans in state legislatures have been pushing for pro-life bills in hopes the Supreme Court will take up a case to undermine Roe v. Wade. Last week, the justices announced they will hear Mississippi's appeal of lower court decisions striking down a state ban on all abortions after 15 weeks, with exception of medical emergencies or severe fetal abnormality.
Rapp explained that these bills are similar to those passed in other states, including the 15-week restriction being taken up by the justices. She explained that if a woman knows they are pregnant before a heartbeat can be detected, they might choose to have an abortion. Cases of rape and incest, she added, would have to be examined by a physician and also go through a heartbeat check. She also noted that they received support from various pro-life organizations, including the Pennsylvania Family Institute.
Wolf said the goals of the bills are not to protect families but "solely to score cheap political points." 
"They don't help families, and they don't help doctors," he added. "They don't improve health care outcomes for women, or for babies. In reality, these bills hurt the very same people they claim to protect."