Transportation
GOP senator floats temporary cut to state gas tax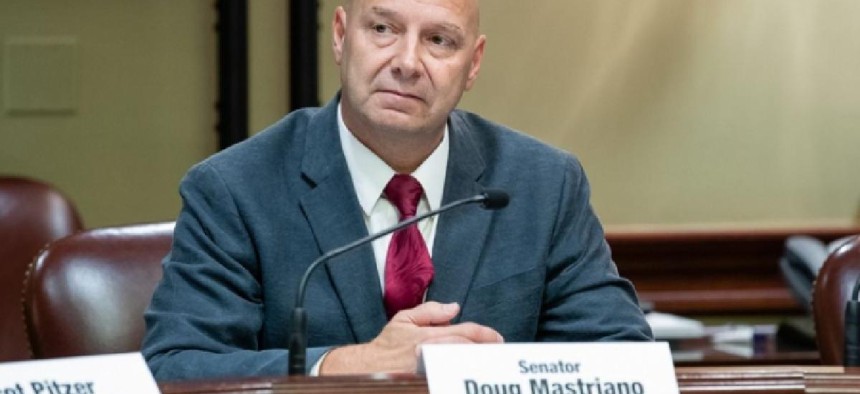 In response to rising gas prices and shortages in some parts of the United States, state Sen. Doug Mastriano is seeking to implement a temporary cut to the state's gax tax in order to provide relief to Pennsylvania consumers. 
In a co-sponsorship memo sent to colleagues, Mastriano, a Republican, outlined his forthcoming legislation, which proposes a six-month, 30-cent cut to the state's gas tax, which currently hovers around 58 cents, according to the Tax Foundation. Mastriano's proposed cut would be phased in over six months and is aimed to provide a temporary solution to rising gas prices.
The legislation also would provide an alternate funding mechanism for road and bridge projects to fill the financial void left by the gas tax cut.

"This summer, more drivers will hit the road to head back to in-person work at offices and partake in summer travel. Some analysts are projecting that gas prices could hit $4 a gallon by August," Mastriano wrote in the memo. "These high gas prices are simply not affordable for Pennsylvanians already dealing with rising inflation in other parts of the economy. Relief is needed now."
According to a 2020 estimate from the Tax Foundation, Pennsylvania had one of the highest gas taxes in the nation at 58.7 cents per gallon. The only state with a higher gas tax than Pennsylvania was California, which had a gas tax of 62.47 cents per gallon. 
In March, Gov. Tom Wolf expressed a desire to permanently phase out the state's gas tax, which he referred to as an "outdated, unreliable" funding source. To kick-start the process of replacing the gas tax, Wolf formed a bipartisan commission to identify new funding sources for transportation-related projects.

The commission, which is made up of state government leaders, industry stakeholders and local government officials, is required to provide a list of potential alternative funding sources to Wolf by August 1. 
Mastriano's proposed cut to the state's gas tax would remain in place for six months, according to his co-sponsorship memo. The proposed legislation would also establish a registration fee for electric vehicles, a component designed to provide replacement revenue for money lost by the 30-cent gas tax cut.

In recent years, lawmakers have attempted to get a bill creating an electric vehicle fee to the governor's desk, but an amended version of the bill died in the Senate last session before making it to Wolf's desk.

A spokesperson for Wolf said Mastriano's proposal lacks long-term, sustainable funding mechanisms.

"The governor has been clear on his desire to phase out Pennsylvania's gasoline tax paired with seeking a long-term, reliable funding solution that will keep pace with Pennsylvania's infrastructure needs. This proposal is not the way to get there and lacks sustainable, comprehensive funding recommendations for Pennsylvania's large and aging infrastructure, Lyndsay Kensinger, a spokesperson for Wolf, told City & State.

"Further, it's troublesome and unclear as to how high the senator is proposing to raise the vehicle registration fee in order to raise the $9 billion in annual unmet needs across our state-maintained transportation system alone," Kensinger added. "Given the roughly 30,000 electric vehicles currently in the commonwealth, the Senator's fee would need to be $300,000 per vehicle in order to address our transportation needs."

Mastriano did not respond to a request for comment as of press time. His bill has yet to be formally introduced and referred to a committee.