Environment
With incentive bills, Wolf, Dems want RGGI to become a reality in Pa.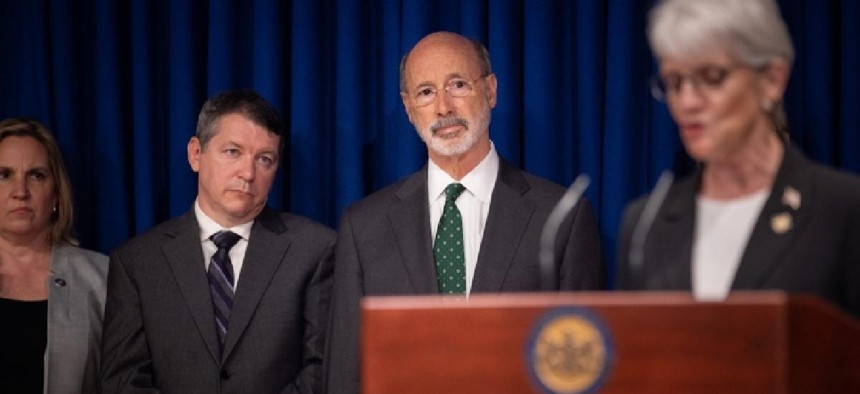 Gov. Tom Wolf joined Democratic legislators Monday as they introduced two bills that would invest revenues from the Regional Greenhouse Gas Initiative (RGGI) into workers affected by energy transition and communities affected by climate change. 
RGGI, a market-based program that seeks to limit greenhouse gas emissions, is a regional cap-and-trade initiative including Connecticut, Delaware, Maine, Maryland, Massachusetts, New Hampshire, New Jersey, New York, Rhode Island, Vermont and Virginia. Pennsylvania is the only state in the Mid-Atlantic and northeast regions that has yet to join. The program establishes a cap for pollution emitted from power plants and requires them to pay for carbon dioxide they release into the atmosphere. 
The bills being introduced, Senate Bill 15 and House Bill 1565, are sponsored by state Sen. Carolyn Comitta and state Rep. Dianne Herrin, respectively. They would establish funds to disburse the estimated $300 million in annual revenue to the Energy Communities Trust Fund, Environmental Justice Communities Fund and Clean Air Fund.
"The bill is the product of extensive meetings with key stakeholders across the Commonwealth, including environmental advocacy, environmental justice, renewable energy and labor groups and communities," Comitta said at the press conference. "With the final RGGI rulemaking expected to go before the Environmental Quality Board this summer, we are moving closer to making RGGI a reality in Pennsylvania."
Specifically, the bills would allocate about half of RGGI revenues to dislocated workers and communities experiencing power plant closures. About 37.5% of revenues would provide grants for economic development energy projects, workforce development and supplemental unemployment compensation, and about 12.5% would go to communities who experienced poor health and economic outcomes due to pollution. 
Wolf's executive order directing the Department of Environmental Protection to move Pennsylvania towards joining RGGI has been a point of contention in the Republican-led General Assembly that says he doesn't have the power to make the move unilaterally. Despite this, four DEP advisory committees recommended the department move ahead with its proposed rule to join the RGGI just recently.
The RGGI dispute led to a standoff between Wolf and Republicans over Public Utility Commission nominations last month. Senate Republicans told Wolf they'd refuse to confirm any nominee to the PUC unless he halts efforts to join RGGI. Wolf vowed to continue the RGGI process and ultimately recalled his nomination for Hayley Book, leaving the PUC one member short for the foreseeable future. 
Last week, the House Environmental Resources and Energy Committee passed House Bill 637, which would require legislative approval before Pennsylvania could join RGGI or any other initiatives that would reduce carbon emissions. The Senate passed its version, Senate Bill 119, through the chamber Monday by a vote of 35-15, but Wolf vetoed similar legislation last session. 
"If Pennsylvania joins RGGI under this order, we will be the only state in RGGI that joined without the consent of the General Assembly. What this legislation does is ensure that if we do join RGGI, the General Assembly will have a voice in this process," state Sen. Joe Pittman, prime sponsor of SB 119, said on the floor. "RGGI is a scam, and Senate Bill 119 is how we expose this scam." 
Wolf said the environmental, economic and health outcomes from curbing carbon emissions should be bipartisan. He added that as more coal and fossil fuel jobs are lost during the transition to green energy, initiatives like this will be needed to support and retrain workers. 
"RGGI has received broad support from environmental indigenous groups and labor groups in Pennsylvania because they know that by participating, we can fight climate change while helping businesses and workers in Pennsylvania," Wolf said. "RGGI will allow us to make targeted investments to support workers affected by the energy transition, an energy transition that is already taking place."