Budget
It's budget week in Pa. Here's what to watch for.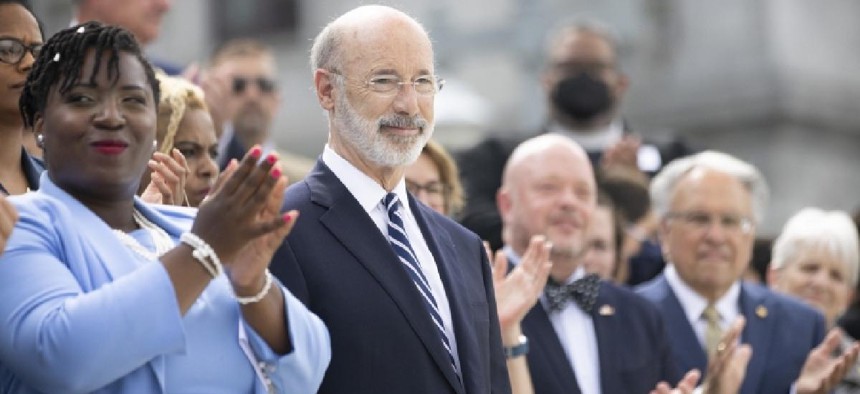 It's budget week in Harrisburg. After what many have called an unprecedented year, Gov. Tom Wolf and Democrats are pushing for an unprecedented budget. Republicans, on the other hand, are wary of big spending and don't want to use federal relief dollars on any recurring expenses. 
Ahead of this week's negotiations, City & State has outlined what lawmakers are pursuing ahead of the July 1 budget deadline. 
 
Federal COVID-19 funds
The Commonwealth received about $7.3 billion in federal COVID-19 relief earlier this year. Democrats released their "Pennsylvania Rescue Plan," which looks to utilize federal funds to address a broad range of issues related to health care access, infrastructure, broadband expansion and more. The GOP-led General Assembly is likely to implement more modest changes and target hard-hit sectors with aid, however. Compromises will be made this week as Republicans and Democrats are at odds, once again. It remains to be seen whether certain industries will get major boosts in their budget lines, or if the Rainy Day Fund will be bolstered by the one-time funds. 
Education
With less than two years left in his current term, Wolf is hoping that his legacy will center around his commitment to increasing funding for public education. His 2021-2022 budget proposal asks lawmakers to make a historic investment in basic education by running a $1.15 billion funding increase through the state's Fair Funding Formula, which allocates new resources using a weighted equation that factors in a district's wealth compared to student needs. Wolf originally proposed increasing the state's income tax rate to pay for the increase, but has recently reversed course, saying that the tax increases aren't necessary thanks to $7.3 billion in COVID-19 aid from the federal government. Republicans, however, appear to have their sights set elsewhere, as they advanced a bill that would expand tax credit programs that provide scholarships for students to attend private schools (as well as some public schools). Proponents of the bill say it's designed to address an increasing demand for the school choice scholarships. And this all is happening as the Pennsylvania State System of Higher Education continues moving ahead with its planned redesign, which could result in the consolidation of some universities. There's a lot to watch on the education beat this week, that's for sure.
 
Long-term care and nursing homes
It's no secret that nursing homes were devastated during the pandemic, and it should be one thing both parties can agree on. Many of the issues in health care and nursing homes were results of years of underfunding. Advocates and workers have said homes were dealing with flat Medicaid funding for years, and additional costs for testing, PPE, and more limited their ability to attract and retain qualified workers. Wolf proposed increasing funding for comprehensive direct care worker training programs, home and community-based services, and giving municipal and county health departments additional investments to increase their capacities. There's bipartisan agreement on what needs to be done, but we'll have to see what numbers they ultimately come to. 
Infrastructure 
Infrastructure has been another topic that has received a lot of attention in the months leading up to June. Republicans have expressed concerns about PennDOT's plan to toll bridges across the state to fund infrastructure improvements, while Wolf has convened a commission to find alternatives to the state's gas tax. Meanwhile, legislative Democrats have called on their Republican colleagues to use federal COVID-19 dollars to fund improvements to schools in need of asbestos remediation and other infrastructure issues – so it's definitely a policy area to watch as the week goes on.
Rainy Day Fund
Fiscal watchdogs in the General Assembly have stressed that the state can't spend its relief dollars on recurring expenses, a problem the Commonwealth ran into after the Great Recession. On top of the $7.3 billion in federal COVID-19 relief funding, the state also has a projected $3 billion in revenue surplus. Expect the GOP-controlled legislature to keep budget increases low and to push for a lot of the dollars to be saved to prevent future holes or tax increases. Compromises will be made when it comes to education, the big ticket item in this year's budget. Outside of that, it will be interesting to see Republicans work with Wolf and Democrats on how federal dollars are bankrolled and how much of the surplus goes into the Rainy Day Fund.