Health Care
State health department lifts universal mask mandate on Monday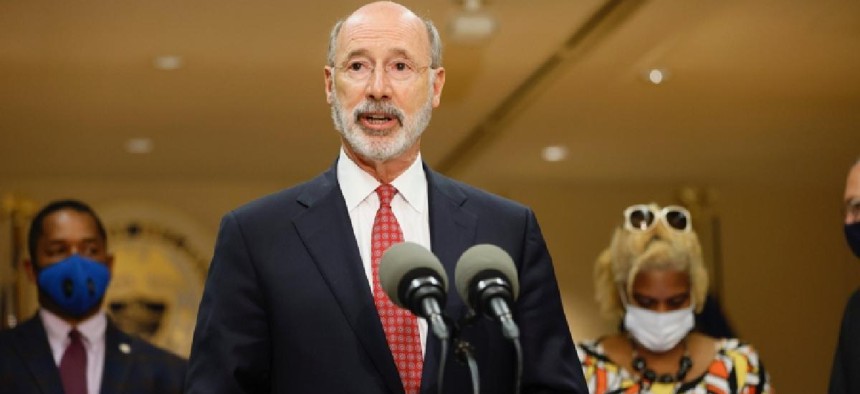 Thanks to rising vaccination rates, the Pennsylvania Dept. of Health confirmed today that its universal masking order will be lifted statewide on Monday, June 28.
"We are continuing to make progress toward stopping the spread of COVID-19 throughout the Commonwealth, as many Pennsylvanians have taken responsibility for their own health and the health of their communities by getting vaccinated," Acting Secretary of Health Alison Beam said in a statement.
The Centers for Disease Control and Prevention announced last month that fully vaccinated people no longer had to wear masks in most indoor situations, but Pennsylvania and many other states maintained their masking orders. Gov. Tom Wolf previously said the mandate would be lifted when 70% of adults in the Commonwealth were vaccinated. DOH updated that threshold soon after, stating that the mandate would be lifted on June 28 or when 70% of adults were vaccinated, whichever came first. 
As of Friday morning, 74.9% of Pennsylvanians age 18 and older had received their first dose, and 59.4% are fully vaccinated. Those numbers put Pennsylvania at eighth in the nation for first doses by percentage of population. 
"The COVID-19 vaccines are the best tools we have to defeat COVID-19," said Dr. Denise Johnson, Acting Physician General. 
"Pennsylvanians are aware of this and have been getting vaccinated. If you have not already been vaccinated, there are plenty of options available near you. Getting as many Pennsylvanians vaccinated as possible will offer more protection against the virus for everyone and is the fastest and safest way for us to return to our normal activities."
Businesses, organizations, health care providers and others may maintain masking requirements for employees, guests or customers regardless of their vaccination status. The CDC also still requires people to wear a mask on planes, buses, trains and other forms of public transportation. 
This announcement comes on the heels of Republican efforts to pass Senate Bill 618, which would ban schools and universities from requiring COVID-19 vaccinations for students and take away the state health secretary's ability to put emergency restrictions in place. The bill, which originated as just a vaccine passport prohibition, will likely be vetoed by Wolf, who has affirmed that the state has no such vaccination requirements. Republican spokespeople could not be reached for comment for this story.