Budget
Wolf signs state budget, touts increased funding for education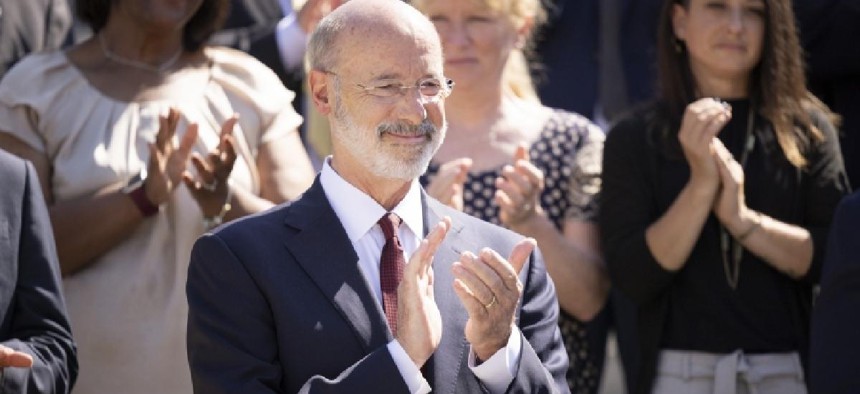 Gov. Tom Wolf on Wednesday officially signed a $39.8 billion budget that makes historic investments in education and stashes away billions of federal coronavirus relief funds, which Wolf said will help to "level the playing field" for students in poorer school districts.
But while Wolf signed the spending plan for the 2021-2022 fiscal year into law, he rejected a $3.1 million funding increase for the state auditor general's office designated for election audits – a controversial allocation sought by GOP legislative leaders.

The budget was approved by lawmakers on Friday and includes a $300 million increase in basic education, a $30 million increase in early childhood education and a $50 million increase in special education. The spending plan also allocates $100 million to a new "Level Up" initiative that will direct resources to some of the state's most underfunded school districts. 
Wolf, joined by legislators on the Capitol steps, said the budget includes a $416 million increase in education that represents "the largest education funding increase in the history of this Commonwealth."
"It shows every student that we care about their education and we care about their future," Wolf said. "It reminds every mom and every dad in Pennsylvania, that we, as a Commonwealth, are invested in the success of their children, of our children, and it's going to help the next generation of Pennsylvanians to succeed right here in Pennsylvania – not in Texas, not in California – but right here. This is an important step in fulfilling our commitment to schools, to students and educators." 
The budget, which was negotiated with legislative Republicans, also included other GOP-backed priorities. In the months leading up to budget negotiations, GOP leaders in the General Assembly wanted to save much of the federal funding provided by the American Rescue Plan, which was signed into law by President Joe Biden in March.

Pennsylvania received roughly $7.3 billion through the American Rescue Plan, and the state will save more than $5 billion of that sum for future budget cycles. The $1.04 billion that is being used in the 2021-2022 budget is being directed toward nursing homes, infrastructure projects and pandemic response efforts. Another $50 million is being allocated to the Pennsylvania State System of Higher Education for its ongoing redesign initiative. 
Additionally, the state's $2.5 billion budget surplus will be deposited into the state's Rainy Day Fund, growing the reserve fund to $2.76 billion. The budget goes into effect Thursday. 
With the budget now signed into law, both sides of the aisle also walked away without obtaining various budget priorities. Republicans had sought – and included – a $3.1 million increase for the state auditor general's office designated for the creation of a Bureau of Election Audits. 
The bureau, if formed, would have been tasked with conducting "result-confirming" audits of elections throughout the state. But the budget lacked language creating such a bureau and Wolf, on Wednesday, used his line-item veto power to reject the funding increase. 
House and Senate Democrats also sought greater use of the federal COVID-19 appropriations, proposing that billions be used for even greater increases in education funding, infrastructure improvements, paid sick leave and direct assistance to businesses. 
Wolf had called for the state to use upwards of $1 billion in federal funds for basic education funding so that it could be run through the state's Fair Funding Formula. He ultimately did not get that ask, but said it would be a priority of his for the remainder of his time in office. 
"I promise you that I will continue to fight for schools, students and communities all across this Commonwealth," the governor said Wednesday. "In the meantime, let's celebrate this victory today and tomorrow. Let's use this victory as a stepping stone to continue our fight for full and fair funding for all schools in Pennsylvania."