Environment
A 'scheme?' State House panel denounces Wolf's carbon emissions plan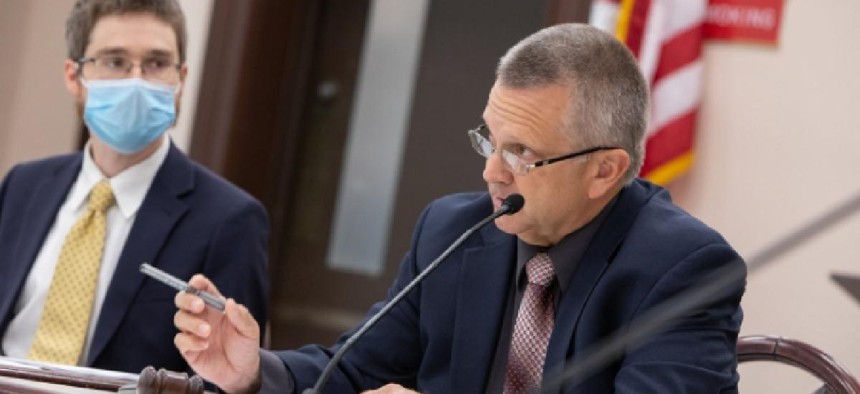 Members of the Pennsylvania House Environmental Resources and Energy Committee voted Wednesday to send a letter to a state regulatory board denouncing Gov. Tom Wolf's plan to place a cap on carbon emitted by power plants throughout the state. 
The regulation would establish a framework for Pennsylvania to join the Regional Greenhouse Gas Initiative – a collective of states dedicated to reducing carbon emissions by placing restrictions on the amount of carbon emitted by power plants. 
The regulation, which was approved by the state Environmental Quality Board earlier this month, would set a cap on carbon emissions from power plants that would be lowered each year. Carbon-emitting power plants would be required to purchase allowances at state-run auctions in order to emit carbon, with one allowance required for each ton of carbon emitted. 
The proceeds from allowances would then be used by the state to fund renewable energy and energy efficiency projects. 
Officials in the Wolf administration estimate that the proposal would reduce carbon dioxide emissions by 31% when compared to 2019 levels. The final form regulation, if approved by the Independent Regulatory Review Commission this fall, would cap emissions at 78 million tons in 2022 and would be gradually lowered to 58 million tons in 2030. 
Members of the House Environmental Resources and Energy Committee, however, are urging members of IRRC to reject the regulation at its Sept. 1 meeting. 
Republicans were joined by Democratic state Rep. Pam Snyder in voting for the letter, and have long argued that Wolf lacks the authority to unilaterally join RGGI without legislative approval. Western Pennsylvania lawmakers, including Snyder, also maintain that the carbon cap would lead to the premature shutdown of fossil fuel-fired power plants and decimate livelihoods and local economies. 
State Rep. Daryl Metcalfe, chair of the committee, said the regulation was advanced by the Environmental Quality Board in violation of the state's Sunshine Act, which requires public meetings to be open to the public. Metcalfe added that participating RGGI states have all had their entry into the program approved by their respective state legislatures. Pennsylvania, Metcalfe stressed, has not taken similar action. 
Metcalfe also referenced a bill passed by the legislature last session to block Pennsylvania's entrance into RGGI. 
"The state legislature, in every other state, which is a part of RGGI, has spoken in a clear manner to allow their state to join RGGI," Metcalfe, Republicans and Snyder, wrote in the letter. "Considering the bipartisan legislation that has moved through the General Assembly regarding RGGI and comments submitted to this regulation by legislators opposing RGGI, not only has the General Assembly not authorized this action, but it instead has explicitly spoken to reject it."
Wolf and his administration, meanwhile, say the regulation is needed in order to address climate change and reduce the state's carbon footprint. Administration officials also say the executive action Wolf took to enter the initiative is permitted under the Air Pollution Control Act.