Education
PASSHE unanimously approves plan to integrate six schools into two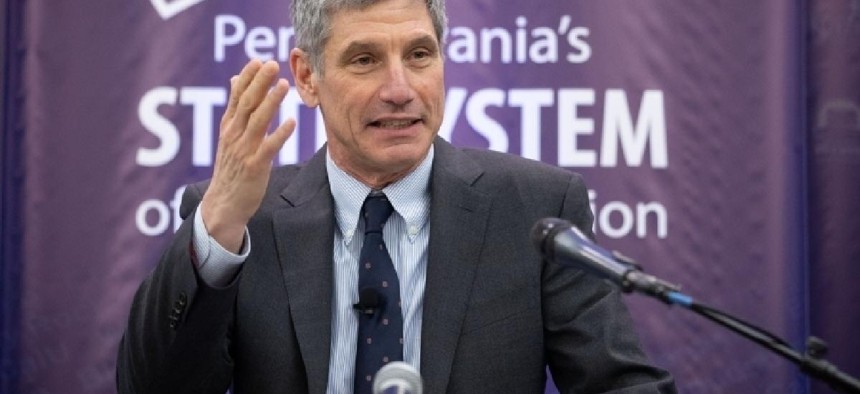 Pennsylvania's State System of Higher Education, known as PASSHE, voted unanimously Wednesday to move ahead with its plan to consolidate six struggling schools into two. 
The system will combine Bloomsburg, Lock Haven, and Mansfield universities in the northeast and California University of Pennsylvania, Clarion University and Edinboro University in the west into two universities beginning in the fiscal year 2022-23. 
"Today's vote represents the most profound reimagining of public higher education in the Commonwealth since the state system began in 1983," said Cindy Shapira, chair of the board of governors. "This effort has proven we can fulfill what we set out to do – ensuring student and institutional success while providing the highest quality education at the lowest possible price."
The redesign plan faced fierce opposition from university faculty, staff and students who said the process was rushed and would diminish the universities' staff and education quality. Some university presidents, on the other hand, have said consolidation is the best option for the long-term financial sustainability of the system. 
PASSHE reported losing about 21% of enrollment over the last decade. A lack of state support, rising tuition rates and changing demographics all played a role in the declining enrollment, but the system hopes the integration plan would reduce the cost for a student by up to 25% and turn things around. 
PASSHE Chancellor Daniel Greenstein has argued that while the plan may result in some employees being laid off, the merger would allow the schools to keep their campuses open and continue offering an affordable education. At the same time, the "high-quality education" PASSHE is required to provide would also include some virtual classes on the proposed campuses. Staff and students during the public comment period shared their dismay with the plans, particularly the proposal for online classes.
A report developed by the Political Economy Research Institute at the University of Massachusetts Amherst, funded by the nonpartisan Pennsylvania Budget and Policy Center, states that the cuts would amount to 14% of PASSHE employment. It adds that "their spillover effects will have a substantial negative impact on the Pennsylvania economy" in the economic regions around each university.
The NCAA recently discussed the possibility of keeping a full complement of athletics at all six schools, but did not come to a decision. After so many individuals expressed their concerns for the overall plan during the public comment period, PASSHE extended the plan's timeline and clarified that face-to-face instruction would continue at all six campuses. 
Ultimately, the outcome didn't change, as the board of governors thought integration gives the system the best opportunity to redesign education and put itself in a better situation for the future.