Health Care
Studies show caring for older adults requires a holistic approach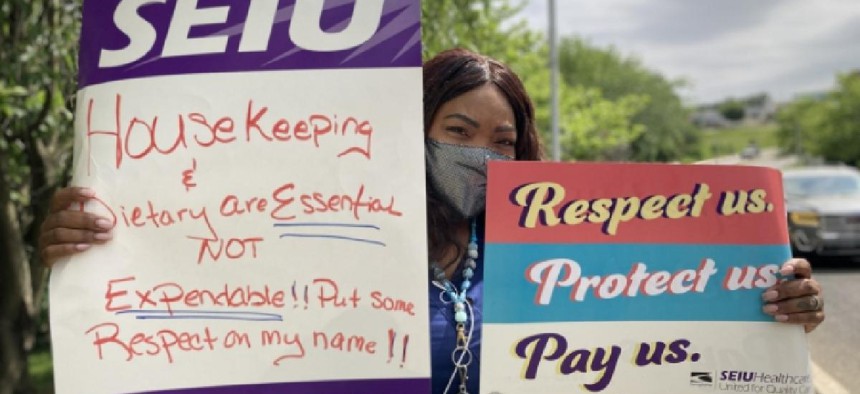 Pennsylvania is getting older quickly. By 2030, when baby boomers will be 65 or older, seniors will outnumber children 18 and under for the first time in history. 
It's no secret the state struggled during the pandemic to control COVID-19 outbreaks in nursing homes and long-term care facilities. Issues like staffing shortages and a lack of resources, which existed before the pandemic, were exacerbated by the grim conditions. 
The question is: with services failing to meet the current population's needs, and the population only getting older, how can the state prepare for what's ahead?
"The reality is that society tends to treat older adults as an afterthought," Adam Marles, president and CEO of the trade association LeadingAge PA, told City & State. "I think [the pandemic] shined a light on how much work there is to do to make sure that older adults have what they need to not be isolated, and to make sure that they are still thought of as contributing critical components of our communities."
Currently, one in four Pennsylvanians is over 60. That number is expected to reach 4 million, about one-third of the state's population, by 2030. Those 85 and older are expected to grow steadily, as well. 
According to the Independent Fiscal Office's five-year outlook, Pennsylvania's retiree cohort grew by 3.3% over the last five years, and is expected to grow by 2.6% in the next five years. The elderly cohort, including those 80 years and older, is expected to grow by nearly 4% in the same period. 
Serving older adults goes beyond just health care, and with people living longer, more active lives, the demand for services is only going to increase. Homebound seniors may need assistance with getting food and medication, accessing home care and social services, and learning how to use technology and avoid isolation. Others may need help paying rent or utilities, or need additional mental or physical therapy in a post-pandemic world. 
The state's Department of Aging, led by Secretary Robert Torres, must develop a State Plan on Aging to provide a vision for the next few years. The department's most recent plan outlines five goals Commonwealth agencies will pursue. They include strengthening the aging network's capacity; improving services for older adults; enhancing efforts to supply a sense of community for older adults; emphasizing a citizen-first, diverse culture; and advocating for the rights and protecting older adults from abuse and exploitation.
As need grows, so does the demand for more resources. Torres said regardless of future funding, the state has to use technology and evidence-based programming to increase efficiency and capacity. 
"Whether we get more support or not, we must continue to improve data collection and analytics in order to be more efficient and build our capacity," Torres told City & State. "[The population's] also becoming more diverse, so one of my priorities is to make sure that we're being effective in our outreach to diverse communities, meaning there's not a one-size-fits-all method."
Torres and advocates agreed that a person-centered approach to health care is required going forward. Being proactive and pushing preventative medicine now can prevent emergencies and other problems in the future, he said. 
The pandemic revealed the urgency for a holistic approach to health, and that socioeconomic status and lifestyle choices play a major role in health outcomes. But just to start, advocates and workers in the industry say they need to be provided the most basic necessities to properly serve their communities. 
"Everything that we went through during the pandemic has always been there. COVID exposed the ugly truth and the monster that was already in the closet," Tisheia Frazier, certified nursing assistant (CNA) at the Saunders House outside Philadelphia, told City & State. "Nursing homes were like the Titanic. In the movie, when the boat was sinking, they told the band to keep playing while people were out there dying."
The Saunders House is one of 12 nursing homes that voted in June to authorize strikes. Frazier said current contract negotiations with the facility have been focused on not only improving wages, but also providing better health care and other benefits like tuition reimbursement. Those are two important factors in both attracting and retaining a quality workforce. As it stands now, she said, the options given to workers are nowhere near where they need to be. 
"It's the most dangerous work in the country right now," Matthew Yarnell, president of SEIU Healthcare Pennsylvania, told City & State. "A workforce that is largely impoverished – this chronic, low wage-high turnover workforce – is ultimately bad for care."
According to Yarnell, there are more than 234,000 direct care workers in the state. The existing shortage, which he blames on low wages, minimum training and high emotional and physical demands, creates obstacles for access to quality services and the continuity of care necessary to improve health outcomes.
SEIU, which represents workers at more than 100 of the Commonwealth's 700 nursing homes, was requesting a $250 million investment to the bedside, what Yarnell called a "down payment toward equality." 
Marles and LeadingAge PA, which represents more than 380 senior service providers across the state, was looking for $450 million, including $396 million for nursing homes. He said nursing homes receive funding through medical assistance, Medicare and Medicaid, and private and long-term care insurance. While Medicare pays these properties enough to continue operating effectively and generate some margin, medical assistance underfunds homes by about $45 per person per day. With resources lacking in numerous areas, resources will have to be allocated toward specific purposes to ensure workers are paid well and homes are properly reimbursed. 
Roughly $282 million of this year's budget will use American Rescue Plan dollars for nursing homes and long-term care support, with about $250 million toward staffing and bedside care. Yarnell said the investment was a long-time coming, but that it doesn't go far enough to address both short-term and long-term staffing needs.
The $282 million allocation in the state budget also includes $30 million for personal care homes and assisted living facilities and $5 million for grants to develop indoor air management practices, as well as funding to provide home and community-based services to 501 more seniors. 
Yarnell said increased funding could get CNA minimum wages up to $17 an hour, and licensed practical nurse wages up to $25 an hour. With one worker caring for up to 20 residents during the day, and up to 40 residents overnight, he said a lot more must be done to get homes to "humane staffing levels." 
"If you're taking care of someone who's completely dependent and needs care for toileting, bathing, mobility and eating – you name it – that is totally not the appropriate level of care we ought to be giving Pennsylvania seniors," he said. 
Yarnell says the new investments don't necessarily mean workers at those 12 homes won't take matters into their own hands. Contract negotiations are continuing with the relief funds in mind, and a potential strike is among the last things workers want to do to get what they want. 
"We're not being greedy … we're just asking for the basic fundamentals every health care worker should have," Frazier said. 
The state has a long way to go if it wants to fully address the issues older adults are facing, and will continue to face. Agencies and advocates may disagree on what exactly should be done, but they can agree that breaking down silos between providers will be crucial in treating people as a whole. 
"We need to make sure that the attention and collaborative spirit on lawmakers' behalf continues, but we're moving in the right direction," Marles said. 
Torres stressed that improving efficiency and capacity is a necessary step, but that creating partnerships and working collaboratively will help the state, as well. 
"There are a lot of things, whether it's affordable housing, prescriptions and food, or mental health and addressing trauma, that we need to make sure we're providing for older adults and keeping them healthy with good, evidence-based programs," Torres said. "I want to make sure that we're being very effective in our reach to diverse communities, to LGBT older adults and that we're being responsive and working with trusted partners."
One of the first decisions made by the state Department of Aging will be how it will spend the $59.3 million it received from the American Rescue Plan. Although the department has three years to allocate the funds, Torres said much of it will go to area agencies on aging (AAAs) to help them develop individualized plans. Across the board, he said, their focus moving forward is to align services across all industries to focus on the population's growing list of needs.
"I want to tell the story, at the end of the three years, that this money helped achieve these outcomes, and that the demand for services is only going to increase," Torres said. 
The pandemic deepened what was already a massive hole in the area of nursing and long-term care. Coming out of all this, it's up to the state to dig itself out before it's buried.