Health Care
Have questions about mask mandates in PA? We have answers.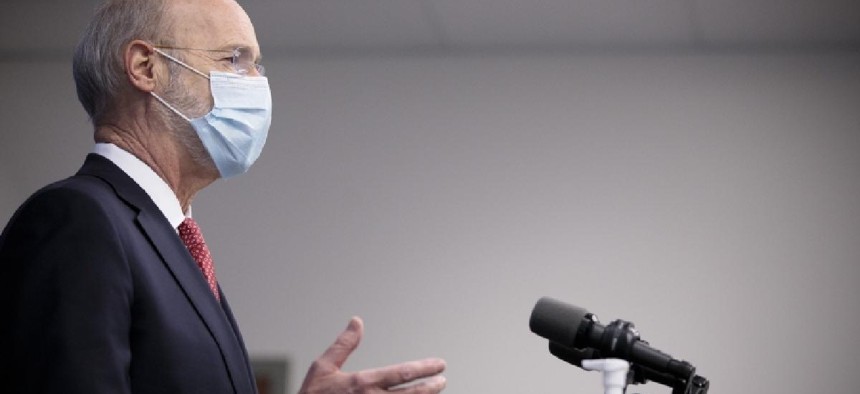 COVID-19 cases are on the rise again in Pennsylvania, thanks to the highly-contagious delta variant that is spreading across the country.

With increased case counts come new concerns about whether the state's mask requirements will change, so we've developed a guide to what the commonwealth's approach to face coverings currently looks like.
 
Is there a statewide mask requirement in effect?
No. Pennsylvania's statewide mask mandate, which took effect at the beginning of last year, expired on June 28, 2021 shortly after COVID-19 case counts dropped as a result of widespread availability of new COVID-19 vaccines.
Since that time, Pennsylvania health officials have urged residents to follow masking guidelines set by the Centers for Disease Control and Prevention, and, above all, have urged Pennsylvanians to get the COVID-19 vaccine. 

Is the governor going to reimpose mask mandates in Pennsylvania?
Gov. Tom Wolf's administration has not stated whether a new mask mandate is in the works, and Wolf appears to be leaving it up to businesses and local governments to discern whether mask requirements are needed. 
In an email to City & State, Wolf spokesperson Lyndsay Kensinger said that masking will be a local decision. "Businesses, school districts and local governments have the authority to implement more restrictive mitigation measures as they see fit, including local masking mandates," she said.
Instead of handing down mask mandates, the Wolf administration is placing a heavy emphasis on vaccination efforts, encouraging all Pennsylvnaians to get the COVID-19 vaccine, Kensinger said. 
"[D]ata has shown that there is a correlation between increased vaccination rates and lower COVID-19 case counts," Kensinger added. "We cannot stress the importance of eligible Pennsylvanians getting vaccinated to stop the spread of COVID-19."
 
Will masks be required at schools?
Schools will also be left to make their own decision on face coverings, if Wolf's recent comments on the matter are any indication. 
At a press conference last week, Wolf said he will not be requiring that students wear masks in schools, according to The Philadelphia Inquirer. 
"I think the school districts in Pennsylvania have to decide what they want to do," Wolf said. "I think the CDC guidelines strongly recommend that schools do that. They're not mandating it and neither am I."
 
Is the CDC recommending that Pennsylvanians wear masks?
The most recent CDC guidance does not require fully vaccinated Pennsylvanians to wear masks, but it does recommend that masks be worn indoors in areas with "high or substantial transmission" of COVID-19. 
Those with a weakened immune system, due to age or a medical condition, are also encouraged to wear face coverings.