Health Care
Wolf announces 'vaccine or test' requirement for some state workers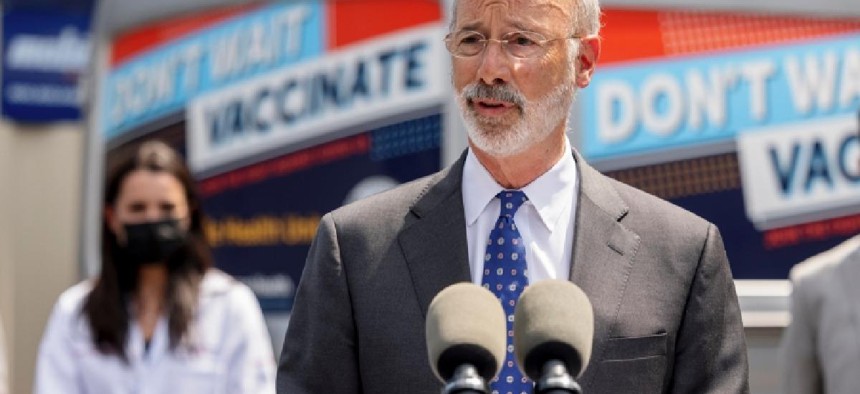 As worries about the delta variant grow and Pennsylvania's vaccination rate plateaus, Gov. Tom Wolf on Tuesday announced a new requirement aimed at increasing vaccinations in health care facilities and congregate care settings. 
Employees at state health care facilities – as well as those in state-run congregate care facilities like veterans homes, community health centers and prisons – will be required to either get the COVID-19 vaccine or receive weekly tests. 
Wolf said the renewed sense of urgency that prompted the new requirement can be attributed partially to the delta variant, which has spurred case increases across the nation. 
"If you live in any community with anybody who's vulnerable, you're a shield only if you get vaccinated. If you don't choose to be vaccinated, you're not going to serve as a shield; you're putting the people around you – your neighbors, your family members, your friends, your community – at risk," Wolf said, adding that people in congregate care settings are more likely to be at risk from new variants, and that as a result, employees at such facilities need to get vaccinated. 
"We will be giving employees there the choice: either get a vaccine or you're going to have to be tested," Wolf said. 
State Rep. Dan Frankel, who serves as minority chairman of the House Health Committee, praised the move, saying it will help better protect residents in state facilities.

"Some of our most vulnerable Pennsylvanians are in these facilities, and they are depending on this commonwealth to do all that we can to protect them when they are under our care," Frankel said in a statement. "It's already so hard for families when they realize they can no longer take care of loved ones themselves. This initiative can provide some peace of mind that residents at state and high-risk congregate facilities are not being needlessly exposed to COVID-19 when a safe and effective vaccine is available to all."
A spokesperson for the Pennsylvania State Corrections Officers Association, a union representing state correctional officers, did not immediately respond to a request for comment on the new requirement. 
The governor also announced that he will be giving all state employees under his jurisdiction a day off to incentivize vaccinations. 
Currently, more than 63% of Pennsylvanians have been fully vaccinated for COVID-19. 
Pennsylvania has seen an uptick in new COVID-19 infections in recent weeks, as the state's 14-day average of new cases has increased, according to the Pennsylvania Department of Health. 
Dr. Michael Ripchinski, Lancaster General Hospital's chief medical officer, applauded Wolf's effort to encourage vaccinations among state employees. Ripchinski said vaccinations will help protect vulnerable Pennsylvanians, including newborns and the elderly. 
Ripchinski also recommended that employers throughout the state adopt similar vaccine policies in order to limit COVID-19 transmission. 
"Fostering safe working conditions for our employees will ultimately keep our families safe and ensure healthier communities," he said. 
Despite an increase in the number of COVID-19 cases statewide, Wolf also said he will not be reinstating a statewide mask mandate, and will also leave schools to make localized decisions on masking. However, he encouraged schools to follow guidance from the Centers for Disease Control and Prevention.