Health Care
Wolf signs bill extending COVID-19 regulatory waivers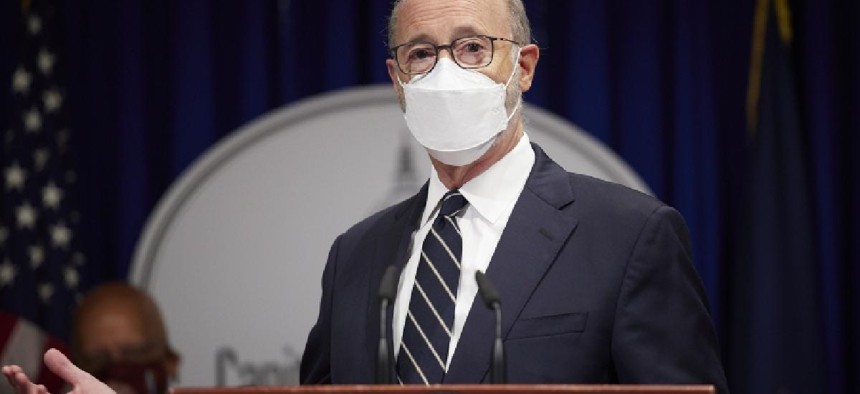 In a moment of bipartisanship, Gov. Tom Wolf has signed legislation into law that will extend hundreds of regulatory waivers and suspensions made to bolster the state's response to COVID-19 after the measure passed with unanimous support in the legislature. 
The new law will temporarily extend nearly 500 regulatory waivers made by state agencies throughout the pandemic, keeping them in place through March 2022. 
The waivers were set to expire Sept. 30 after previously being extended by lawmakers earlier this year. The suspensions apply to a broad range of government regulations and requirements, including occupational licensing, public meeting requirements and health care. 
In a statement, Wolf thanked lawmakers for working with him to keep the waivers in place.
"These are important changes that will help us continue our work to protect public health in Pennsylvania," he said in a statement. "Following the expiration of the disaster declarations for the opioid epidemic and the COVID-19 pandemic, I'm pleased that we were able to come together to keep these important public health measures working on behalf of Pennsylvanians."
Under the extensions granted in House Bill 1861, requirements for out-of-state health care practitioners to obtain Pennsylvania-specific licenses are relaxed. The bill also allows licensed health care workers from other states to administer COVID-19 vaccines. 
The measure also waives in-person meeting requirements for state occupational boards and commissions, sets standards for the use of telemedicine and eases the process for the reactivation of expired medical licenses. 
House Speaker Bryan Cutler, who voted in favor of the legislation, said the bipartisan effort underscores the need to reduce state regulations. 
"The House Republican Caucus has argued for years that the state is burdened by an over-regulated state government," he said in a statement. "If there is one thing the pandemic has shown us, it is that those concerns are warranted and countless industries can operate safely, effectively and to benefit all Pennsylvanians without dealing with unneeded regulations."
HB 1861 also requires state agencies that have suspended rules, regulations or laws to prepare reports detailing what waivers have been issued. House Majority Leader Kerry Benninghoff said the legislation will help inform lawmakers about which waivers could be made permanent. He said: 
"This bill takes several positive steps in reforming our regulatory framework, continuing to respond to and responsibly manage this pandemic, and keep an eye toward future reforms."