Education
Lawmakers passed a school 'transparency' bill. Here's what's in it.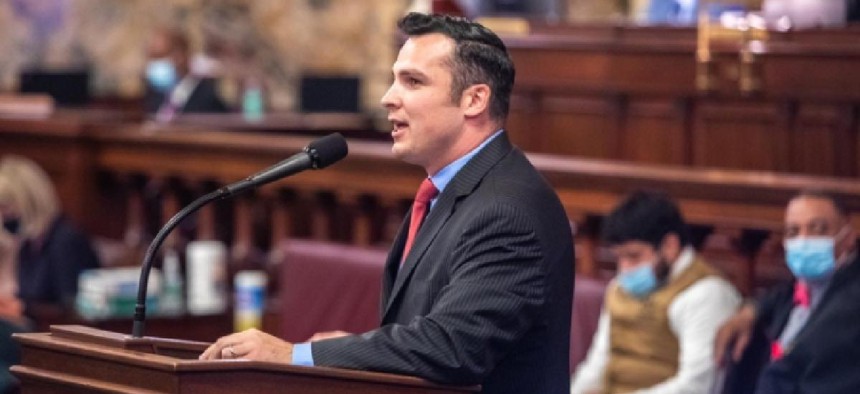 House lawmakers approved a so-called school curriculum "transparency" measure this week that, if signed into law, could make school curriculum materials more accessible to the public, while also opening up schools to greater levels of scrutiny. 
The measure sparked a lot of debate among state lawmakers who sparred over whether the bill serves a necessary purpose or whether its motivations are purely political. The proposal – House Bill 1332 – passed largely along party lines, with a few Republicans joining Democrats to vote against it. 
 
What does the bill do?
House Bill 1332 is sponsored by state Rep. Andrew Lewis and would require schools across the state to post curriculum materials on their public-facing websites. The materials listed in the bill include academic standards, instructional materials, assessment techniques and course syllabuses. The bill also requires schools to post links or titles for every textbook that is used at a school. 
Under the legislation, schools would be required to post all of the aforementioned materials on their website and update the information each time a curriculum is revised or has new educational materials added to it. The bill would task a "chief school administrator" or a designee with updating a school's website with the required information, and websites must be updated within 30 days of a curriculum being revised. 
If signed into law, the bill would take effect beginning in the 2022-2023 school year.
The legislation was advanced through the House amid a nationwide debate over the teaching of critical race theory, an academic concept that suggests that racism is embedded in the nation's laws and policies. The topic has largely been limited to academia and higher education.
Republicans in other stateshave pushed similar measures, such as in Wisconsin, where proponents said virtual learning during the onset of the COVID-19 pandemic showcased "the true indoctrination of our children."
 
Who supports the bill?
The bill advanced through the House with a 110-89 vote, with only Republicans voting in favor of the measure. Lewis, the bill's prime sponsor, said in an April Facebook post that the bill would help put parents "in the driver's seat when it comes to education" and prevent schools from teaching certain topics, with Lewis pointing to "anti-American socialism" as an example. 
Speaking in support of the bill on the floor, Lewis framed the bill as a transparency measure that would "ensure that parents always have the ability to see what their kids are learning in school."
State Rep. Aaron Bernstine said that parents will be able to make sure that students are receiving a proper education if House Bill 1332 becomes law. "If everything's online and people can see it, that's transparent. There will be no conspiracy," he said. "We talk about making sure that they receive an adequate education, well, if everything's online and transparent, we'll make sure that they're receiving an adequate education."
House Majority Leader Kerry Benninghoff, speaking to reporters on Wednesday, said the bill would create "better transparency in education."
 
Who opposes it?
The bill was unanimously opposed by Democrats, who worried that the legislation would further ignite culture wars and animosity already occurring in school districts across the state. 
State Rep. Dan Frankel said HB 1332 is politically motivated: "This bill isn't about transparency for parents," he said. "It's about bringing the fights that get started on Fox News to the kindergarten classroom near you. It's about forcing our overburdened school districts to post every single thing they do online."
Frankel also suggested that the bill could subject teachers and school staff to harassment. "This legislation is an invitation for the book burners and the anti maskers to harass our schools and our teachers," he added. 
The Pennsylvania State Education Association, a teachers union made up of 178,000 members, also opposed the bill. In a statement, PSEA President Rich Askey said the broad nature of the bill could overburden teachers with additional work.

"The proposal is so broad that it could mean anything educators use to help their students learn, from textbooks and PowerPoint presentations to pencil boxes and dry erase markers," Askey said. "This mandate would amount to a crushing level of work for educators at a time when they are navigating in-person instruction, addressing student learning delays, and meeting students' needs during a global pandemic. It's an absolutely unnecessary distraction from what is really important – teaching kids."
 
What happens next?
With the bill passing the House on third consideration Wednesday, the legislation now heads to the Senate, where it will have to be considered three times before it gets sent to the governor.

If the bill is not changed from its current form, it will likely be met with a veto from Gov. Tom Wolf. In an email to City & State, Wolf spokesperson Lyndsay Kensinger said the bill is an "unfunded mandate and a potentially harmful means to incite further resistance to ensuring all learners have access to accuracies in history, and exposure to content reflecting multiple student identities."
"While many misinterpret these important experiences as critical race theory, it is important to be clear that critical race theory is not taught in any state-directed curriculum in Pennsylvania's K-12 schools," Kensinger added. "To prepare our Pennsylvania learners for a global marketplace, they require the ability to learn about others and their experiences. That should not be a political discussion if we are truly honoring human dignity."