Education
PASSHE's Greenstein: school funding is vital to PA's economic growth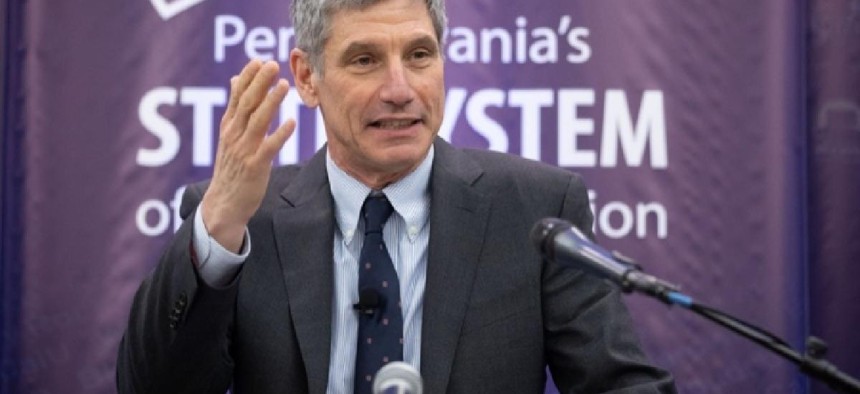 Speaking at the Pennsylvania's Press Club's monthly luncheon on Monday, Pennsylvania State System of Higher Education Chancellor Dan Greenstein didn't mince words when it came to the state of higher education in Pennsylvania. 
"The need is growing. Supply is shrinking. What happens when employers are unable to provide the skilled workers they need to succeed? They move," the chancellor said.

Greenstein, now in his fourth year as the leader of the State System, ditched his prepared remarks and delivered a blunt assessment of higher learning and how it connects to the state's broader economic challenges. His message? While roughly 60% percent of all jobs in the state require higher education, only about 50% of workers have the required training. And that gap, Greenstein says, isn't getting smaller – it's widening. 
He said: "In order to keep the lights on in the economy, we have to produce more adults who have some form of higher education." 
Complicating matters, Greenstein said, is that lower college costs in other states are driving more and more students out of Pennsylvania. 
"There's a growth every year in students seeking out of state options because of lower costs. And what happens to a student who attends college out of state? Do they come back to Pennsylvania? No."
Data from the state's Independent Fiscal Office reinforces Greenstein's claims. According to the IFO's most recent Economic & Budget Outlook report, the state's school age population, ages 0 to 19, dropped by 0.5% annually from 2010 to 2020 and is expected to drop by 0.4% annually through 2030.
The IFO outlined similar projections for the state's working age population earlier this month, predicting that the working age cohort will decline by 0.5% in the near term and by 0.3% in the long term. The working age population already saw decreases of 0.1% annually from 2010 to 2020, according to IFO data. 
"If labor force participation rates do not increase, then this trend will constrain economic and revenue growth in the future," the IFO concluded in the November report.
The State System has embarked on a redesign since Greenstein took control in 2018. The redesign included a consolidation of six state-owned universities in the western and northeastern parts of the state. Greenstein said the move was vital to making sure PASSHE remained financially stable. 
PASSHE leaders voted this fall to request a historic amount of funding from the state, asking lawmakers for a $550 million allocation, which is a $73 million increase from the system's most recent budget. 

Greenstein said the state's shortage of credentialed workers, along with the exodus of working age Pennsylvanians to other states, is directly linked to education funding levels. 
Pennsylvania currently ranks 48th out of 50 states and Washington, D.C. in the amount of state financial support per full-time student, according to Science and Engineering Indicators. Greenstein highlighted this data in his address on Monday and said the direction of the state, both in terms of higher education and economic growth, will come down to policy decisions at the state level. 
"What becomes of this state and its ability to continue to compete regionally, nationally – it's a policy choice. It's a matter of investment," he said. "This is not a question about funding schools. It's about ensuring our economic competitiveness – social mobility."