Gossip
Senate Republican leader Jake Corman tests positive for COVID-19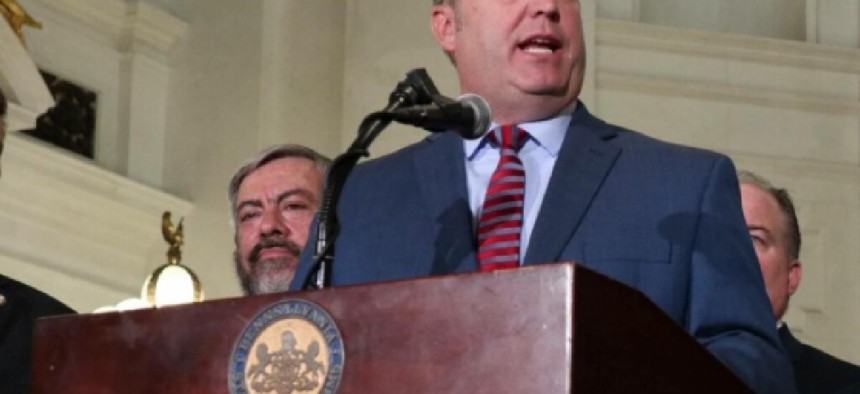 By Marley Parish and Stephen Caruso
Pennsylvania's top Senate Republican tested positive for the coronavirus Wednesday morning – one day before making an anticipated gubernatorial campaign launch.
Senate President Pro Tempore Jake Corman, R-Centre, is quarantining at his home in Bellefonte, Pa. Fully vaccinated for COVID-19, Corman is experiencing mild symptoms and out of an "overabundance of caution" has been routinely tested during the pandemic, his office said in a statement.
"Like many Americans, this morning Senator Corman tested positive for COVID-19, despite being fully vaccinated," his office said, adding that he "looks forward to a complete recovery."
With the Senate in session this week, Corman spoke on the floor of the upper chamber Tuesday night and was expected to announce his run for governor at an event at Axemann Brewery in Centre County on Thursday night. The owner of Axemann Brewery confirmed that the event was canceled and will be rescheduled at a later date.
Wednesday's session was delayed until noon, so the upper chamber could be disinfected, a Senate GOP staff member told the Capital-Star, adding that officials are following all Centers for Disease Control and Prevention guidelines and contacting potential close contacts.
Three Capitol sources also told the Capital-Star that Corman, who did not respond to a request for comment, attended a series of fundraising events in downtown Harrisburg Tuesday evening. The sources said Corman attended an event for operators of so-called "games of skill," or gaming consoles that operate with unclear regulations and zero taxes.
An invitation obtained by the Capital-Star also listed Corman as a guest at a 5:30 p.m. event at the Harrisburg Hilton on Tuesday for Pennsylvania Small Business Retailer Association Chamber of Commerce, a little-known group that advocates for the expansion of gaming in gas stations and convenience stores. It's unclear whether Corman attended.
House Speaker Bryan Cutler, R-Lancaster, and Sen. John Yudichak, I-Luzerne, were also listed on the invitation. A spokesperson for Cutler said the speaker attended and added that he was not contacted for potential exposure.
Attempts to reach the PSBRACC were not successful. An individual answering the phone number listed on the website hung up on a Capital-Star reporter, and emails to a listed address bounced.
Marley Parish and Stephen Caruso are reporters for the Pennsylvania Capital-Star, where this story first appeared.