Transportation
Buttigieg touts $1.6B from infrastructure bill to fix PA's bridges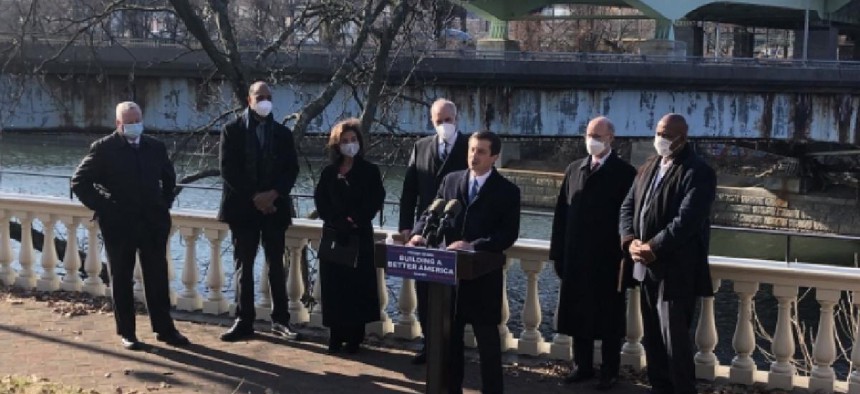 Standing in front of the Martin Luther King, Jr. Drive Bridge in Philadelphia Friday, U.S. Secretary of Transportation Pete Buttigieg highlighted the bridge funding the city and commonwealth will receive as part of the federal infrastructure bill. 
"I'm here to give you a sense of literally what President Biden's vision for building a better America looks like," Buttigieg said. "And what it looks like is direct improvements to roads and bridges around this country like the MLK bridge that we're gathered in front of today." 
The city announced in August that the bridge's steel framing was about 75% deteriorated and will be closed to traffic until an estimated $15 million rehab construction project can get under way. The Department of Transportation ranks Pennsylvania second worst in the nation for its bridges, with more than 3,000 in poor condition and in need of repair. 
Joined by Philadelphia Mayor Jim Kenney, U.S. Rep. Dwight Evans, U.S. Sen. Bob Casey, Gov. Tom Wolf and Pennsylvania Transportation Secretary Yassmin Gramian, Buttigieg stressed that Pennsylvania is not alone in the need for investment. 
"Across the country, there are tens of thousands of bridges in poor condition and every day Americans cross those bridges about 170 million times," Buttigieg said. "[Bridges] help people to get to where they need to be more safely, more efficiently and more affordably, and I would note that strengthens our supply chains, gets groceries to where they need to be and keeps prices lower."
The bipartisan infrastructure bill passed in November includes a total of $40 billion for bridge repair and replacement. The Bridge Formula Program will distribute $26.5 billion over five years. Pennsylvania is expected to receive $1.6 billion over five years to repair its bridges, including $327 million in the first year, according to the Department of Transportation. That funding will help improve the condition of about 3,353 bridges in poor condition and to preserve and improve about 12,260 bridges in fair condition in the commonwealth.
"We're in the business of enticing people to come to Pennsylvania and stay here in businesses and for job opportunities," Wolf said. "This is a historic investment in Pennsylvania that is going to give us the resources we need to get back to work and keep working."
The Wolf administration has faced pushback in the last year for its proposal to toll nine bridges across the commonwealth to help with infrastructure funding. In November, state representatives voted 125 to 74 to require PennDOT to publicly advertise toll proposals, take public comment and seek approval from both the governor and the legislature.
When asked if this investment would replace the need for the bridge tolls, Wolf said there's still a need to find alternative infrastructure funding sources. "The tolling of bridges is something that is an alternative … But we do need to pay for these things and we do need to make these investments," he said. Gramian added that toll revenues would cover bridge costs and allow infrastructure funding to be used elsewhere in the state. 
The commonwealth will receive the third largest chunk of bridge funding of any state under the new program and is one of seven states set to receive more than $1 billion. Officials are awaiting decisions by regional planning organizations before announcing which bridges will be repaired.