Budget
Democrats unveil $3.75 billion education spending plan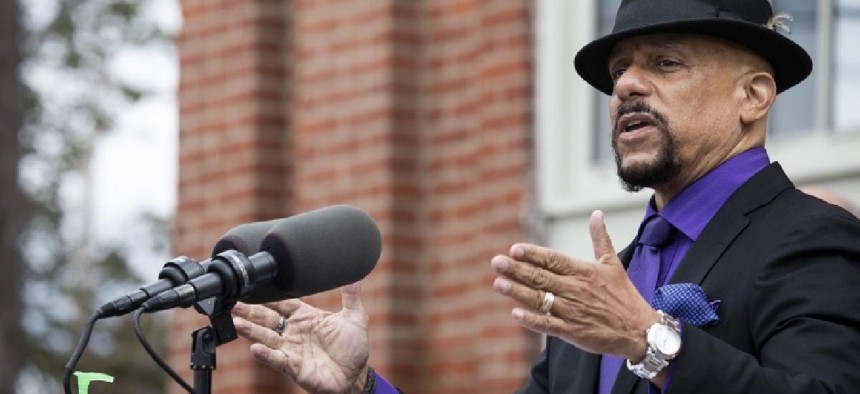 With Gov. Tom Wolf's final budget address on the horizon, House and Senate Democrats on Monday unveiled a spending plan that would invest $3.75 billion in Pennsylvania schools through a combination of surplus funds and federal coronavirus relief dollars. 
The plan, which was outlined by Senate Appropriations Committee Minority Chair Vincent Hughes, would not require any tax increases and would make significant investments into basic education funding, as well as into schools in need of structural repairs. 
"This historic proposal matches not just this historic moment, but also matches historic revenues that exist in Pennsylvania and are projected to come to Pennsylvania by June 30," Hughes said. "Either we meet the moment or we fail at children and fail this commonwealth again."
---
---
The funding proposal would divvy out $3.75 billion in state and federal funding in the following manner: 
$1.1 billion investment into the state's Fair Funding Formula for basic education
$1.1 billion to remediate so-called "toxic schools"
$750 million for the state's Level Up grant program, focused on the state's 200 most underfunded schools
$250 million to address school staffing issues through recruitment and retention
$125 million for student mental health support
$100 million for student academic support
The Democratic spending plan looks to build off education funding increases made by Wolf and state lawmakers last year. Last year's state budget included a $300 million increase in basic education, a $30 million increase in early childhood education and a $50 million increase in special education funding.
Democratic lawmakers said the plan's investments would help offset pandemic-related hardships, like staffing shortages, that have hit school districts particularly hard.
State Sen. Lindsey Williams, an Allegheny County Democrat, called the state's current fiscal position "a once-in-a-lifetime opportunity "to invest federal funds and a surplus of state funds directly into the next generation."
"These are our future doctors, nurses, teachers, engineers, counselors – and we must seize this moment," Williams said. "The last three years have shown us that our schools are in many ways the keystone of our society, and for a better society we must invest in our public education system."
The plan is supported by multiple teachers' unions, including the Philadelphia Federation of Teachers, as well as the Pennsylvania Budget and Policy Center, a progressive think tank based in Harrisburg. 
However, Republicans who control the Pennsylvania General Assembly may present some challenges for the Democrats' education proposal. 
Jason Gottesman, a spokesperson for House Republicans, said GOP lawmakers have ensured that "state education funding has increased each year despite decreasing enrollments, regardless of the economic circumstances that we have faced."
"Unfortunately, the Democrats' plan does not take into consideration that the funding sources it relies upon are needed to ensure we keep pace with year-over-year budgetary growth and will be necessary to balance our state budget and guarantee critical areas of state government do not see a reduction in funding," Gottesman said. 

Gottesman added: "The idea that we have billions lying around to implement budget-related messaging campaigns from the legislative minority is not based in fact or reality."
Erica Clayton Wright, a spokesperson for state Senate Majority Leader Kim Ward, also criticized the Democratic funding proposal, but said Senate Republicans are willing to work in a bipartisan manner with Democrats. 
"Unfortunately, today's education announcement from Senate Democrats is more of the same old, same old that Pennsylvanians find exhausting. The Senate Democrats' proposal does nothing to prepare our best and brightest to fill the jobs of the future and is nothing more than a political maneuver to turn a one-time spend into a [recurring] funding stream," Wright said. "Republicans in the General Assembly have worked in a bi-partisan manner to make historic investments in education. We will continue to try and work better together with our colleagues on the other side of the aisle to consider realistic and beneficial funding that helps prepare Pennsylvania's future workforce."
Elizabeth Rementer, a spokesperson for Wolf said the Democratic governor's budget proposal will again place an emphasis on education, and that he will take the Democrats' proposal into consideration.
Rementer said: "The administration is pleased that the Democrats share the governor's priority to continue to invest in education and the governor will consider this proposal as he prepares to deliver his budget proposal next week."