Gun Control
Philly again clashes with the commonwealth over local gun control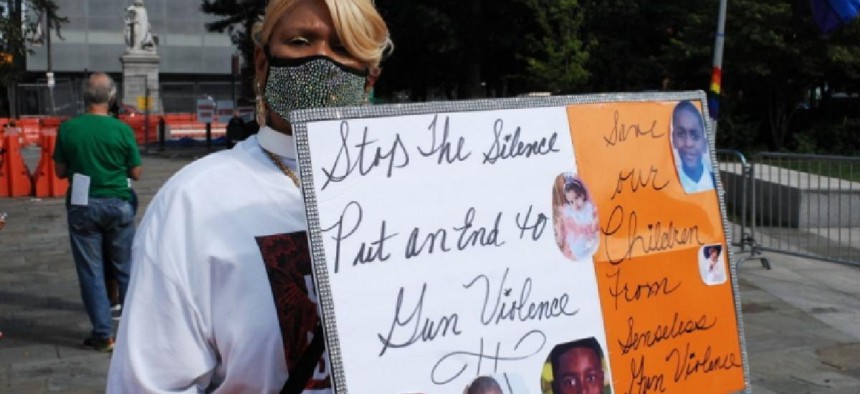 Gun violence in Philadelphia isn't going away, and despite the city's best efforts to take firearm regulation into its own hands, a statewide preemption on gun laws continues to prevent local control.
State lawmakers in the Senate Judiciary Committee passed House Bill 979 out of committee Wednesday. The bill, which passed along party lines, would prevent municipalities from drafting local gun ordinances stricter than state law. Authored by state Rep. Matt Dowling, HB 979 passed the House in June and is expected to be vetoed by Gov. Tom Wolf should it reach his desk.
"This General Assembly, the Senate and the House, is responsible for the regulation of firearms, not a patchwork of municipalities and subdivisions," state Sen. Wayne Langerholc said during the committee meeting. Langerholc passed his version of the bill in the Senate last year, another bill Wolf vowed to veto. 
State Sen. Maria Collett questioned the role that the Republican majority wants for local elected officials, particularly over public safety issues. "Passing HB 979 would hamstring one of the only levels of government … that has repeatedly expressed interest in addressing the proliferation of firearms in the communities they represent. This majority needs to make up its mind once and for all whether it values and respects the judgment of local sovereignty or not."
Philadelphia officials have tried to implement gun control reforms in the past. City Council passed an ordinance in October 2020 to restrict the possession of 3D printed guns and "firearm finishing devices." These efforts by local governments have been the subject of controversy, however. 
The Gun Owners of America, Inc. filed a lawsuit against the City of Philadelphia over the ordinance, and just recently, it was hampered. On Jan. 3, the Philadelphia Court of Common Pleas issued an interim order stating the parties agreed to halt enforcement until a final determination on the merits is made. 
"Fortunately, the state of Pennsylvania has a strong preemption law that explicitly protects the right to keep and bear arms, and prohibits localities like Philadelphia from enacting gun laws more restrictive than state law," Erich Pratt, senior vice president, GOA, said in a statement. 
The city is involved in other preemption lawsuits as well. There are ongoing cases over the city's ability to enforce its Lost and Stolen Ordinance, which would require gun owners to report lost or stolen firearms within 24 hours, and over the state's firearm preemption law, of which CeaseFirePA is a plaintiff. 
"These guns join the sea of illegal and legal guns that are accessible in the heat of the moment, turning what could have stayed an argument into a homicide," Philadelphia Mayor Jim Kenney said during a November press conference. 
The seemingly open-ended controversies continue amid a record number of violent crimes in cities like Philadelphia, as well as calls from Republicans to impeach Philadelphia District Attorney Larry Krasner.
City Controller Rebecca Rhynhart, who has also been critical of the city's approach to increased gun violence, released an analysis this week of gun crime trends in Philadelphia from 2015 through 2020. After reviewing the police department's clearance and conviction rates, Rhynhart said the city needs short-term, targeted initiatives, not long-term citywide approaches. 
According to the report, the number of individuals arrested for illegal gun possession increased by more than 100% between 2015 and 2020. During that same time, the share of illegal gun possession cases resulting in convictions by the district attorney's office fell from 65% to 42%. She said that while the state has been unwilling to support Philadelphia's effort to enact stricter gun laws, the city can still do more to strengthen its enforcement. 
"Clearance rates, or arrest rates by police, for fatal and non-fatal shootings have declined and are way too low," Rhynhart said in a statement. "Illegal gun possession arrests are up, but conviction rates by the district attorney's office for those crimes are down. We need to fix these issues to make our city safer."