Criminal Justice
Former pardons secretary starts consulting firm for reentry services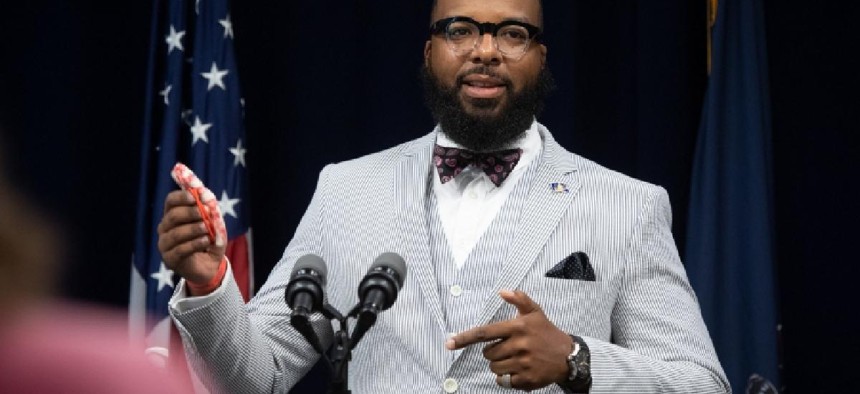 After ending his bid for lieutenant governor late last year, former state Secretary of Pardons Brandon Flood is looking to use his knowledge of the state's criminal justice system to help others – but this time, he's looking to do so not as a public official, but in the private sector. 
To do so, Flood, who suspended his campaign for lieutenant governor late last year after receiving a full heart transplant, has launched his own consulting firm to aid both those applying for clemency and those looking to have their criminal records expunged. 
The Lazarus Firm will provide a full range of what Flood calls "reentry-based services" and will cater to individuals living above the poverty line but who may not have the ability to pay attorneys costly legal fees. 
---
---
"I'm trying to capture that population that doesn't necessarily live below the poverty line – because there are some nonprofits that provide assistance with filings for free – but aren't rich and well-off enough to pay attorneys thousands of dollars," Flood said. "I like to fashion myself as the Dollar Tree of record-clearing." 
Flood said because he is not an attorney, he is somewhat limited in the services he can provide. For example, he can't petition the courts on behalf of a client seeking to have their record expunged, but he can provide administrative assistance and help prepare applications for a pardon. 
The Lazarus Firm will also help individuals challenge a disqualification or dismissal from employment that occurs as a result of a criminal record, Flood said. 
Flood was appointed the state's secretary of pardons in April 2019. At the time of his appointment, Lt. Gov. John Fetterman touted Flood's unique experience with the criminal justice system, stating that Flood's own experience in seeking – and obtaining – a pardon made him uniquely qualified to serve as the Board of Pardons' secretary. 
Prior to his stint as pardons secretary, Flood was a policy and reporting specialist in the Pennsylvania Department of General Services. He previously served as legislative director for the SEIU Pennsylvania State Council and as executive director of the Pennsylvania Legislative Black Caucus in the state House of Representatives. 
In an interview, Flood said he felt limited in his role as secretary of the Board of Pardons and sought the lieutenant governor's office so he could better advocate for more changes to the pardons process in Pennsylvania (the state Constitution requires that the lieutenant governor chairs the Board of Pardons). "As chair of the board, I can utilize my authority and drive policymaking through the Legislature, especially presiding over the Senate," he said. "That was the main motivator."
Noting that he has a conservative streak, Flood switched his party affiliation from Democrat to Republican last year during his run to win the GOP nomination for lieutenant governor. But those plans got put on hold after Flood started experiencing health issues last November. 
"I never had heart issues prior to November of this year. I thought I had COVID," Flood said. However, it was determined that Flood was actually suffering from heart failure, which led to him receiving a full heart transplant at UPMC Pittsburgh in December. 
The procedure prompted Flood to suspend his campaign. He endorsed Republican Jeff Coleman instead, and has promised to help Coleman win the GOP primary.
For the time being, however, Flood is taking time away from public office, and is hoping to grow The Lazarus Firm and eventually obtain nonprofit status. He said he currently has multiple independent contractors helping him prepare petitions and applications. 

Flood said he has also received requests from incarcerated individuals seeking commutations asking him to represent them before the Board of Pardons. He said the state Ethics Act prevents him from formally representing clients before the board until December, but that he will be providing free consultations to help applicants prepare their own applications in the interim. 
"Right now, I'm providing pro bono consultation to anyone that's incarcerated and seeking commutation up until Dec. 18 of this year," he said. "So, thousands of dollars of services for free."
Flood said he would ultimately like to secure dedicated funding for The Lazarus Firm to transition it to nonprofit status. As for his future in government, Flood is considering his options. 
"Ultimately, this is something that I don't see me doing long term. The work will still continue long-term, but in terms of my involvement, I'm still very much going to be involved in the government affairs world," he said. "There's a couple of opportunities that I'm considering, so I want to be able to set this up either way, so that the work continues whether I'm at the helm of it, or if I'm just kind of serving in an advisory role."