Budget
Wolf reflects on legacy, unveils $43.7B spending plan in last budget address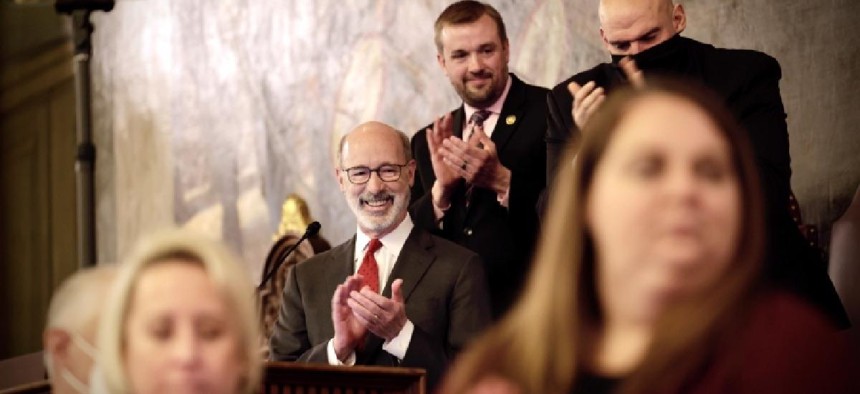 In the twilight of his final term, Gov. Tom Wolf on Tuesday gave his last budget address to members of the General Assembly, looking to cement his legacy as a governor devoted to boosting funding for education while also trying to reach a few long-sought policy goals that have eluded him throughout his seven years in office. 
Wolf outlined a $43.7 billion spending plan marked by proposed increases to education funding, a rewrite of the state's corporate tax laws, and reforms to the state's criminal justice system. 
The spending plan is buoyed by a surplus that is expected to reach $3 billion by the end of this fiscal year. The state is also sitting on more than $2 billion in federal pandemic relief funds, which the Wolf administration is looking to spend in its latest budget proposal. 
In his address to state lawmakers, Wolf reflected back on his seven years in office, painting a picture of a state facing financial hardships that was able to turn itself around. 
"As I took the podium that day, we were facing a structural budget deficit of between $2 to 3 billion," he recalled. "We had become one of the least creditworthy states in the nation. We couldn't even pay our annual pension bill. And our Rainy Day Fund was down to its last $231,800 … In other words, our finances were a mess."
The Democratic governor credited both Democrats and Republicans for helping the state pay its bills and put money away in its Rainy Day Fund, which is set to remain at more than $2.8 billion under his latest executive budget proposal.
"But we stuck it out, Democrats and Republicans. We didn't give up on each other. We didn't give up on Pennsylvania," he said. "And now look how far we've come."
Wolf also outlined his vision for his last year in office – his final chance to realize policy goals from past budget plans that have failed to materialize. 
"This is the last opportunity for this group to convince Pennsylvanians that we can work together to do some truly important things for the people we were sent here to serve. We have a chance here in Pennsylvania to make a substantial contribution to our democracy," Wolf said. "Let's remind the world that democracy works. And let's do that with this budget."
Wolf listed raising the state's minimum wage as a chief priority, and suggested raising it immediately to $12 an hour, with a path to increase it to $15 an hour. The governor also resurrected his Nellie Bly Tuition Program, which would cover tuition and fees for students who attend state universities and agree to stay in the state after graduation. That proposal would be funded through a combination of federal dollars and funds transferred from the state's Race Horse Development Trust Fund. 
Wolf also called for a reduction in the state's Corporate Net Income Tax (CNIT) rate to attract and retain businesses in the state – proposing a reduction from its current rate of 9.99% to 7.99% in 2023, and, later, to 4.99%.
While Wolf looked to take credit for the state's current financial position, Republican legislative leaders accused him of living on a fiscal "fantasy island," and said Wolf's budget would squander the state's reserves and worsen budget deficits in future years. 
According to projections from the state's Independent Fiscal Office, Pennsylvania is projected to experience a structural budget deficit where expenditures outpace revenues beginning in the 2023-24 fiscal year. That deficit is expected to grow to approximately $2 billion by 2025, before narrowing to $1.7 billion in the 2026-27 fiscal year. 
"In a lot of ways, Harrisburg has become 'Fantasy Island' with this budget proposal," state Senate President Pro Tempore Jake Corman said during a press conference following Wolf's budget address. "It looks nice and it feels nice, but the problem? It is not based in reality. The budget document that was shared with us grossly overstates revenue and grossly understates expenditures."
State Senate Majority Leader Kim Ward said the high levels of spending proposed in Wolf's executive budget could come back to hurt Pennsylvanians.

"Spending billions right now may sound like a great idea, but that will not be done in a vacuum. We will pay for that eventually. We will have to pay for it in the future," Ward said.
Wolf's budget plan requests a $1.55 billion increase in basic education funding, including a $1.25 billion increase for the state's Fair Funding Formula, a $300 million increase in funding for the Level Up program, and a $200 million increase in special education funding. 
And while Wolf and lawmakers are already at odds over a range of proposals in his spending plan, there may be room for agreement on both education and Wolf's corporate tax reforms. 
Republicans signaled a willingness to work with Wolf on lowering the state's corporate tax rate, much to the relief of the state's business leaders. Gene Barr, the president and CEO of the Pennsylvania Chamber of Business & Industry, told City & State that lowering the state's CNIT and reforming the state's regulatory process would prove beneficial to the state's economy. 
"We cannot continue to be a state where every 10 years we … lose another congressional district because we're stagnated or losing population," Barr said, noting that the state has lost investments to other states due to its current tax laws. "If people are tired of getting on a plane to go see their kids and grandkids in Austin and Raleigh and Tampa, then they need to get behind his call for this – and a much more competitive tax environment."
Democrats welcomed Wolf's budget proposal, particularly the proposed investments in education. "What we heard today is the largest increase in basic education spending … in the history of the Commonwealth of Pennsylvania. We have this opportunity to make this kind of investment because of strong support from our federal partners," said state Sen. Vincent Hughes, the minority chairman of the Senate Appropriations Committee. 
But with Republicans controlling both chambers of the General Assembly, it's likely that the final budget – due by the end of June – will be scaled down from Wolf's spending proposal, Senate Appropriations Committee Chairman Pat Browne said. 
"We call on the governor to work with us to come forward with more reasonable and responsible assumptions as to where revenue expenditures will be," he said. "It's the only way that we maintain a solid financial position to protect and serve the families of this commonwealth."