Environment
House renews effort to block state from entering into RGGI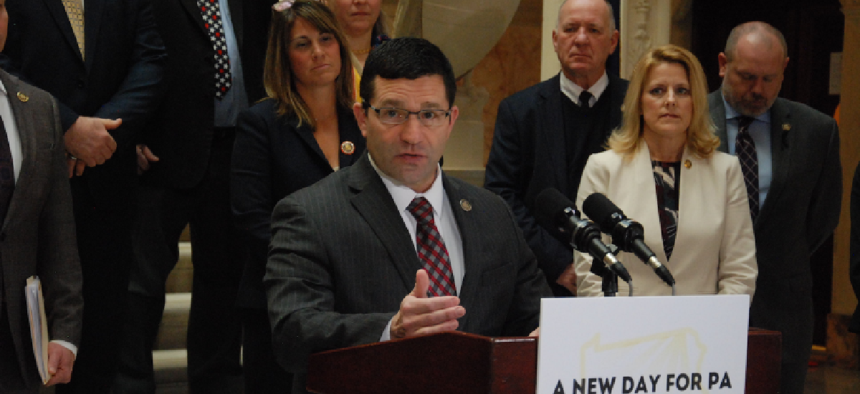 House lawmakers approved a measure Wednesday that would block the state from entering into a regional pact to regulate carbon emissions from power plants, though if history is any indication, it would likely be met with a veto from Gov. Tom Wolf. 
House Bill 637, sponsored by state Rep. Jim Struzzi, a Republican from Indiana County, would prohibit the state from entering into the Regional Greenhouse Gas Initiative without first earning the approval of the General Assembly. Struzzi has been a vocal opponent of Wolf's efforts to regulate emissions from power plants, arguing that the move will result in economic harm to communities in his district and the premature closure of power plants. 
"Much has changed in the past 34 months. Our world and our lives have been turned upside down and it hasn't stopped," Struzzi said on the House floor. "In recent weeks, our view of energy, natural resources, fuel and the global economy have taken a dramatic turn. We realize the danger of relying on others for our energy production and the importance of keeping those resources under our control."
Struzzi added that the bill would "solidify Pennsylvania's rightful place as the energy capital of the world." It passed Wednesday with a 126-72 vote and now heads to the Senate for consideration.

The legislation was drafted in response to an 2019 executive order from Wolf that ordered the state Department of Environmental Protection to begin drafting a rule to regulate carbon emissions from power plants by requiring operators to buy carbon "allowances" that equal the amount of carbon they emit. The cap on carbon emissions would be lowered over time, which, in theory, would result in a drop in power plant emissions. 
The final regulation has since been approved by a state regulatory board, but that hasn't stopped critics from attempting to halt the initiative from taking effect. 
Republicans in the state Senate asked the Commonwealth Court this week to halt the regulation from being implemented. Struzzi's bill was also modified to provide $250 million in funding for carbon and methane reduction efforts, as well as assistance for those impacted by power plant closures. 
A spokesperson for Wolf did not immediately respond to a request for comment, though Wolf vetoed a similar measure in 2020 that did not include funding for carbon and methane reduction. 
In his 2020 veto message, Wolf said legislation blocking his administration's ability to regulate emissions would be "extremely harmful to public health and welfare." Struzzi, however, said the added funding in his current legislation would protect the state's economy, as well as the environment. 
"You have asked for a plan – an alternative to RGGI – something that you can vote 'yes' on to support Pennsylvania families and our energy and economic future," he told his colleagues. "This is it."