Energy
Wolf and Metcalfe spar over energy policy amid Russia-Ukraine conflict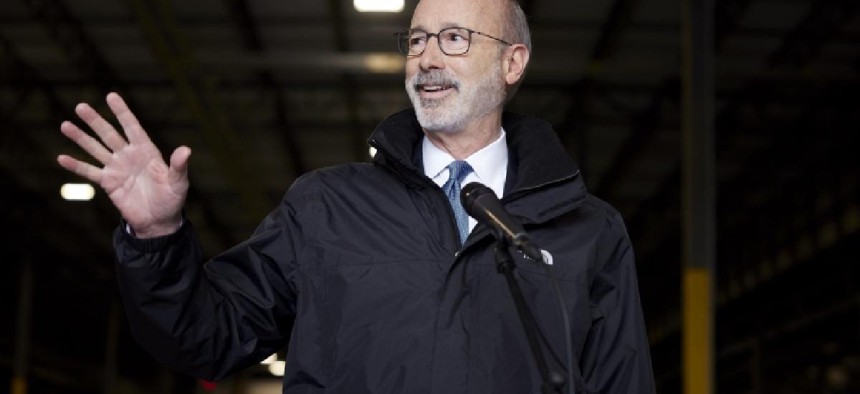 Gov. Tom Wolf ripped into a Republican state representative on Thursday for criticizing efforts his administration has taken in response to the unfolding war in Ukraine, and for calling on Wolf to ban Russian energy imports and expand the state's natural gas production. 
In a letter sent to House Environmental Resources & Energy Committee Chair Daryl Metcalfe on Thursday, Wolf accused Metcalfe of "seizing" on the war in Ukraine to "increase the profits of the natural gas industry."
Wolf said Metcalfe is "politicizing" the Russian invasion of Ukraine and criticized Metcalfe's suggestion that his administration halt efforts to regulate emissions from fossil fuel-fired power plants. 
---
---
"This newest effort to halt progress in addressing climate change by linking action on climate to events in Ukraine is simply a continuation of the conspiracy theories you are well known for," Wolf wrote. "We are in a moment of significant import for the world. This is no time for small-minded ideologues or armchair energy experts to attempt to capitalize on tragedy to benefit their benefactors."
Metcalfe sent a letter signed by 14 other members of his committee to Wolf on Tuesday, urging the Democratic governor to halt Russian energy imports and encourage neighboring governors in New Jersey and New York to lift their respective bans on the construction of new natural gas pipelines. Metcalfe also said Wolf should oppose a moratorium on natural gas development in the Delaware River Basin, a four-state region that encompasses parts of Delaware, New Jersey, New York and Pennsylvania. 
"With the recent Russian declaration of war against the Ukrainian people and the instability of the European energy markets, Pennsylvania has never been in a better position to power the world," Metcalfe wrote in a letter to Wolf. "The commonwealth has a natural bounty of oil, gas, and coal that can heat homes, generate manufacturing feedstock, and fuel democracies far and wide. You know of our immense potential, yet the State has been hamstrung by regulation, bans, time-intensive permitting, RGGI, and further taxation while you support energy means that cannot possibly power the needs of the 21st century.
"lf we truly care about the environment and our future energy, economic and climate needs we would invest in domestic production instead of turning a blind eye to the standards of the Russian tundra," Metcalfe added. 
A spokesperson for Metcalfe did not immediately respond to a request for comment concerning Wolf's response. Jason Gottesman, a spokesman for the House Republican Caucus, accused Wolf of spreading falsehoods in his letter to Metcalfe. 
"Any amount of oil and gas coming into the United States from Russia is too much. It finances the Russian government, and thereby, their war on Ukraine," Gottesman said in an email. "Pennsylvania has the ability to substantially increase production, get our gas to market, and make our country and our allies more secure by not being reliant on Russian gas. The only thing we need is for pro-environmental lobby Democrat leaders like President Biden and Gov. Wolf to get out of the way."
Throughout Wolf's two terms in office, Metcalfe has emerged as a vocal critic of the governor, blocking Wolf's 2019 plan to place a severance tax on natural gas extraction and condemning Wolf's attempts to combat climate change. 
Metcalfe also introduced articles of impeachment against Wolf in 2020, but the resolution has never been considered by the committee it was referred to. 
Since the Russian invasion of Ukraine, Wolf has supported efforts to pull Russian products from state-owned liquor stores and backed efforts to divest the state of Russian investments.