Abortion
Post-Roe Pennsylvania: How we got here and what could happen next
State political leaders are split over the impacts of the decision.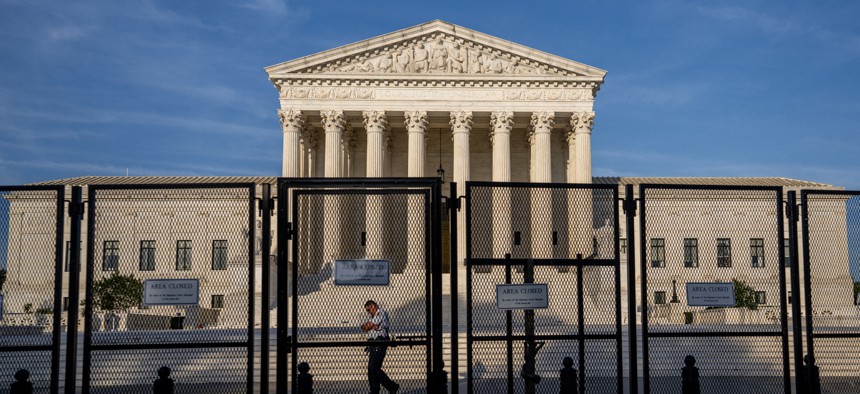 The U.S. Supreme Court announced its long-awaited ruling on a Mississippi abortion law on Friday in a far-reaching opinion that overturned the court's 1973 Roe v. Wade decision that guaranteed a federal right to an abortion. 
The decision immediately reverberated in state Capitols across the nation, including the implementation of a series of abortion restrictions in 13 states with "trigger bans" that implemented new restrictions upon the issuance of the ruling. In Pennsylvania, however, abortion remains legal, though the decision has added new significance to the midterm elections, where voters will choose the state's next governor, U.S. senator and a slate of state legislative candidates this November. 
Below, City & State examines the impact of the Supreme Court ruling, the status of abortion access in Pennsylvania and how lawmakers plan to respond to the ruling in the months to come.
What does the ruling mean?
The Supreme Court ruling was made in a case regarding a Mississippi abortion law banning abortions after 15 weeks gestation that was challenged by a Mississippi abortion clinic and one of its doctors. A leaked draft opinion from February showed that a majority of the Court supported overturning the landmark 1973 Roe v. Wade decision that established a nationwide right to an abortion.
Friday's opinion, written by Justice Samuel Alito, does just that, striking down the ruling and eliminating the federal right to an abortion that Roe v. Wade guaranteed. In the majority opinion, Alito writes that the issue of abortion "presents a profound moral question," and said the U.S. Constitution doesn't restrict states from enacting their own abortion restrictions.
I am outraged. This morning, the Supreme Court has taken away our constitutional right to abortion.
Signe Espinoza
"The Constitution does not prohibit the citizens of each State from regulating or prohibiting abortion," Alito wrote. "Roe and Casey arrogated that authority. We now overrule those decisions and return that authority to the people and their elected representatives."
The ruling now leaves the manner of regulating abortions to individual states, which can vary now that the federal Roe v. Wade ruling has been struck down.
Is abortion still legal in Pennsylvania?
Put simply, abortions are still legal in Pennsylvania, which abortion advocates stressed following the ruling.
The state's Abortion Control Act, which regulates abortions in Pennsylvania, allows abortions through the first 24 weeks of a pregnancy – a provision that is likely to remain in effect as long as Gov. Tom Wolf is in office, as Wolf has vowed to veto any legislation that restricts abortion access. 
Signe Espinoza, the executive director of Planned Parenthood Pennsylvania Advocates, said that abortion remains legal and Planned Parenthood will fight to keep access to abortions enshrined in state law.
"I am outraged. This morning, the Supreme Court has taken away our constitutional right to abortion. I do want to make clear that abortion remains legal in the state of Pennsylvania and we're going to continue fighting like hell to ensure that it stays that way," Espinoza told reporters. 
How are Pennsylvania politicians reacting?
The political response to the Supreme Court ruling has largely been a mixed bag, with Republicans praising the decision as one that gives states more flexibility to regulate abortions as they see fit, and Democrats ripping into the ruling, framing it as an attack on bodily autonomy. 
Gov. Tom Wolf emphasized that abortions are still legal in the state, adding that he was "deeply disappointed" by the high Court's decision. "The right to bodily autonomy – and privacy as a whole – is under attack in this country," Wolf said in a statement. "We must do more to protect the rights of women and pregnant people in every state across the country that doesn't have a governor willing to wield their veto pen."
The ruling once again makes clear it is the authority of individual states to establish laws that are in the best interest of their residents.
House Speaker Bryan Cutler
Wolf added that "elections matter" and urged Pennsylvanians to exercise their right to vote in the coming elections. 
Republicans said the Court's ruling was a victory for state's rights, with House Republican leaders in the General Assembly saying the ruling "reestablishes the authority of states to regulate abortion."
"The ruling once again makes clear it is the authority of individual states to establish laws that are in the best interest of their residents," said House Speaker Bryan Cutler and House Majority Leader Kerry Benninghoff, in a joint statement. State Sen. Kim Ward, the Senate Majority Leader, said the opinion "acknowledges long-standing precedent that individual states are better suited to determine what is best for their residents, not the federal government."
However, Ward noted that abortion access was unlikely to change as long as Wolf occupies the governor's office. "The governor has clearly stated that he will veto any pro-life measure that comes before him for signature," Ward said. "As such, Pennsylvania's current law will remain intact until the governor is willing to work with the legislature in a bipartisan manner, or the legislature passes a constitutional amendment that gives the citizens the opportunity to pass a sanctity of life measure via the ballot."
State Sen. Doug Mastriano, the state's Republican nominee for governor, said the decision means Roe v. Wade is "rightly relegated to the ash heap of history" following the high Court's ruling on Friday. "While this decision by the U.S. Supreme Court is a triumph for innocent life, it must not take our focus away from the key issues facing Pennsylvania families," Mastriano said in a statement.
What happens next?
The Supreme Court's decision to strike down Roe v. Wade markedly raises the stakes in this year's election for governor, with Democratic nominee Josh Shapiro and Mastriano holding vastly different positions on how to regulate abortions in Pennsylvania. 
Shapiro, in a call with reporters on Friday, pledged to defend Pennsylvania's current laws, which allow abortions through the first 24 weeks of pregnancy. "The stakes in this governor's race could not be more clear and the contrast between me and my dangerous opponent could not be greater," Shapiro said, adding that he would veto any bills seeking to restrict abortion.
Mastriano, on the other hand, celebrated the ruling as a win for the "pro-life" movement in a series of Facebook posts, and has vowed to sign a "Heartbeat Bill" that would ban abortions once cardiac activity can be detected in the womb.
Mastriano, a state senator from Franklin County, has introduced such legislation, which would require physicians to conduct an exam to determine if cardiac activity is present. If cardiac activity is detected, a physician may not perform an abortion. Mastriano, in a Facebook post, said the Supreme Court "rightly held" that a constitutional right to an abortion "does not exist."
Pennsylvania's general election for governor is on Nov. 8, 2022.