Business
In wake of South Street shooting, an existential threat to businesses
City officials and police are weighing options that ensure public safety while not hampering businesses on South Street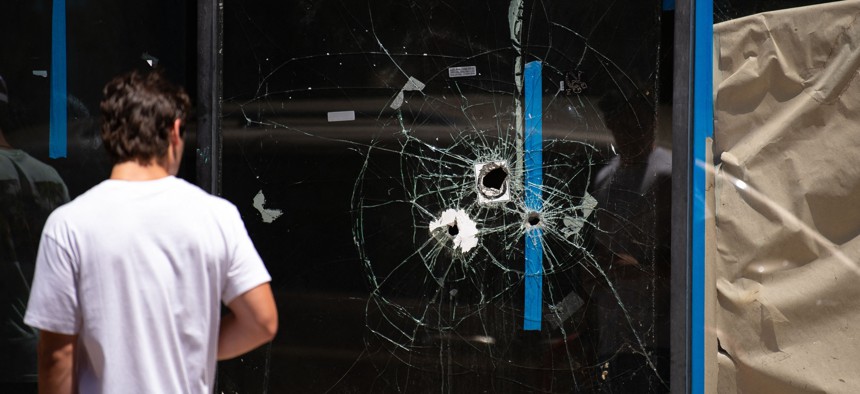 The fallout of the mass shooting on South Street in Philadelphia Saturday night continues to be felt throughout the city, including its business community. 
Authorities closed down South Street to pedestrians Sunday after a shooting late Saturday night left three dead and 11 others injured. Not only did the street closure turn away the expected crowds from the PHL Pride Festival, but the potential for more closures has business owners in the popular commercial district worried about what's next. 
Wendy Verna, owner and president of South Street-headquartered Octo Design Group, is concerned about all the revitalization efforts from years past going to waste. South Street Headhouse District "has done a great job of bringing events to the area in order to keep the perception of the area positive," she said. "We have big families here. Think about all the everyday things that South Street has been able to bring – Saturday night literally brought us back to zero." 
Ben Fileccia, senior director of operations at the Pennsylvania Restaurant & Lodging Association, said he empathizes with restaurant owners given everything they've been through in recent years. 
"I really feel for these restaurant operators. They just come out of this two-year pandemic and they face so many challenges between restrictive mandates, forced closures and a lack of guests," he said. "It will not take much for them to lose their restaurants entirely. So, when you're talking about violence on the streets, and anything that is going to keep our guests away from coming and enjoying the hospitality of our great restaurants … it's really concerning."
While officials from both the city and the Philadelphia Police Department have been talking to local businesses about finding a balance between their needs and public safety concerns, officials have yet to confirm any plans for how they will be handling the area this coming weekend. Business owners are expected to call in if they believe a situation is getting out of control and have police come in to enact a closure or curfew. Business owners have largely been against blanket curfews but are in favor of strategic closures aimed at curbing foot or vehicle traffic in certain areas. 
Some business owners in the neighborhood have opted to close up shop earlier in the night to avoid putting themselves and their customers in a potentially dangerous situation. Fileccia said he received a call from a member who decided to close at 8:30 p.m. on Saturday because they saw scuffles begin to break out. 
Philadelphia Mayor Jim Kenney spoke publicly about the shooting for the first time Tuesday morning, saying the city is "doing everything it can" to respond to continuing gun violence. 
"There's lots of social problems we're dealing with," he said. "But the issue is: take the gun out of the equation and we're not having this conversation."
Similar to Kenney, state Rep. Mary Isaacson, a Democrat who represents South Street in the 175th Legislative District, said more needs to be done at the state level for the city to manage the rising number of gun crimes. 
"Let's start a conversation right now. Right now, there's a refusal to even have a conversation about all the things that need to be addressed with regard to society and gun safety," Isaacson told City & State. "We should make sure that we all are able to enjoy ourselves in a safe environment and that we can't go around and have a lawless society with guns on the streets."
Currently, state laws prevent cities and municipalities from enacting their own gun regulations. The City of Philadelphia has repeatedly sought to overturn the preemption law and it is poised to challenge it in the state Supreme Court in the near future. 
Calls for reforms have ranged from increasing police presence and diverting more resources to prosecuting gun crimes to broader gun control efforts such as banning ghost guns and semi-automatic rifles. Two of the five shooters Saturday reportedly had permits to carry weapons, while one fired a homemade "ghost" gun, according to police. 
Kenney said about 70 officers were patrolling South Street Saturday night when the incident occurred. But regardless of police presence, Verna and Isaacson each said a lack of accountability is leading to these escalated situations. 
"They have a police presence on the street but there's no accountability … No one's worried about doing anything wrong because they're not going to be reprimanded," Verna said. "There needs to be a sense of fear that is instilled in the people that think for one minute that they can take out a gun in a crowd of 500 people."
Isaacson added that bad actors need to be prosecuted accordingly under the law and that officials need to do everything in their power to make sure people understand that they can come "have fun in Philadelphia and feel safe." 
Verna expressed concerns about losing not just local foot traffic but tourists coming into the city as well. 
"What about tourists? Are they taking a South Street tour now? I don't think so," she said. "I think that people are not going to stay down there past dark, and a lot of these businesses rely on that time."