Philadelphia
Biden administration, Philly officials announce launch of 988 Suicide & Crisis Lifeline
The new suicide prevention hotline will make connecting with a professional in times of crisis as easy as calling or texting three numbers.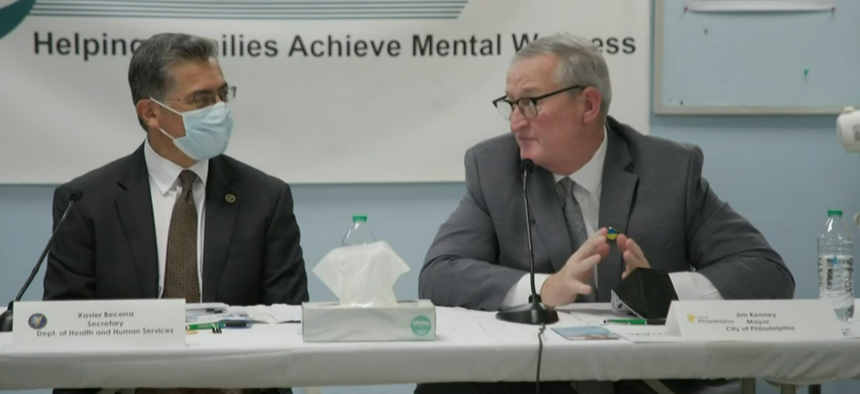 Philadelphia officials joined representatives from the U.S. Departments of Health and Human Services, Veterans Affairs and the Federal Communications Commission Friday morning to discuss the implementation of the 988 Suicide & Crisis Lifeline. 
Beginning Saturday, July 16, the National Suicide Prevention Lifeline will officially take the number 9-8-8, modeled after 911. The move allows people suffering from a mental health crisis to call or text the three-digit number and makes connecting to a trained mental health professional more accessible. 
"Why is that so important? Well, it's really easy to remember. Everyone everywhere in this country can access it. It's a number they won't forget," said Jessica Rosenworcel, chair of the Federal Communications Commission. "They'll be able to text using those three digits. And we all know for young people … picking up and calling on the phone just might not be their native language. Texting is."
Veterans Affairs Secretary Denis McDonough noted the importance of this resource for veterans in crisis, who can press 1 after dialing 9-8-8 to connect to veteran-specific care. He thanked the Biden administration and Congress for boosting funding for critical mental health services. 
"We are expanding our workforce by nearly 900 people so that we can manage the anticipated increase in calls as the veteran crisis line on the 988 line, which we anticipate will increase demand by over 100% given the ease of the (phone) number," McDonough said. "The funding that has allowed us to hire… (and) upgrade our technology backbone such that our call centers can handle that surge that's coming in 24/7 is a terrific opportunity for us."
Jill Bowen, commissioner of Philadelphia's Department of Behavioral Health and Intellectual Disability Services, said the city's crisis line received 21% more calls year-over-year through 2021 and that an even greater increase is anticipated now that a universal number will be implemented. 
"The current system responds to the 800-273-8255 today – that is the national suicide line. It also responds to 215-685-6440, which is the call directly into the PCL line. Well, if you're in distress, that's 20 numbers … (but) as of tomorrow, that's three. And that is everything."
The same way that we were able to propose ideas leading up to this change, that has to continue.
Consortium CEO John White
Officials including HHS Secretary Xavier Becerra and regional director Dr. Ala Stanford met for a tour of The Consortium, Inc., a nonprofit community mental health center that provides adult, children and addiction support services in Philadelphia, alongside the roundtable discussion. 
Consortium CEO John White, a former state representative, City Council member and state welfare secretary, noted the role of the city's dozen community mental health centers, but emphasized that this is just the start. 
"The reform is not done. The dialogue should not stop," White said. "The same way that we were able to propose ideas leading up to this change, that has to continue. On a daily basis, providers are finding different areas, different situations that are foreign, and they've got to make up their minds on the spot how you're going to respond."