Health Care
As monkeypox threat grows, so do calls for action
State Reps. Malcolm Kenyatta and Brian Sims joined providers and LGBTQ+ leaders to discuss what resources are available now and what more needs to be done to prevent further spread of monkeypox.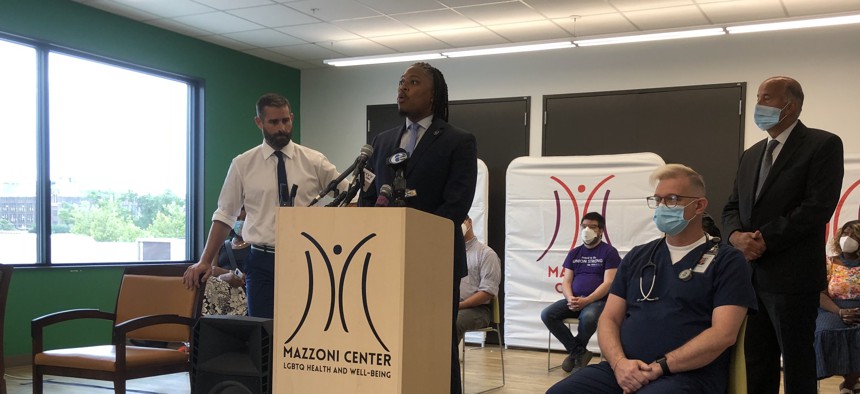 Lawmakers at a Friday press conference on the growing monkeypox threat questioned whether health officials learned anything from the COVID-19 pandemic in terms of community outreach and engagement.
"We just spent two and a half years working across municipal governments, state government, federal government to ensure that a vaccine was available to the public at large," state Rep. Brian Sims, a Philadelphia Democrat, said, "and yet it seems like all of the lessons that we thought our federal government was learning during this period … it didn't learn."
Surrounded by medical professionals and LGBTQ advocates, Sims and fellow state Rep. Malcolm Kenyatta, as well as City Councilmember Mark Squilla, held a press conference at the Mazzoni Center in Philadelphia to highlight community needs and concerns related to the monkeypox outbreak. 
Kenyatta, a Philadelphia Democrat, began the conference by calling Philadelphia's Department of Health line for monkeypox vaccines. After a couple moments of waiting, a recording said that there were no vaccine appointments currently available and that anyone who has been potentially exposed should connect to a contact tracer. 
That automated message wasn't a surprise to the medical professionals in attendance. Steven Robertson, medical assistant supervisor at the Mazzoni Center, said all of the 150 vaccine doses the center received this week have been administered or allocated. He estimated that the center has been administering a vaccine every five minutes over the past few weeks. 
"We've seen this before. We must be able to do a more equitable distribution of the vaccines and distribute them in more locations," Robertson said. "Right now, we're handling this on a day-to-day basis, but we need to develop a strategy and tackle this on a month-to-month basis to get ahead of it."
Sebrina Tate, executive director of Bebashi, a nonprofit that provides health and social services to low-income invididuals, said her organization's phones are "ringing off the hook" with individuals seeking vaccines, but that they haven't been provided any. 
"We serve everyone, the LGBTQ community, straight, white, Black, Hispanic," she said. "We want to be able to push the vaccination. We get it last. And so the people who are most vulnerable – who don't have primary care physicians – aren't able to come to our doors and get what they need because we're the last to get it."
Participants emphasized that despite all the media coverage around monkeypox and its proliferation in the LGBTQ+ community, this virus doesn't discriminate. 
"I just want to say there is no such thing as a gay disease, as an LGBTQ disease, as a queer disease," Kenyatta said. "Right now, it is the LGBTQ community, particularly gay men, who are feeling the brunt of this. And there are certainly some elders here today who know even more intimately and personally than I do what happens when government doesn't take this seriously."
As of Friday morning, Pennsylvania has 124 confirmed cases of monkeypox – numbers for cases in Philadelphia were not available – according to the Centers for Disease Control and Prevention. The United States has nearly 5,000 cases and there are more than 20,000 cases worldwide. The World Health Organization recently declared monkeypox a public health emergency of international concern due to the growing number of cases.
Monkeypox, similar to a milder form of smallpox, is rarely fatal. There have been no confirmed deaths from monkeypox in the U.S. and very few infections have resulted in hospitalizations. There are limited treatment options, but a vaccine can be administered within seven to 14 days after exposure to prevent an infection from becoming symptomatic. 
Although mortality rates for monkeypox are around 3% to 6%, even mild cases can result in painful, itchy lesions that may leave permanent scars. Medical professionals recommend anyone with potential exposure to isolate for up to four weeks. 
The Mazzoni Center is holding a virtual town hall meeting to spread awareness and provide community resources on monkeypox on Aug. 2 at 6 p.m.