LGBTQ+
Wolf signs executive order discouraging use of conversion therapy
Wolf says order is 'the best I can do' without broader legislation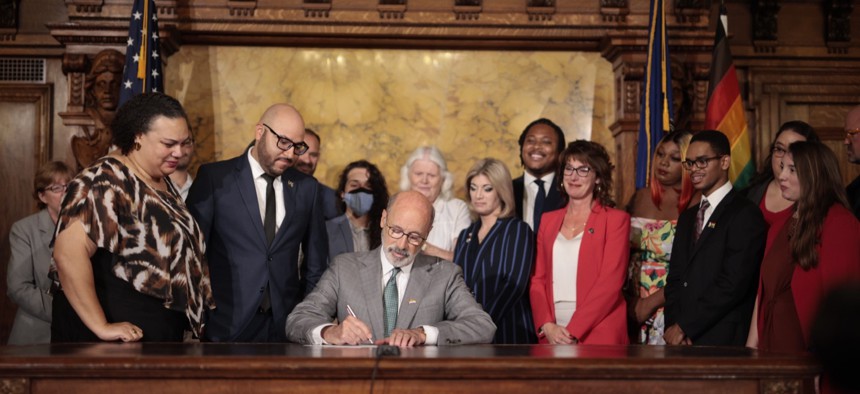 Gov. Tom Wolf on Tuesday signed an executive order aimed at discouraging the use of conversion therapy on LGBTQ individuals in the commonwealth, a move that was praised by LGBTQ leaders, though Wolf acknowledged that it does not go as far as he would like. 
The order directs state agencies to protect LGBTQ Pennsylvanians "to the fullest extent of their authority," including by prohibiting the use of state funds for conversion therapy and discouraging insurance providers from providing reimbursements for such treatment. 
The executive order defines conversion therapy as "any practice or treatment that seeks or purports to change an individual's sexual orientation or gender identity, including efforts to change behaviors or gender expressions, or eliminate or reduce sexual or romantic attractions or feelings towards individuals of the same gender."
At a press conference announcing the executive action, Wolf frequently cited studies from LGBTQ advocacy organizations like The Trevor Project, which found in a 2021 survey that 13% of LGBTQ youth reported being subjected to conversion therapy, with 83% of that group saying the conversion therapy tactics occured before they reached 18.
A separate, peer-reviewed study from researchers at The Trevor Project published in the American Journal of Public Health found that youth who were subjected to conversion therapy were "more than twice as likely" to report having attempted suicide. 
"Conversion therapy is widely rejected by medical and scientific communities because it is a bad and traumatic practice based on junk science that actively harms people – the very people it's supposed to help," Wolf said at the press conference.
The governor was joined by members of the Pennsylvania Commission on LGBTQ Affairs, including Carla Christopher Wilson, who said she was subjected to conversion therapy as a teen that included her being kept in a lightless room. Wilson said she was sent to a conversion therapy program after asking a Bible study leader about her teenage crush. "That innocent inquiry resulted in my being sent to a week-long retreat. No cell phone. Several states away. Alone," she said. 
"It didn't even take the whole week for them to break me. Within two days that involved being held in a lightless room the size of a closet, pressed to the floor by more hands than I could count, I begged any human or any God that would listen to save me, even change me, if it would make it stop," Wilson said. 
Tuesday's executive order, Wilson said, provides a promising start to ending the practice altogether. 
Democratic state lawmakers agreed, welcoming the executive order. State Senate Democratic Leader Jay Costa said in a statement that the measure will "ensure that thousands of people who call PA home are treated with dignity and respect by the medical community." State Rep. Jessica Benham, the first out LGBTQ woman elected to the General Assembly, said the order will bring "meaningful changes" to the commonwealth, but noted that lawmakers should take additional actions to protect LGBTQ Pennsylvanians. 
"While I'm happy that this executive order will create meaningful changes, it does not change the fact that LGBTQ+ people are, sadly, still seriously marginalized in many ways," Benham said in a statement. "We need to keep fighting and pushing for further reforms, like the PA Fairness Act, that will bring us closer to a truly equal society."
The executive action received some pushback on Tuesday from a conservative organization, the Pennsylvania Family Institute, suggesting that Wolf's executive order could punish those with different beliefs on gender and sexuality. 
"Pennsylvanians who wish to reduce or cope with their unwanted same-sex attractions or lessen their gender dysphoria should be free to seek and obtain professional help, but Governor Wolf looks to use the force of government to stop them from achieving their own therapy goals," Alexis Sneller, a communications and policy officer at the Pennsylvania Family Institute, said in a statement.
The organization's senior counsel, Jeremy Samek, added that the U.S. Supreme Court's ruling on NIFLA v. Becerra "strongly suggests that counseling bans violate the constitutional rights of clients and their counselors."
Wolf himself acknowledged that his executive order only goes so far, and said legislation banning conversion therapy could offer broader, more comprehensive protections for LGBTQ individuals. But first, such a proposal must be approved by state lawmakers. 
"This executive order is the best I can do absent that legislation," he said. A spokesperson for House Republicans did not immediately respond to a request for comment. 
Wolf's full executive order is available below.
Gov. Tom Wolf's August 16, 2022 Executive Order by City & State PA on Scribd