Transportation
Nearly 30 years after the ADA, local transit agencies are getting federal funds to make them more accessible
Philly and Pittsburgh are among the cities receiving money from the Federal Transit Administration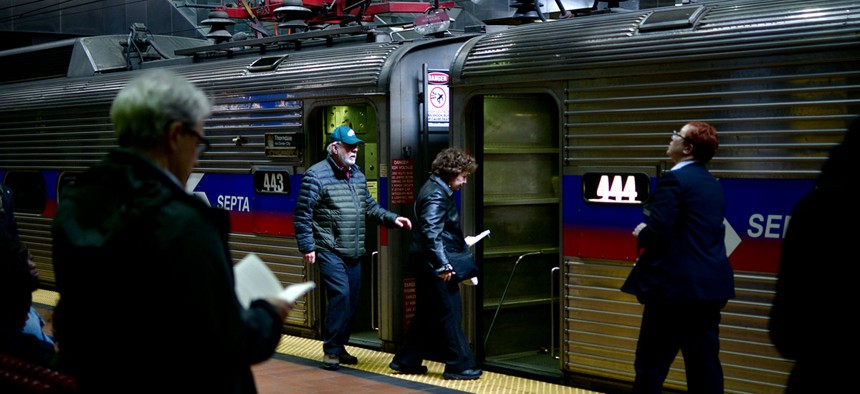 By Daniel C. Vock
Transit agencies in nine states will receive a combined total of $686 million in federal grants to make their rail stations more accessible to people with disabilities, the Biden administration announced this week.
More than half the money awarded by the Federal Transit Administration will go to just two agencies, which run New York's subway and Chicago's L trains. Other systems receiving funds include transit agencies in Boston, Cleveland, New Jersey, Philadelphia, Pittsburgh and Seattle.
The grants are part of last year's federal infrastructure law, and applications opened in July. They are aimed at retrofitting a portion of the more than 900 subway, commuter rail and light rail stations that were built before the Americans with Disabilities Act became law in 1990. The ADA, among other things, requires public facilities to be able to accommodate people with disabilities.
The grants from the All Stations Accessibility Program are significant because they mark the first time the federal government has specifically set aside money for making stations more accessible.
New York has by far the most stations that do not comply with ADA standards.
A Chicago Transit Authority program to retrofit its inaccessible stations became the basis for the federal program, which U.S. Sen. Tammy Duckworth of Illinois pushed to include in last year's infrastructure law.
Duckworth, who uses a wheelchair, told reporters Monday she attended an event about five years ago to celebrate accessibility improvements at a CTA station. But when Duckworth asked CTA President Dorval Carter how long it would take for the whole system to be upgraded, Carter told her it would take another 25 years.
"You're telling me it's going to be a half century after the passage of ADA [in 1990] before we're going to be accessible?" she recalled asking.
Carter told her transit agencies needed dedicated funding for accessibility improvements, because they had to prioritize safety over accessibility with existing funds.
That's why Duckworth pushed Transportation Secretary Pete Buttigieg and her colleagues to include money for the All Stations Accessibility Program in the infrastructure law, she said.
"I know that people who run our transit systems don't want to exclude folks like me who rely on wheelchairs or canes or walking sticks, but the funding just hasn't been there to make the improvements that are necessary," she said.
Nuria Fernandez, the FTA administrator, said the agency decided to hand out awards for the first two years' worth of funding at the same time, so that "as many projects can get started as quickly as possible."
The local agencies that won grants in the program's first round include:
New York's Metropolitan Transportation Authority, which secured $254 million to improve three stations in Brooklyn and one in the Bronx. The agency plans to install elevators, minimize gaps between the platforms and trains, add tactile platform edge warning strips, modify fare gates, and improve handrails.
The CTA, which will use more than $118 million to modernize three stations that are more than half a century old.
The Chicago area's Metra commuter rail system, which secured $66 million to upgrade two stations.
The Massachusetts Bay Transportation Authority, which won $66 million for improvements to its Symphony station in Boston.
Philadelphia's Southeastern Pennsylvania Transportation Authority, which garnered $56 million for station upgrades on two different lines.
NJ Transit, which was awarded a total of $34 million for three different projects in the Garden State.
The Connecticut Department of Transportation, which will use nearly $30 million for upgrades to three Metro North stations.
Pittsburgh Regional Transit, which will get $28 million for upgrades to several Red Line stations.
The city of Seattle, which will receive $15 million to modernize a monorail station.
Cleveland's transit agency, which won $8 million to improve its East 79th Street light rail station.
The Maryland Transit Administration received $7.9 million for planning work for a station north of Baltimore that requires passengers to cross several tracks to board trains.
The Port Authority Trans-Hudson (PATH) Corporation in the New York area received $1.6 million to study needed accommodations in four Manhattan stations.
"There is no single project, no single moment, no single sector that can address all the needs we have in this country when it comes to real equity for Americans with disabilities," Buttigieg told reporters Monday. "But every advancement gets us closer, and this is a big advancement."
Daniel C. Vock is a senior reporter for Route Fifty, where this story originally appeared.