PA House advances bills to raise minimum wage, create tax credit program
Both bills advanced through the narrowly divided chamber.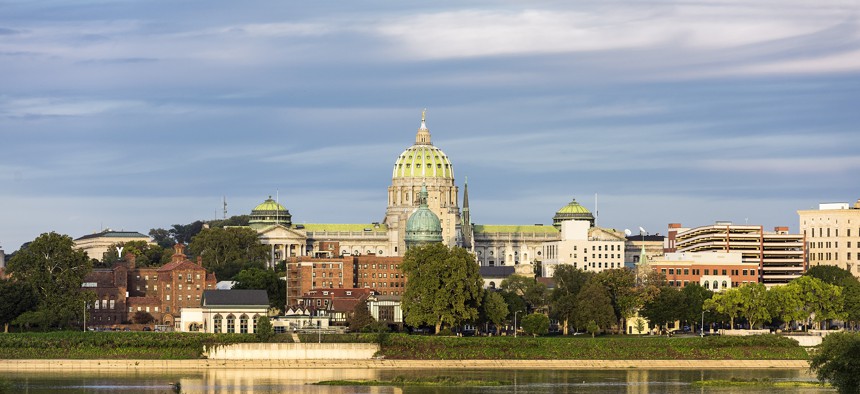 Lawmakers in Harrisburg advanced two major bills Tuesday that would increase the state's minimum wage for the first time since 2009 and create a new tax credit program designed to address workforce shortages across the state. 
Both bills passed the narrowly divided chamber and now await action from the state Senate. The passage of the two bills comes as lawmakers continue to hash out the specifics of a state budget package before breaking for the summer. 
Raising the minimum wage has been a chief priority of House Democrats, who took control of the chamber this year. The tax credit proposal, which is similar to a plan outlined in Gov. Josh Shapiro's budget proposal, seeks to attract more prospective teachers, law enforcement officers and nurses to the state. 
House lawmakers approve bill to increase minimum wage
House Bill 1500, sponsored by Democratic state Rep. Jason Dawkins, would raise the state's minimum wage to $15 an hour by January 2026, while also tying the state's minimum wage to an annual cost-of-living adjustment. It passed the state House with a close 103-100 vote on Tuesday evening. 
Supporters of the legislation said it would help provide a level of financial security for low-wage workers in the state. 
"The current state of affairs is dire, with low-wage workers across the state struggling to make ends meet and falling deeper into poverty," said Dawkins, the prime sponsor of the bill. "The time has come for us to raise the minimum wage."
Dawkins said the state's current minimum wage "demands immediate action."
Democratic state Rep. Patty Kim, a longtime advocate for raising the state's minimum wage and a sponsor of the bill, said the increase would have a positive impact on Pennsylvanians. 
"I hope that we can put an end to this fight and end the cycle of workers working a poverty wage," Kim said on the House floor. "​We can make a positive change."
In 2022, approximately 63,000 Pennsylvanians earned the minimum wage or less – the lowest figure on record since the Pennsylvania Department of Labor & Industry began publishing yearly minimum wage data in 2007. That same year, more than 417,000 Pennsylvanians made between $7.26 and $12 an hour. 
Pennsylvania's median wage in 2022 was $18.16, according to data from the department. 
The last increase to the state's minimum wage came in 2009, when it rose from $7.15 to $7.25 – where it currently remains today. 
Each of Pennsylvania's neighboring states have a higher minimum wage, according to the U.S. Department of Labor. 
Critics of the legislation said Tuesday that it would prompt businesses to cut labor costs and potentially result in the elimination of entry-level jobs. 
"History has shown that forcing businesses to pay higher wages leads to an overall decrease in demand for labor, as businesses are forced to find new ways to cut increased labor costs," said Republican state Rep. Torren Ecker. "Folks, we've all seen it. Our convenience stores are now automated. Technology is catching up. These folks will be replaced." 
Others suggested that the legislation would also harm tipped employees – as the bill also sets the tipped wage to 60% of the minimum wage. 
"When I talked to all my tipped employees – folks that are bartenders and waitresses – every single one of them is opposed to it because they know that it's going to affect their bottom line and they're going to earn less in tips," said GOP state Rep. Doyle Heffley. 
"When you raise that ceiling to $15, you're gonna really pinch out those entry-level positions," Heffley added. 
A tax credit plan moves forward
House lawmakers also advanced legislation from Democratic state Rep. Brian Munroe that would create a new tax credit for prospective educators, police, sheriffs and nurses. 
The bill, House Bill 1249, would create the Pennsylvania Individual Recruitment and Retention Tax Credit, a program providing credits of up to $2,500 for eligible taxpayers for three years. 
House Democratic Leader Matt Bradford called the measure "wildly popular.""A vote yes is pro-nurse, pro-teacher and pro-cop. A vote against it is against our teachers, against our nurses and against our police," he said, making the case in favor of the bill. 
House Republican Leader Bryan Cutler argued that the bill would not do enough to help existing workers in the state. 
"I'll concede providing a tax credit to new teachers, new police, and new nurses may sound good in a press release, and may make people feel warm and fuzzy when they go to sleep at night, but it does not actually help the current workers that we have," Cutler said.  
"It does nothing to reward and retain those who have already given their lives, or the best years of their lives, to this variety of professions," he added. 
Ultimately, a majority of House lawmakers voted to advance the bill, with the legislation passing with a 136-66 vote.