Elections
What it takes to pull off the Democratic National Convention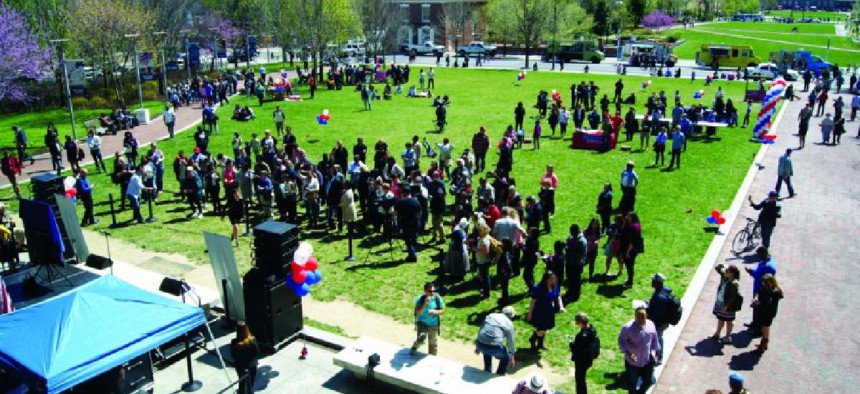 In 100 days, the Rev. Leah Daughtry will welcome more than 50,000 people to Philadelphia for the four-day Democratic National Convention. Earlier this month she was in the DNC's Center City office going over what still needed to be done: delegation seating charts, bus routes and – at the top of her list – tech support.
"No one contemplates having 7,000 delegates – everyone with two phones and a tablet – plus the media running their television shows from inside the Wells Fargo Center, plus what we need just to do our work," said Daughtry, who also served as convention CEO in Denver in 2008, when Barack Obama was nominated. "We will wire that thing up 20 ways to Sunday to make sure that everybody stays connected."
Daughtry is among the many business owners, tourism officials and event organizers prepping for the city's first national political convention in 16 years, one that many hope will showcase a revitalized Philadelphia.
Daughtry moved to Philadelphia more than a year ago to begin preparing for the event she has described as "a wedding on steroids," which will be held July 25-28. The televised evening events will be held at the Wells Fargo Center – home of the Philadelphia 76ers, the Philadelphia Flyers and the Philadelphia Soul. Delegates will hold daytime meetings at the Pennsylvania Convention Center.
Among Daughtry's many responsibilities are making sure that boxes of confetti fall on cue, balloons rise when required and 10,000 volunteers who will be working before, during and after the festivities are well-prepped for every eventuality, political or otherwise.
"That's all part of my job," said Daughtry, who has promised that this will be the "most diverse and forward-looking convention" in the party's history.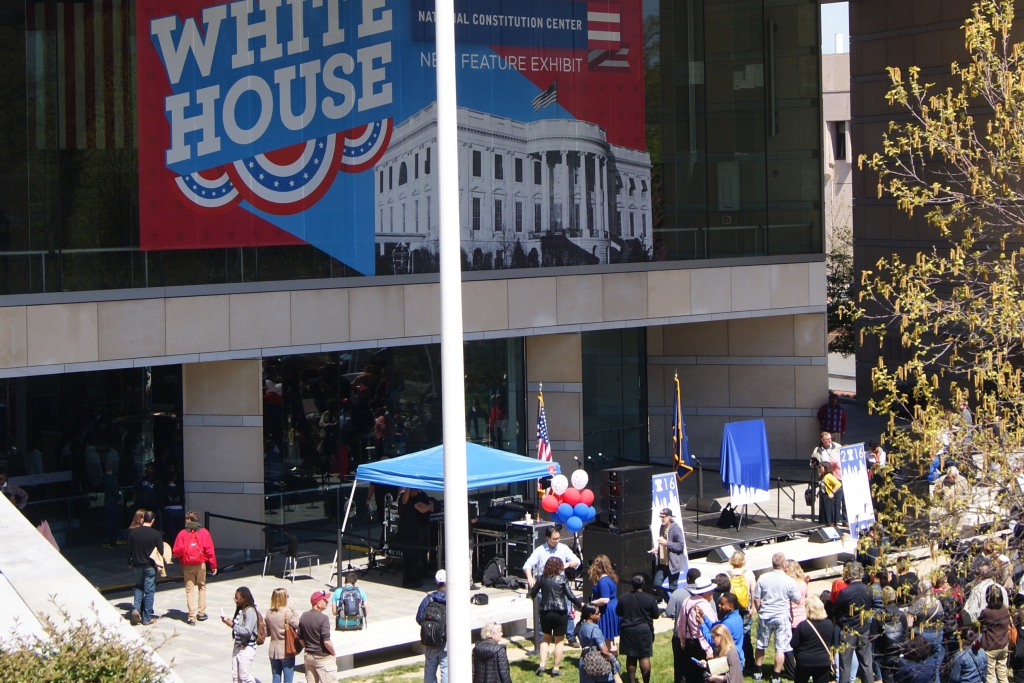 As she said during a Wells Fargo Center media walkthrough earlier this month, this year's DNC has set a goal of assigning 35 percent of its contracts to minority firms. The Philadelphia 2016 Host Committee has awarded four of its five largest contracts to minority-owned businesses, including those run by women, people of color, veterans, disabled persons and members of the LGBT community. For example, a woman- and minority-owned company has been tapped to be the official event producer, and a certified Hispanic Minority Business Enterprise will be the convention's official merchandise provider and manager. And outside the security zone, Philadelphia's Equality Forum, a nonprofit serving the LGBT community, has moved its regularly scheduled summer offerings to coincide with the convention because of an expected increase in the number of LGBT delegates and guests.
While it's still unclear who will represent the party in this year's presidential race, Philadelphia Democrats have spent the last year getting ready for their candidate, whoever that may be. When the city initially bid to host the convention, pundits were predicting Hillary Clinton would be the Democratic nominee. That prompted the local team to create the tagline, "Philadelphia 2016. Let's make history again," according to former Pennsylvania Gov. Ed Rendell, chairman of the 2016 host committee.
Fortunately, that's a motto that works for Bernie Sanders, too.
"It's either the first woman or the first socialist; either way, it will be history-making," Rendell said, adding that Philadelphia can also offer another guarantee organizers in Cleveland – host of the 2016 Republican National Committee's convention – can't: "We're a Trump-free zone," he said, laughing. "Not only is that a promise, but you can't say anything better about us."
That said, Rendell also listed a few pro-Philadelphia factoids: The city was recently named an UNESCO World Heritage City – the only such city in the United States. Its walkable downtown, booming restaurant scene and cultural offerings, both historic and modern, have contributed to rising tourism numbers. The city successfully hosted Pope Francis and a few hundred thousand faithful last September with nary a major problem for those making the pilgrimage.
But the DNC will be a different animal than the papal extravaganza. The convention is much smaller, more in line with the types of events the city pulls off on a routine basis at the Pennsylvania Convention Center. A good portion of the papal crowd wasn't old enough to drink and traveled in large youth groups that stayed outside the city. The promised boon to area businesses that local politicians had predicted never materialized, leaving some with hard feelings and at least one restaurateur with $10,000 worth of extra food in a rented trailer that she couldn't use.
Still, based on previous political conventions – including the 2000 Republican National Convention, also held in Philadelphia – the DNC's impact on local businesses should be profoundly positive. That's why Chris Mullins, owner of McGillin's Olde Ale House in Center City, the oldest continuously operating tavern in Philadelphia, will be making changes to appeal to the visiting masses, including "decorating to the hilt" with American flags and creating a few speciality cocktails, like "The Dublin Donkey."
"Putting Philadelphia in the spotlight of the world stage showcases all of the best parts of what we offer to tourists, businesses looking to perhaps move here, conventions and even residents," Mullins said. "There will be a short-term bump, but also a long-term impact."
Of the 50,000 people expected in July, about 6,000 are delegates, between 15,000 and 20,000 will be members of the media, and the rest will be others interested in the process, including delegates' families and friends. With most of the major programming happening at night, visitors will have time to explore the city during the day and many – especially journalists who have filed their stories – are expected to leave the Wells Fargo Center at night in search of food and drink.
"This won't be the type of thing where people think the whole city is going to shut down like the pope's visit," said Meryl Levitz, president and CEO of Visit Philadelphia, a nonprofit that promotes the city. "The good news is, Philadelphia's done this before. We're benefitting from a lot of institutional knowledge."
Levitz was in the same role in 2000, when the GOP held its nominating convention here. (Philadelphia also hosted the Constitutional Convention in 1787 and, between 1848 and 2012, the city hosted one-quarter of major party conventions, including the Republican party's first convention in 1856 and the Republican, Progressive and Democratic conventions in 1948.) The city has come a long way in the intervening 16 years, she added.
"In 2000, the city really had something to prove: Nobody really knew who we were as a city and we all sensed it could be a true turning point for Philadelphia," she explained. "The city had more of a 'Rocky and cheesesteak' image than it does today, although there's nothing wrong with Rocky and cheesesteak."
Indeed, it's difficult to find much of that tough, working-class vibe in central Philadelphia anymore, although the Rocky statue is prominently situated right outside the Philadelphia Museum of Art steps made iconic by the film. It has added to its skyline, with the 974-foot Comcast Center now the city's tallest building. Culture got a kick when the Barnes Foundation moved from the suburbs to Benjamin Franklin Parkway. Center City, where most of the convention-goers will stay and play, boasts better lighting, less crime and a huge increase in tourist-friendly fodder, like parks, shops and outdoor cafés. You couldn't find a single outdoor café in the city in 1995. By 2005, there were 167. Last year, there were 369.
Planners estimate the convention will have as much as $300 million worth of economic impact on the city and region. Delegates have already secured 15,000 rooms in 89 area hotels. Levitz's group is responsible for 10,000 gift bags filled with local goodies.
"This isn't a typical convention schedule, where attendees are busy from eight in the morning to five at night," Levitz said. "It's the reverse. During the day, people will have time to wander around."
That means it's time to pretty things up. Tammy Leigh DeMent, associate director of civic landscapes for the Philadelphia Horticultural Society, said her organization is planning a "garden walk" for the area roughly between the Pennsylvania Convention Center and City Hall that includes installing large potted plants and new plantings – perennials, grasses and a bit of color – in existing green space. They will also repair broken cobblestones and benches and prune the trees in the area.
"This may all seem simple and mundane, but when you put them all together, the change will be miraculous," she said. "Everything's pretty big – we'll create a human-scale environment."
The colors of the American flag will be on display throughout the city, Levitz said, thanks in part to the Wawa Welcome America festivities. Thanks to the celebrations taking place on and around July 4 – only a few weeks prior to the convention – there will be bunting aplenty.
"There will be red, white and blue-ing of everything," Levitz said – with the possible exception of the 125 miles of fiber optic cable and the 750 miles of network cable that will need to be in place before showtime.
While changing technology has created more work in some areas, Daughtry noted that it has made life easier in many others. It's a far cry, she notes, from the 1992 Democratic Convention, when delegate seating was handwritten on paper and copied in triplicate, and the committee was also struggling with the latest in high-tech accessories. "We still had the fax with the curly paper," she recalls.
Today, scans and PDFs have long since replaced thermal paper. But no matter how much bandwidth is added to the Wells Fargo Center, or how fast the WiFi will be, Daughtry knows that the only thing that matters right now is progress toward making July 25 the culmination and beginning of something great. It's why her most emphatically delivered remark to members of the media at the center was, "We are on time, on task – and on budget."