Education
A local historian illuminates Philadelphia's political past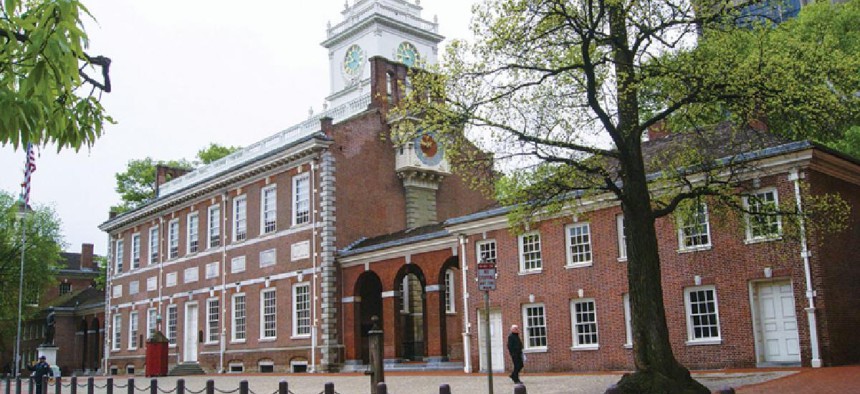 Tour guide Ed Mauger paused as he looked for the best way to exit the site where the Philadelphia home of George Washington once stood. He'd almost made a right turn, but stopped himself just in time. "Oh, that would have been bad," he said. "I would have to give you all your money back."
The well-known local historian and author's measured pace, courtesy of a recently broken foot, made the mistake easy to catch. His round, bearded face evoking a gentle, Santa-like glow when he talks, his eyebrows and forehead hard at work invoking moods and emotions, Mauger bubbles over with ideas and enthusiasm for his job, often interrupting himself as he remembers yet another good story while talking about his walking tours based on the Democratic Party's top two presidential candidates, Hillary Clinton and Bernie Sanders.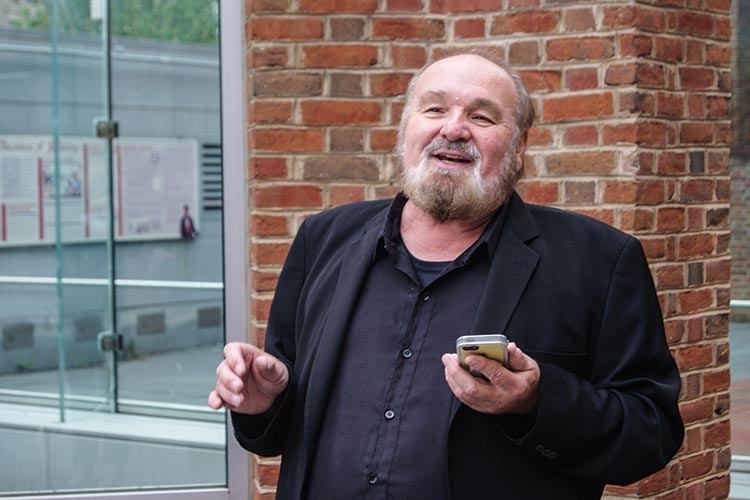 The Sanders-centric tour was the more difficult to plan and remains challenging to pull off: In honor of Sanders' self-proclaimed socialist beliefs, Mauger promises that these tours will only make left turns, even offering a money-back guarantee. The Clinton tour is much more directionally bipartisan, with left turns in honor of her progressive politics and right turns in honor of the women's equality struggle sites in the city.
Yes, it's a gimmick, but an engaging one, an example of how even the smallest details are being attended to as Philadelphia and its citizens prepare for the Democratic National Convention, to be held here July 25-28. Organizers predict the event will bring an influx of about 50,000 people, including 6,000 delegates and their guests and about 20,000 members of the media, to the region. Due to the guarantee that the party's presidential nomination will make history – with either the first female candidate or the first Jewish candidate – those numbers could be even higher. They also believe the convention could bring as much as $300 million into the area.
Businesses of all kinds are eager to take some of that money. At the urging of local restaurants and bars, the state legislature is considering extending bar hours until 4 a.m. during the convention, as it did in 2000 when the Republicans nominated George W. Bush. There are already welcome signs and flags adorning the windows of local businesses, including an adult toy shop, a stationery store and a candy shop.
Mauger, a former associate dean at Rutgers University's Camden campus, started his own walking tour company, Philadelphia on Foot, in the 1990s. He wanted to turn his love of history and storytelling into a second career while also making sure local tour guides got their facts straight. Far too often, he said, he'd heard tour leaders mix fact and fiction, presenting both as history.
Mauger knows what he's talking about. He is the founding president of the Association of Philadelphia Tour Guides, which seeks to ensure that guides working in the city have a certain baseline reservoir of historical knowledge. The truth, as he points out again and again during his walks, is much more interesting – and far stranger – than fiction.
"There are a lot of guides giving tours, but they think it's the same old history, and they present it the same old way: like you're dragging some fifth-grader around by the ear," he said. "I thought, 'These are fascinating, powerful people, and there's got to be more to their stories so we can have more fun with this.'"
In 2000, Mauger created the "Exercise Your Rights" tour for visiting Republicans, leading about 50 members of the Indiana delegation through the city. The walk featured sites of particular interest to conservatives, like the First National Bank of the United States, founded by the country's first Treasury Secretary (and posthumous Broadway star) Alexander Hamilton. The tour's promise: It would take only right turns.
One lesson that Mauger took away from developing that first trek: Many individuals can be made relevant to those seated on either side of the aisle."It's like the Bible: The devil can quote it for his own purposes," he said. "I can quote the Founding Fathers for my own purposes."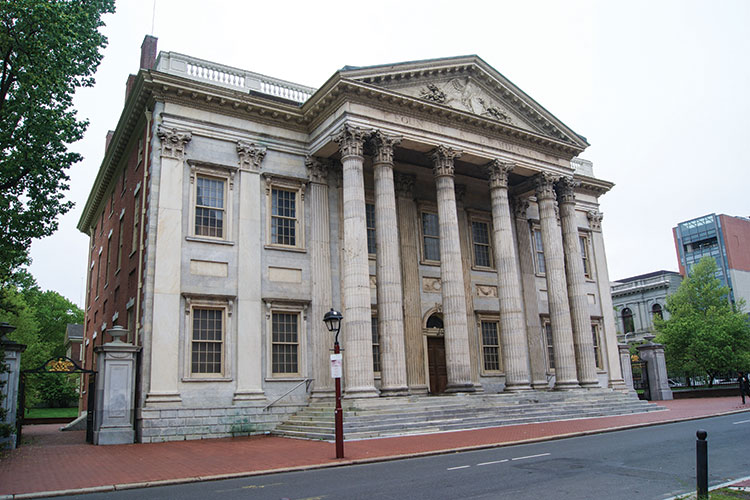 Benjamin Franklin, for example, was born into a poor family but became a multimillionaire during his lifetime. He was "the paragon of the entrepreneur – Trump would love him," Mauger said. "He criticized London because they provided money to the poor; he thought it would make them lazy to have welfare."
On the other hand, Franklin was also the most liberal of the Founding Fathers, he said. "He trusted the common man, and really espoused their rights throughout his life."
Mauger is a showman, gregarious and with a contagious enthusiasm for his work. Because of his deep store of knowledge, his stories are richly detailed and engaging. There always seems to be one more on the tip of his tongue, one that he has to withhold because of time constraints. He may sing, as he did on the recent Clinton and Sanders preview tours. He may so clearly describe something – Washington's top coat, a Colonial meal – that it's almost visible. It's clear he enjoys his work. It's also clear he's a big fan of the City of Brotherly Love, noting how it was the largest and most cultured city George Washington ever saw in his lifetime, and marveling over the decision in 1800 to move the national capital from Philadelphia to Washington, D.C., "that swamp on the banks of the Potomac River."
The Sanders and Clinton tours both begin at the Independence Visitors Center, which is across Market Street from the Liberty Bell in an area considered America's most historic square mile. Within these boundaries can be found Independence Hall, the homes and workplaces of Benjamin Franklin and Betsy Ross, and newer museums honoring the country's founding and its diversity. In 2015, UNESCO named Philadelphia the nation's first World Heritage City because of its contribution to American and world history. Each tour takes between 90 minutes and two hours and covers about two miles, but no stops or times are set in stone.
"Tours evolve," he said. "It's a performance art, being a tour guide. You're only as good as your last tour."
While the Clinton walk exits the center through a side door, the Sanders tour begins outside the main entrance. The first stop is the site of the house that Washington designed and lived in during his presidency. The home's footprint, on a square sandwiched by cobblestone streets, was only converted into a historic attraction in 2010. Before that, it had been overgrown with grass, its existence all but erased.
Mauger has multiple stories about the home where, he said, Washington "essentially invented the American presidency." During the Sanders tour, Mauger talked about Washington the slave owner, noting that 13 enslaved Africans had lived on this property. Washington's own letters reveal he went to great lengths to skirt a Pennsylvania law that would have freed those people after six months of living in the state by sending them on day trips to New Jersey. The first president also sent slave catchers to New Hampshire after one of Martha Washington's favorite slaves escaped. They returned empty-handed.
Washington's house is also included on the Clinton tour, but it's the final stop. Mauger tells different stories here, including one that's a nod to the biggest scandal of President Bill Clinton's administration. "We have to get some sex in this for the Hillary part," Mauger said.
It's another little-known and engaging tale: In 1777, British Gen. William Howe and his troops took control of Philadelphia, banishing Washington and his men 26 miles north of the city to Valley Forge. Howe and his aides were confident that with the rebel capital in hand, the war would soon be over.
But as Franklin, then in France, sagely noted, "Has Howe taken Philadelphia, or has Philadelphia taken General Howe?"
It turned out to be the latter. As Mauger tells it, Howe was so smitten with the city's bars and theaters and his new mistress, the wife of one of his officers, that he missed multiple chances to crush the upstart Americans. His own soldiers created a pub song to mock him. Mauger sung the first verse, but declined to sing the second, noting "there's a line in there about 'grasp your warlike staff,' but I won't get into that."
Mauger noted there were other differences between the tours. During the Sanders walk, for example, he'll stop at the First National Bank, because "it was the first big bank, and the banks are such a big part of the Bernie Sanders approach to America. … We could talk about it in Hillary terms as well, but they wouldn't have paid a woman in the 18th century 100 grand or so to speak to them. They wouldn't have paid a woman at all to speak to them."
Instead, those on the Clinton tour will go farther north, visiting the Betsy Ross House, where it is believed the seamstress created the country's first flag. They'll learn about the "real Ross," not the small woman sitting in a rocking chair and sewing that many paintings depict. Ross was known as the "little rebel" for her actions against the British government, including creating munitions in her Philadelphia shop. They'll see the Arch Street Friends Meeting House where Quaker abolitionist Lucretia Mott worshipped. They'll visit Elfreth's Alley, the nation's oldest continuously inhabited residential street, where two female seamstresses broke barriers with their business prowess and property ownership.
"It was in the colonies, particularly in Philadelphia, where women began breaking into the field of economic parity," Mauger said.
And on and on he walked, his stories flowing, never missing a step.
Or taking a wrong turn.