In a reversal, Philly DA to reconsider DNC sex assault case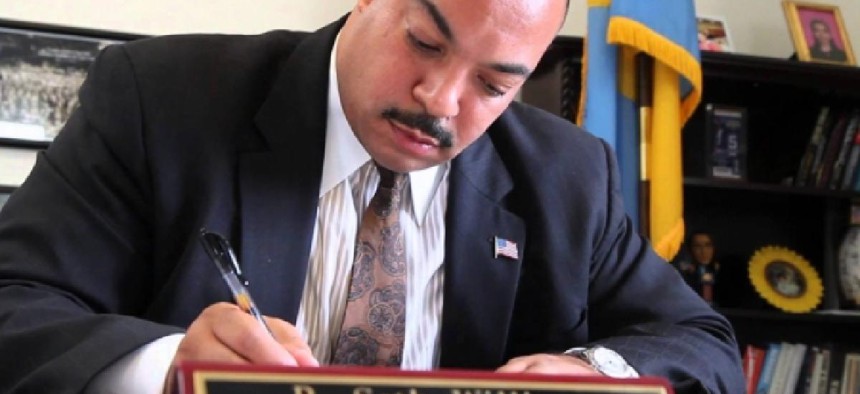 Just four days after Philadelphia District Attorney Seth Williams declined to pursue a case of alleged sexual assault committed by Walter Weeks against Gwen Snyder, his office seems to have reconsidered.
In an email sent to City & State last night, DA spokesperson Cameron Kline wrote that "Ms. Snyder just left the office after talking with our Family Violence and Sexual Assault Unit, so we are going to do some additional investigation based on our conversation with her."
That statement came on the heels of what was, to that point, another fruitless attempt by Snyder to move the case forward. In an interview, she said that earlier that same day, she spoke on the phone with James Carpenter, the head of the DA's Family Violence unit. During that conversation, she related, Carpenter said that he couldn't "prove beyond a reasonable doubt that he knew (Snyder) didn't give consent, because (Weeks) had been drinking."
Following that conversation, Snyder started a petition calling for the DA to reconsider his decision. Shortly after she did that, the meeting resulting in an additional investigation occurred. "They told me they're reconsidering it because of new information from me at the meeting," she said. 
The alleged assault occurred in the early morning hours of July 28. Weeks, like Snyder a PA delegate at the Democratic National Convention, allegedly gave her a hug at the Doubletree Hotel Philadelphia bar and proceeded to, in Snyder's words, "aggressively" lick her breasts before she freed herself. She reported the assault the same day, and received confirmation that no charges would be filed against Weeks on Aug. 12, which set in motion the current chain of events.
In addition to her reporting the incident to the Philadelphia Police Department, following up with the DA, the DNC Host Committee, the PA Democratic Party leadership, writing an open letter to Hillary Clinton and Joe Biden, and starting the aforementioned petition, Snyder also reached out to the Philadelphia chapter of the National Organization of Women for assistance.
In response, chapter president Natalie Catin expressed shock and dismay that Carpenter appeared to excuse the assault as not prosecutable because of Weeks' inebriation.
"I'm beyond disappointed by the DA's office current position on this matter," Catin stated. "Sexual harassment must not go unchecked. It sets a terrible precedent and sends the wrong message. Being drunk is NEVER an excuse for a woman to be violated, whether it's on a college campus, in a work function or at a hotel. This is a total missed opportunity for the city of Philadelphia to stand up for women's safety. DA Williams continues to add to a culture in Philadelphia in which sexual harassment is not taken seriously and victims find no justice. We call on the DA's office to combat sexual harassment in all forms and reverse this decision immediately. "
The handling of Snyder's case adds to a run of bad publicity for Williams, which includes a string of announcements from potential challengers looking to unseat him in next year's election; a belated filing with the city announcing his receipt of over $160,000 in gifts between 2010-2015; and the disbanding of his original campaign PAC, which had been dogged by allegations of fiscal mismanagement, in favor of one run by state Republicans earlier this year.
Snyder, who continues to remain politically active during the campaign, said that the lack of official action seems to have emboldened Weeks.
In a tweet sent earlier today from Clinton's appearance at a voter registration event at West Philadelphia High School, Snyder tweeted out the following: "My assaulter showed up at the West Philadelphia Clinton rally, looked me in the eye and started pacing behind me. The guy needs to be checked."