Philadelphia City Council
City solicitor assigns Henon a defense lawyer after FBI raids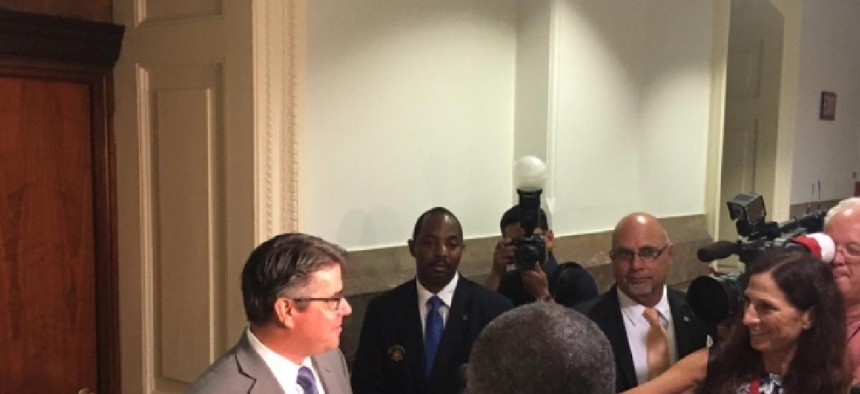 The City of Philadelphia has retained criminal defense lawyer Brian McMonagle as outside legal counsel for Councilman Bobby Henon, who was targeted in an August FBI raid. 
Ironically, McMonagle, who is currently Bill Cosby's lead defense lawyer in the comedian's criminal sexual assault case, had previously represented political consultant Richard North, who was convicted of bilking Henon out of $50,000 worth of campaign funds in 2014.
A spokesperson for the city's Law Department described this as a routine action "with respect to the federal search warrant executed on August 5, 2016." While no one from the department would provide the exact reasoning behind the retainer, the city has a long – and, at times, extremely costly – history of hiring outside counsel when there is the potential for conflict of interest.
"The Law Department routinely retains qualified outside counsel to advise City officials and employees regarding government investigations that relate to the performance of their official duties," said City Solicitor Sozi Tulante in an emailed statement. 
Henon, the Council Majority Leader, said he had consulted with outside counsel during an unusual press scrum outside his City Hall office – which was also targeted in the August raid– shortly after Thursday's Council session. Henon had largely been out of the public eye since the raids, which appear to be targeting the city's politically powerful IBEW Local 98, an electricians union that pays Henon a $72,000 annual salary for an untitled position (the union listed his position simply as "office" in a filing with the Department of Labor).
"Under the guidance of legal counsel, I'm going to tell you that the motivations, I cannot answer. I don't know what the motivations are," Henon said of the federal investigation during a brief statement. "But what I can tell you, to date, is that law enforcement has not contacted me or any member of my staff, to my knowledge."
A press aide later acknowledged that Henon had consulted with a defense lawyer, but provided few other details. Henon's role in the investigation is unknown, although Joe Ralston, a political associate and an officer of the Attorney General, was served a subpoena seeking evidence in connection to alleged extortion perpetrated by an unknown public official.
The arrangement is temporary, the Law Department spokesman said, and will end if the "government investigation does not relate to conduct within the scope of an official or employee's official duties" or if criminal charges are filed. McMonagle will be paid the city's standard rate of $225 an hour.