Kenney staff directed activists to picket anti-soda tax Councilwoman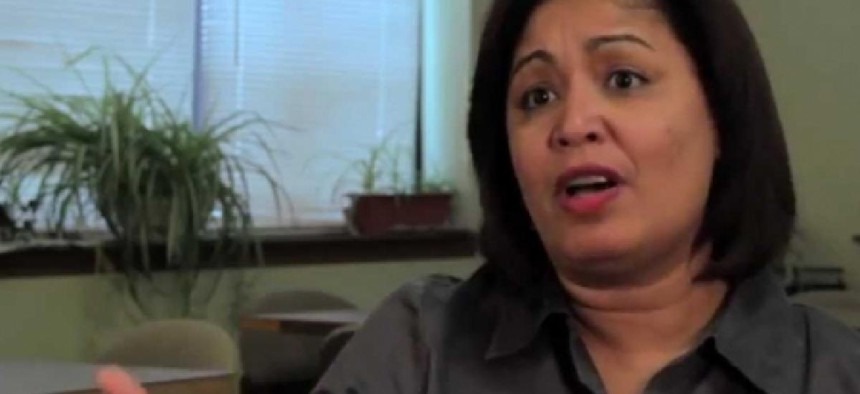 Top staffers for Philadelphia Mayor Jim Kenney directed an advocacy group for lower- and middle-income families to stage a May protest against City Councilmember María Quiñones-Sánchez in hopes of weakening her opposition to the administration's proposed soda tax.
According to emails obtained by City&State, mayoral staffers instructed protesters from the nonprofit ACTION United to "corner" Sánchez at a media event with the goal of pressuring the councilwoman into signing a public pledge of support for the tax. 
ACTION United, founded by former ACORN staffers, was part of a coalition formed by a dark money group called "Philadelphians for a Fair Future" (PFF) to boost public support for the initiative. The 501(c)4 raised $2.5 million to support the tax, although it did eventually did disclose its funders.
In a May 11 email exchange, obtained through a Right-to-Know request, Kenney's chief of staff, Jane Slusser, asked for a status update on the plan to confront Sánchez, suggesting an upcoming press event as a venue. 
"Have we made any progress on getting them to deliver statement to Maria to pledge not to take soda $$?" Slusser wrote to Jessie Bradley, a pro-tax consultant hired by PFF. "There is an event tomorrow where we know she'll be and could corner her out in front with cameras."
According to Sánchez's office, the event in question was the May 12 launch of "Language Access Philly," an effort aimed at connecting Philadelphians with limited language ability to city services. The mayor himself had planned to host that event, with Sánchez as one of several other speakers.
The levy, which would fund many of Kenney's key campaign promises, was up for a council vote in June. Although Sánchez's high-poverty district, which encompasses swaths of North Philly and part of the Northeast, stood to benefit from soda-tax funded programs like expanded Pre-K, her slice of the city also includes several bottling plants – a central element of her early opposition to the tax.
But later in the email chain, Mustafa Rashed, a PFF lobbyist, says that ACTION United Executive Director Craig Robbins had asked him to first create a list of campaign donations Sánchez had accepted from the beverage industry ahead of the staged encounter. 
However, Slusser states that another mayoral staffer, Vaughn Ross, had already compiled a spreadsheet featuring industry donations to Sánchez – and every other member of City Council.
"Vaughn has but won't be able to access till later today. I honestly don't remember if it looks like more or less compared to other members," she says, referring to $20,000 in donations Vaughn tracked from beverage industry figures to Sánchez. Council President "Darrell Clarke probably has 3x this."
The delay in accessing that spreadsheet may have temporarily derailed the plan – ACTION United activists instead confronted Sánchez in her City Hall office about a week after the emails were sent, demanding she side with the mayor on the soda tax.
Ultimately, the plan went flat. Although the tax eventually passed, Sanchez placated the activists and maintained her opposition; the incident earned just a few quick mentions in local news. 
This week, the Kenney administration acknowledged its role in directing the ACTION United protest, asserting that the administration felt working through a proxy organization would juice media exposure. 
Kenney spokesperson Lauren Hitt, who was also tagged in the email exchange, described the administration's actions in light of a massive lobbying effort by the beverage industry and anti-soda tax protests held by Sánchez and other councilmembers.
"After the Councilwoman declared her opposition to the tax in a public rally outside City Hall, we worked with ACTION United on a pledge asking her not to take donations from the soda industry," said Hitt. "It's an ask we would have made directly if we didn't think it would have been dismissed by the media as just part of the back and forth...over the soda tax."
Hitt claimed that the protestors had not been paid for their time and that Mayor Kenney had been kept in the dark about the plan.
"He was aware that we were working on raising awareness of the soda industry's political contributions. He wasn't aware that this was one of the ways we were trying to do that," she wrote in a Tuesday email.
The administration had previously sought to depict the relationship between the Mayor's Office and its nonprofit coalition in benign terms.
"Our relationship with (Philadelphians for a Fair Future) is very much like the relationship Planned Parenthood has with cities or legislatures that are fighting anti-choice legislation. It's not unusual at all," Hitt told Philadelphia Magazine reporter Holly Otterbein in May, one day after the email conversation took place.
But when informed of the plot, Sánchez was livid and described the staged protest as highly unusual. She said that she had initially chalked the encounter up as a stunt orchestrated by her longtime adversary, John Dougherty, a powerful union boss and a major soda tax proponent.
She said the plan – and Kenney's ignorance to it – was a signal that his administration had been hijacked by Slusser and other former campaign staffers-turned-government officials.
"This incident goes beyond the pale," Sánchez said. "It was manufactured by immature campaign operatives given free rein to engage in inappropriate stunts. It should go without saying that ambushing a councilmember is unacceptable."
She also said the incident should be a wake-up call to the rest of City Council.
"This time it was me, but in the future, anyone who doesn't 'fall in line' could be similarly targeted," she said.
She described the maneuvering as part of a larger, backchannel campaign to win support for the soda tax, along with the dark money campaign, and said she had demanded an audience with Kenney over the matter.
Sanchez said she was most hurt by being singled out for harassment – as opposed to colleagues like Al Taubenberger, Jannie Blackwell or Clarke, who also criticized the tax.
A staffer for Clarke, who earned a passing mention in the emails about the beverage industry donations he'd accepted, offered only a brief comment.
"The only surprise here is that folks were dumb enough to put this stuff in email, if true," Clarke spokesperson Jane Roh said.