Elections
Khan broke rules by publicizing complaint against DA Williams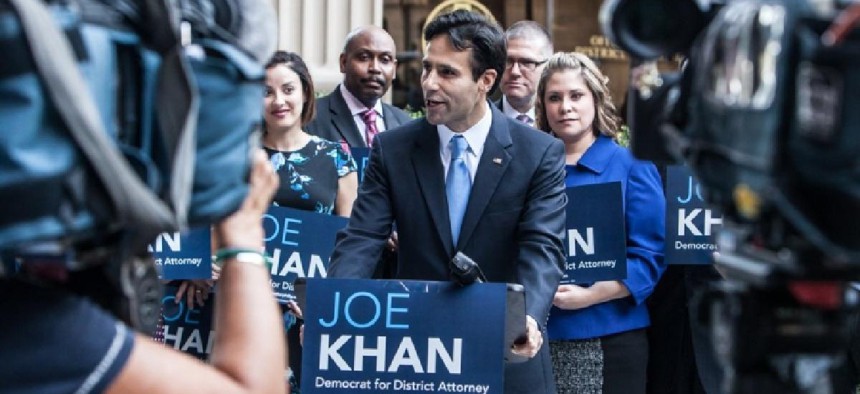 Democratic Philadelphia District Attorney candidate Joe Khan broke the confidentiality rules of the Disciplinary Board of the Supreme Court of Pennsylvania by publicizing a formal complaint he lodged against DA Seth Williams with the same judicial panel.
Yesterday, Khan's campaign announced that he had filed an official complaint with the board over $175,000 in undisclosed gifts accepted by Williams, with the ultimate intent of stripping the DA of his law license. Khan staffers emailed copies of the complaint itself to reporters.
But Williams' campaign lawyer, Sam Stretton, who once worked for the board's Philadelphia division, said the commonwealth's Rules of Disciplinary Enforcement expressly state that complaints must be kept confidential until a final ruling has been made.
"When you make a complaint to the board, it has to be confidential," Stretton said. "Obviously, I represent Seth, but it is not a good way for Khan to campaign as a moral, ethical DA while also violating the rules."
The head of the board concurred on the intent of the confidentiality provision.
"Complaints are meant to be confidential," said Chief Disciplinary Counsel Paul J. Killion. "It's primarily a rule for our staff, but it also applies to the people who file the complaint." 
He said the rule existed because most complaints the board received were ultimately found to have no merit. Killion said that under the board's guidelines, Khan could lose immunity from lawsuits filed by the target of a complaint and could himself be sanctioned by the board.
"Could someone be charged under this rule? It's possible," he said.
Khan's campaign has said that the highly publicized ethical violations underpinning the DA candidate's complaint are hardly a secret. 
"In 99 percent of cases, a complaint will be disclosing truly confidential matters – some kind of attorney-client privileged conversation or event. This isn't that," said Khan's lawyer, Adam Bonin. "Everything in the complaint is a fact, which Williams has publicly agreed is true; there are no confidential or privileged matters in there."
Stretton said Khan's rationale was little more than semantics.
"Their point is that everyone knows – so it's not confidential. But the fact that he's making a complaint is confidential. And if you're a lawyer, you have to follow the rules," he said, pointing to the consequences for his own client. "Seth paid the price for it, didn't he? He might lose the election over it."