Infrastructure
State prison in Pittsburgh to close in June, more may follow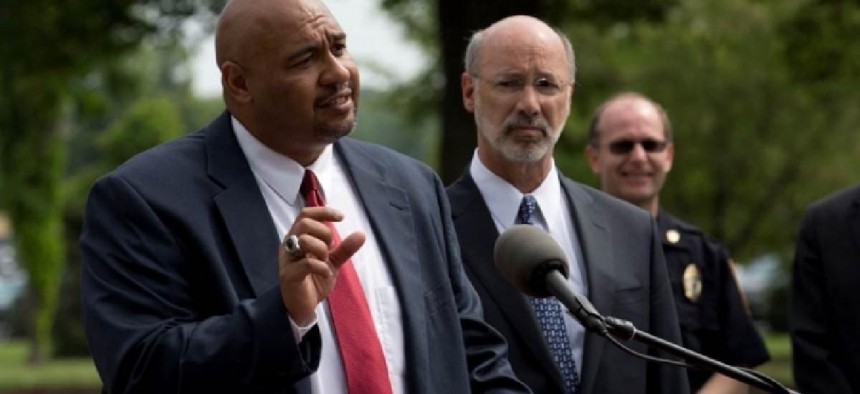 The Wolf administration announced Thursday morning that the state prison in Pittsburgh will close on June 30, saving the state approximately $81 million annually. 
Citing cost-saving measures in response to the ballooning state budget deficit and a reduction in the state's prison population, the western Pennsylvania prison was selected from a list of five facilities considered for closure, including SCI Mercer in Mercer County, SCI Waymart in Wayne County, SCI Retreat in Luzerne County, and SCI Frackville in Schuylkill County.
"Closing an institution is a challenging process, and this decision, made in consultation with Gov. Tom Wolf, only came after considering input from stakeholders and an extensive review of all the institutions, and took into consideration several factors, including the age, size, location, programming and economic impact on local communities," said Department of Corrections Secretary John Wetzel. 
With the closing of SCI Pittsburgh, the prison's 555 employees will need to be transferred to another location within the DOC – a move the department promised to the facility's staff when the prison-closing plan was announced two weeks ago.
Wetzel said in Pittsburgh Thursday that the department plans to relocate employees to other facilities within 65 to 90 miles of their homes. 
In order to accommodate the transfers, the department instituted a hiring freeze at other state prisons to ensure available space – a similar move to when facilities at Greensburg and Cresson in Western Pennsylvania were closed in 2013.
The 1,921 prisoners from SCI Pittsburgh will slowly be moved to the state's 26 other facilities based on factors like program needs, security levels and distance from home.
While the administration initially thought that closing SCI Pittsburgh would present the most challenges for closure, Wetzel noted that it was the most economically viable facility out of the five sites due to its riverfront location. 
"One thing we really wanted to look at was the economic impact in the closing of the prison," said Wetzel. "In this case, given the location of the property, this was a really viable economic development opportunity – and out of the five areas we're talking about, the area with the lowest unemployment rate." 
Secretary Dennis Davin, of the Commonwealth's Department of Community and Economic Development, agreed the facility's closure was the best decision available.
"In comparison to the other potential closure sites, we believe that the Pittsburgh site is at the greatest advantage for future revitalization based on its location, assets and the city's robust economy," he said. "The southwest region has realized a steady stream of business expansions in recent years, and with SCI Pittsburgh's close proximity to both the river and the industrial corridor, the site is likely to be repurposed quickly."
Although Wetzel could not speak to the future of the physical facility and what it could potentially be developed into by the state, he did note that he does not foresee it being turned into a federal facility to house ICE detainees. 
"We don't think that's a viable option for this facility because of the age and design," he explained. "With that being said, we think we do have some space that we can lease within existing facilities and we will continue to pursue that…to bring additional income in." 
SCI Pittsburgh has operated as a facility specializing in treating inmates with substance abuse and mental health issues. It includes a detox ward for new arrivals needing to come off their addiction in a secure medical setting. 
It is also the only facility in the state that offers inpatient oncology, including on-site chemotherapy treatments. All of those services will be relocated to other institutions, although it was not made immediately clear as to which ones that would be. 
Wolf commended the DOC's decision to close the prison, saying a declining prison population is a good thing. 
"Prison population is declining; that is a good thing, because its means criminal justice reforms are working," he said. "We must continue to pursue smart reforms that reduces the burden on taxpayers and protect our investments in education and drug treatment to keep people out of prison where we will spend $40,000 each to house, feed and care for them." 
Sen. Stewart Greenleaf (R-Montgomery), who chairs the Senate Judiciary Committee, which joined two other committees this week in examining the potential closures, praised the decision.
"With recently enacted criminal justice reforms that have shifted the focus from incarceration to treatment and community supervision for non-violent offenders, this is a natural and logical next step," he said. "Pennsylvania's inmate population is on the decline as well as the crime rate, and I anticipated this appropriate response from the administration."
But Sen. Wayne Fontana (D-Brookline) voiced his disappointment in the closure, saying in the administration's "rush to close," the impact on the prison's workers was not considered. He plans to urge the DOC to help them with relocation costs.
"The department largely ignored community input, the plight of local prison workers and the impact that this closing will have on our region's economy," he stated. "With this decision in place, it is now imperative that we take steps to protect the jobs of our prison workers and see to it that their safety is not compromised under this consolidated prison plan." 
Allegheny County Executive Rich Fitzgerald and Pittsburgh Mayor Bill Peduto say with the age of the facility and the national trend towards a reduction in the prison population, they understand the decision for closure, and will join Sen. Fontana in ensuring the property will be properly developed. 
"It's our hope that the property can be returned to the tax rolls and what could be a valuable property can be used for development or other opportunities in the city and county," they said in a joint statement.
Those representing the four other facilities breathed a collective sigh of relief Thursday, effusively praising the decision to keep the three northeast facilities and the Mercer County facility open.
"I am proud that the people of Luzerne County have demonstrated once again that we stand strong and united to protect jobs and protect our community," said state Sen. John Yudichak (D-Luzerne), who was a vocal proponent of keeping SCI Retreat open.
"I am convinced now, more than ever, that Pennsylvania must reform its protocol for closing prison facilities. However, I must thank the Wolf administration and the Department of Corrections for listening to our case and ultimately making the right call that SCI-Retreat should remain open."
In the House, Rep. Mike Tobash (R-Schuylkill) noted he was happy to see SCI Frackville remain open.
"SCI Frackville is a highly performing facility and an asset to our community," he said. "This decision represents fiscal responsibility, as well as good news for our region."
With respect to SCI Waymart, Sen. John Blake (D-Lackawanna) noted his pleasure with the decision to keep the facility open.
"I am relieved and encouraged that SCI Waymart was spared the fate of being closed by the Pennsylvania Department of Corrections," he said. "This means, for the immediate future, that over 700 jobs and hundreds of millions of dollars of economic impact will not be lost in Northeastern Pennsylvania."
"Further, the specialized services and mental health treatment sorely needed within our state's Corrections system will be maintained at Waymart."
Wetzel said the prisons surviving the current DOC decision – and others not mentioned – might be on the list for future closures.
"If you look around the country, you're seeing this all over the place," he said. "The trends suggest both prison population is down and crime is down. This is kind of the new normal. I think every budget there is going to be scrutinized about whether we're at a place to safely close another prison. There may be some that drop off and some that add on (the list of potential closures), but certainly, while I'm sure they're breathing a sigh of relief, they have to understand the times we're in."
Jason Gottesman is the Harrisburg bureau chief and Alanna Koll is the Pittsburgh bureau chief for The PLS Reporter, a non-partisan, online news site devoted to covering Pennsylvania government.