Congress
Toomey's Facebook Live town hall leaves many hoping for the real thing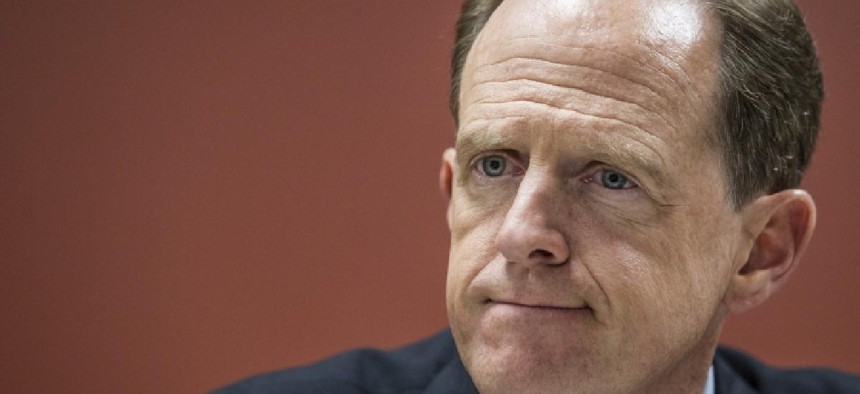 During a Facebook Live conversation with CBS3 Philadelphia on Monday, the first questions for US Sen. Pat Toomey (R-Pa.) were about why his constituents had to ask their questions through social media rather than in person at a town hall.
"When will he hold a live town meeting in Philly?" one viewer named "Fran" wanted to know. "Once we have that nailed down we can ask our questions ourselves."
"When will you host a real town hall, especially one with enough notice so that real Pennsylvanians can plan their schedules and engage with you?" another named "Megan" asked.
Toomey's last-minute sit-down with CBS3 anchor Jessica Dean was billed as a livestream conversation.
So, about that elusive, face-to-face town hall in Philly?
"Yeah, I don't have a date set," Toomey said.
He then pivoted to his record for holding more in-person town halls than any other elected official in Pennsylvania – to his knowledge. He also spoke about his prohibitive work schedule. Five days a week in Washington means little time for towns, let alone halls. But he touted his 48 "telephone town halls" as major successes, each of which draws tens of thousands of listeners, he said.  
"They're often unfriendly and hostile questions," Toomey said. "And that's fair, because people have a wide range of opinions."
Toomey then said he would do another in-person town hall at some point.
"In Philadelphia?" Dean again asked.
"Probably," Toomey said.
Earlier on Monday, Toomey met with leaders of Tuesdays with Toomey, the group that organizes routine weekly rallies outside his offices across the state to ask for the senator's direct responses pertaining to health care, immigration and, of course, town halls.
Toomey called the meeting "constructive" on Twitter. But, per Tuesdays with Toomey leaders, the senator again refused to commit to a town hall with constituents in Philadelphia.
Questions, which CBS3 collected from viewers on social media, turned toward other topics for the remainder of the 15-minute conversation.
Toomey gave brief remarks in response to questions about his stance on for-profit charter schools, his confirmation of Betsy DeVos for U.S. Secretary of Education, and plans to repeal the Affordable Care Act, also known as Obamacare, in Congress.
"Kids ought to be able to choose from a lot of different competing models," Toomey said of school choice, adding that the elementary and primary levels would better function as the university system does. "They have a wide, wide range (of options) and that ends up serving students really, really well."
Another viewer question pushed Toomey on his campaign pledge that he would not be a "rubber stamp" for President Trump's agenda. The questioner alleged that Toomey had become exactly that by confirming all of Trump's nominees to date.
"For one, we have not had a single vote in Congress on any item of Trump's agenda," Toomey countered. "As far as the nominees, I voted to confirm three-quarters of Barack Obama's nominees that came before me in the Senate, because I think a president ought to get a lot of latitude in assembling his or her team."
Toomey also cited his public criticism of Trump's bungled rollout of the first travel ban during his days in office.
In his closing message, Toomey said he's excited about spurring economic growth, rolling back industry regulations and increasing domestic and international security.
Max Marin is a staff writer at Philadelphia Weekly, where this article first appeared.